As of July 27, JMU has received 4,772 deposits for the incoming freshman class, but the university is still uncertain of exactly how many students it will welcome in the fall. 
The estimated enrollment on July 13 was between 4,842 and 4,873 students after receiving 5,260 deposits, an estimate that fit within the university's enrollment goal of 4,800-4,950 first-year students to attend during the 2020-21 academic year despite expectations that enrollment would decrease, Dean of Admissions Michael Walsh said. 
The July 27 deposit number of 4,772 is a 28-student decrease from the university's enrollment goals, but Walsh cautioned that enrollment numbers won't be set in stone until weeks after the start of the semester — especially as the pandemic continues to create uncertainty for students. However, Walsh said that deferral rates are higher for the 2020-21 academic year than previous years. As of July 27, a total of 80 students have deferred, Lou Hedricks, associate director of institutional research, said. 
Enrollment increases against the odds
Despite concerns that the coronavirus would have a significant negative effect on the university's enrollment  — and the slight decrease in current estimated enrollment rates as the semester nears — the numbers for the incoming class match trends of increasing acceptance rates and enrollment quotas over the past decade. 
According to Walsh, a major concern universities faced at the end of the spring semester was the possibility that financially lucrative out-of-state students would decide to attend colleges in their home states during the pandemic to remain close to their families. But, this anticipated result of the public health crisis missed JMU, as the university expects to have the largest percentage of out-of-state incoming freshmen since 2016 at almost 25%, Walsh said. 
Andy Perrine, associate vice president for communications and marketing, said the 8% increase in out-of-state students from last year is because of "very aggressive" ad campaigns that targeted Pennsylvania, New Jersey, New York and Connecticut, which are areas where JMU is popular in the Northeast, Perrine said. 
This marketing campaign was in the form of "lots and lots" of ads in the airports of New York, New Jersey and Pennsylvania and targeted social media advertising by Perrine's team, he said. These efforts worked in combination with the events like college fairs and receptions the admissions office attended in the same regions months after the ad campaign began, Walsh said. 
"We're thinking that with that added aggressiveness, we're doing better than we would've had we not been out in front," Perrine said. "Of course, in the fall, when we were loading up on all this advertising, we had no idea that the pandemic would happen. [Walsh] and I have been comparing notes, and we believe that if the pandemic had not hit, we might've had more students than we can handle." 
Acceptance rate continues to climb 
In 2000, the freshman class was roughly 3,000, Walsh said, with about 10,000-11,000 applicants. Now, with 4,922 incoming students enrolled for 2020-21 out of almost 25,000 applicants, Walsh said JMU's increasing growth, competition and enrollment means that JMU's admission rate will go up.
Perrine said he recognized that there's an inherent question of the quality of applicants when the university is asked about the increased acceptance rate.
"A lot of schools base their credentials on the type of class that comes in," Walsh said. "JMU has always been focused on what happens at the end. And some people have said, 'Well, it must be a weaker class.' Well, define 'weaker,' because we're just allowing more people to come here."
The university's acceptance rate has steadily increased over the past decade, according to data from the Office of Institutional Research. In 2010-11, JMU accepted 61% of applicants. Nine years later, 77% of applicants were accepted for the 2019-20 school year. 
Walsh attributes the acceptance rate increase to the university's rapid growth since the 1980s and the increased competition to recruit students within Virginia who may attend out-of-state universities. The university's key competitors for out-of-state students include Penn State University, Clemson University and Wake Forest University.
Competition for students endangers enrollment
Walsh said that changes to guidelines from the National Association of College Admissions Counseling after years of discussion with the Department of Justice meant that colleges and universities could make admissions offers to students after the May 1 deposit deadline unless a student is on another school's waitlist and has accepted the waitlist position. This change was prompted by accusations of "monopolistic" behavior — major universities controlling the supply of students — by admissions offices in the past, Walsh said. 
This, combined with anticipated negative effects of the coronavirus on college enrollment numbers for the 2020-21 school year, meant that Walsh was worried about the "poaching" of students from JMU in early May — something that most likely did decrease enrollment but that the Admissions Office anticipated by "just taking a few more people," Walsh said. 
 Schools like Virginia Tech were worried about meeting their enrollment goals and began "padding" their numbers by admitting students off waitlists and making financial aid offers to students who had already committed to other schools, Walsh said. He said there are many universities throughout the country that could be considered desperate for students 
"Students who have paid deposits to us, they're getting offers from other schools who aren't trying to grow their own — they're just trying to get the minimum they need to work," Walsh said. "And, they're getting some really nice offers. That's never happened before."
JMU simply can't counter these "really nice" scholarship offers, Walsh explained. The university's key competitors for out-of-state students, like Clemson and Penn State, are prepared to give 56-60% of the out-of-state students they recruit merit aid, which is need-blind aid given based on a student's academic performance, while JMU offers merit aid to roughly 15% of their out-of-state recruits, Walsh said. 
Perrine said JMU regularly competes for out-of-state students with schools that have been around longer and have significantly larger endowments than JMU. This endowment disparity means that JMU often can't match the financial aid incentives given to these students, offering on average $6,000-12,000 to out-of-state students that received an average of $18,000 from competing universities, Walsh said. 
But, despite JMU's lack of competitiveness in regard to financial aid incentives for out-of-state students, financial aid is "a major, major component of the enrollment plan of the university," Brad Barnett, director of financial aid, said, adding that, "We strategically look at the available financial aid dollars we have."
Barnett said that while the Office of Financial Aid is somewhat limited by federal and state allocations with what it can do with funding, it constantly evaluates the enrollment plans to determine the awards it needs to provide to allow more students to attend JMU. 
"We do look at where our needs are from an enrollment perspective," Barnett said. "Financial aid is a big part of that recruitment process." 
The Office of Institutional Research creates the university's enrollment goals with projection models and statistical analysis of actual enrollment, Caitlyn Read, director of communications and university spokesperson, said in an email. JMU plans its budget based on enrollment projections, Perrine said, so the university "should be fine" in 2020-21 if it continues to meet the goal of 4,800-4,950 enrolled first-year students without a significant melt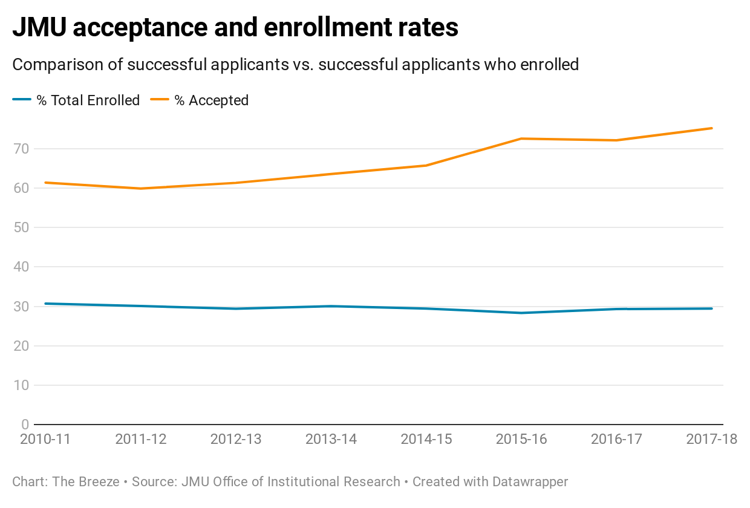 "If there's a resurgence, or something like that, and folks decide to take a gap year or something, that could affect us quite badly," Perrine said. "But, if all goes according to plan and these numbers hold, it'll be close to where we plan to be." 
Read said budgetary adjustments "may be required" if enrollment goals aren't met — one more complication of the $33 million bill the coronavirus has cost JMU. The two "major unknowns" are how negatively the pandemic affected the state's budget and how that will affect JMU as a public university, Perinne said.
"The budget is being affected quite substantially by the pandemic," Perrine said. "But in terms of recruitment … JMU is fighting above its weight class." 
This is the seventh and final article in a series by The Breeze's investigations desk examining the financial impact of COVID-19 on JMU. 
Contact Jamie McEachin at mceachja@dukes.jmu.edu.
Contact Jake Conley, investigations editor, at breezeinvestigations@gmail.com. For more coverage of JMU and Harrisonburg news, follow the news desk on Twitter @BreezeNewsJMU.