Approximately 400 students, faculty and Harrisonburg residents walked out of their classes and jobs to stand before the steps of Wilson Hall and call on the leaders of JMU and Harrisonburg City to take action against the impending climate crisis, Harrisonburg Climate Strike organizers said.
Alyssa Maring, president of the JMU Environmental Management Club and senior geographic science major, said the mass of protestors — who dressed in green to honor the Earth — made history Friday. She said those in power nationally have created a dialogue to convince the public that nothing can be done to reduce carbon emissions.
"The truth of the climate crisis and the current state of consumption and production is that we can do something if we make the decision to do it," Maring said. "For us, that decision looks like this: a sea of green."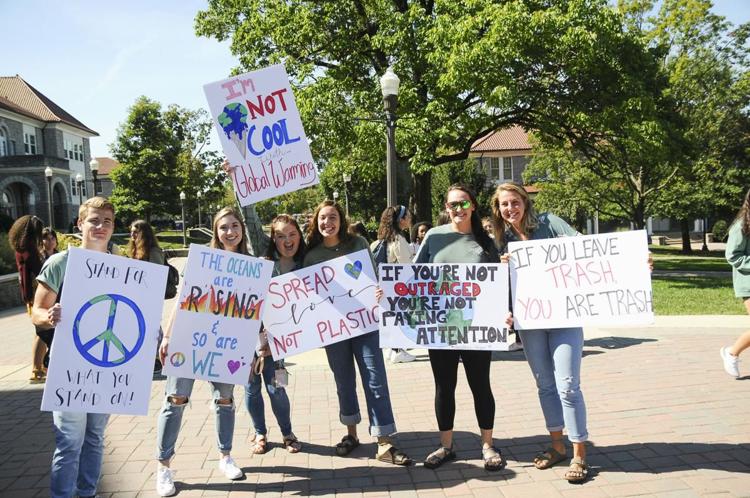 According to page 62 of JMU's latest master plan update, the university announced in 2012 that their climate action update goal was to reduce emissions by 10% by 2041 and to become completely carbon neutral by 2071.
"That's not soon enough," Maring said. "We don't have 50 years left on our planet. Our days are numbered."
Luciano Benjamin, president of JMU's Students for Bernie Sanders and senior political science major, announced the strike's updated demands to the legion of protestors. Benjamin called on JMU to become 50% dependent on renewable energy by 2025. He also insisted on a prohibition of future parking decks and lot construction because it encourages students to drive to school instead of biking, walking or taking public transportation.
"When we drive, we support the fossil fuel industry, and they don't support us," Benjamin said.
Benjamin also called on protesters to order President Alger to stop spending student money on sports teams and stadiums, and instead divert that money to green initiatives on campus. For the 2019-2020 school year, JMU approved a $2,058 auxiliary comprehensive fee to each student to support the university's intercollegiate athletic programs.
"It's cool to have a good football team, but it's even cooler not to be dead," Benjamin said.
ISAT professor Wayne Teel said JMU currently doesn't utilize renewable energy other than "symbolic solar panels and a wind turbine." Teel said the trend of ignoring the planet's needs is changing, and the evidence is in a new regulation. At the Virginia Clean Energy Summit this week, Gov. Ralph Northam announced an executive order that outlines a statewide goal of shifting to 100% renewable energy by 2050. Teel said this order would provide funding and policy support to ensure that JMU would meet those standards.
Teel began his speech with an apology on behalf of his generation, the Baby Boomers. He said his generation has drained more resources per capita than any other age group in history and is guilty of exceeding the planet's carrying capacity.
"We are responsible for the rape of the planet," Teel said.
At the individual level, Teel said there are four actions Harrisonburg residents can do: protect what they have, restore what's been damaged by planting trees that capture carbon, fund environmental projects through tax and personal dollars and, the most important and ignored step, conserve.
"If we do that, we have a shot," Teel said. "It's kind of a long shot, but it's a shot that is saving what we love."
Protesters marched for approximately half an hour from the Quad to Court Square downtown, parading their signs proudly above their heads. Former JMU student Amelia Morrison rode alongside the demonstration on her bicycle, singing songs of encouragement over a megaphone. Some cars honked in response to the rally, but Morrison challenged them to abandon their vehicles, which heavily contribute to the fossil fuel industry.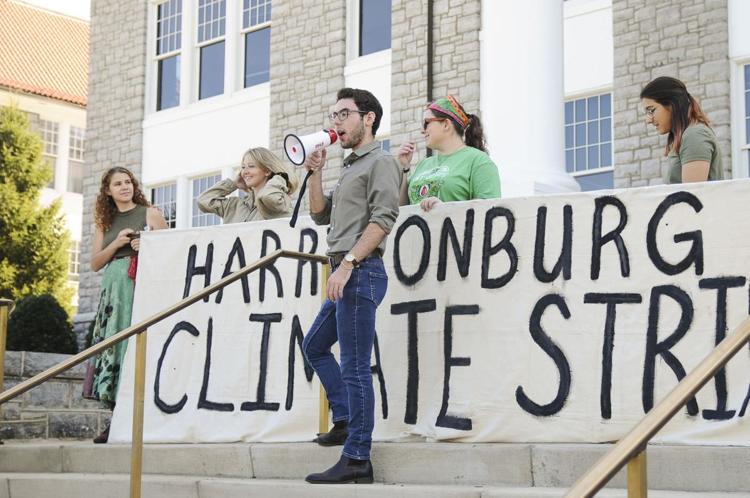 When the crowd arrived in Court Square, the protestors formed a circle around Harrisonburg High School junior Silas Benevento, who stood atop two plastic crates to be seen above the hundreds of protesters spilling around the courthouse. He declared that it's young people's jobs to "move beyond our society of endless growth" and to cease the extraction and exploitation of the Earth's resources.
"I'm not passionate about climate change because it's trendy," he said. "I'm passionate about climate change because I am scared for my future."
Benjamin took the bullhorn to say his generation would be remembered for the "war we fought together" to save the planet.
"When our children and our grandchildren ask us in the decades to come, 'What did you do to protect me?' we will be able to proudly hold our heads high and say 'We fought, we marched, we voted and we ran for office ourselves,'" Benjamin said.
Virginia Senate candidate April Moore attended the strike. She's campaigning against incumbent Virginia Sen. Mark Obenshain, who she said has blocked action on climate change for the 16 years he's been in office. Moore asked rally attendees to "send her to Richmond" to create environmental policy action in Virginia.
"Everything you're doing here is great, but it has to be followed up at the ballot box," Moore said.
Benjamin revealed that the community will strike again next Friday. He said he refuses to stop until their demands have been met.
"Our voices will shake this planet to the core," Benjamin said. "There will never be a noise like the noise we make together … This is your movement. This is our future."
Contact Brice Estes at estes2ba@dukes.jmu.edu. For more coverage of JMU and Harrisonburg news, follow the news desk on Twitter @BreezeNewsJMU.