JMU's Faculty Senate plans to introduce a resolution at tomorrow's meeting that, if passed, would condemn Provost and Senior Vice President for Academic Affairs Heather Coltman for a multitude of recent grievances.
The resolution will be read tomorrow, and discussion and voting will take place Feb. 23.
A draft resolution provided to The Breeze by a member of Faculty Senate alleges that toward the beginning of the fall 2022 semester, Coltman "demanded" both publicly and privately that the Faculty Senate disclose the author or authors of another draft resolution, titled "Resolution Regarding Transparency and Accountability of A&P Hires Within the Division of Academic Affairs." This resolution, also set to be introduced tomorrow, notes a general decline in transparency and accountability from the provost's office in hiring searches, such as last year's search for a new dean of the College of Science and Math (CSM), which the resolution says involved "non-transparent and intimidating practices."
The resolution of condemnation argues that Coltman threatened to subject the author or authors of the transparency resolution to "an investigation for libel and for breaching confidentiality rules."
It also says the provost "likely violated the spirit if not the letter of state law," referencing two Virginia codes: one prohibiting retaliation against employees in certain circumstances as well as the State and Local Government Conflict of Interests Act. It also cites JMU Policy 1106, which binds JMU employees to the Conflict of Interests Act. This policy centers mostly on financial conflicts of interest.
The resolution states that Coltman's actions have "exacerbated a culture of fear and systemic intimidation" and that she's behaved in an "un-cordial and un-collegial" as well as "potentially unethical and illegal" manner.
The resolution ends by alleging and condemning Coltman's dismissal of faculty input and the "culture of intimidation emanating from the provost's office."
A spokesperson for the Faculty Senate Steering Committee said the two resolutions were initially introduced in May 2022 as one, but after going through different committees, it was split into two. Additionally, according to the spokesperson, Faculty Senate resolutions address voice, equity, autonomy and dignity for faculty in the workplace.
"We want so much to accurately represent faculty concerns at JMU and work to address those concerns in collaboration with administration," the spokesperson said. They added in a later email that "the faculty senate would like to stress that we are striving for transparency, accountability, and a thriving workplace free of intimidation, bullying or fear of retaliation."
The Breeze reached out to Coltman and Mary-Hope Vass, JMU's executive director of communications and university spokesperson, for comment on this story. Vass sent The Breeze a statement in response to the resolutions.
The statement reads as follows:
"While it is our understanding that the resolutions will simply be presented this week (not voted on), the final versions were not shared with the Provost's Office before they were broadly disseminated. It should be noted that the resolutions make legal assertions that rely on inaccurate interpretations of Virginia statutes that do not apply to these circumstances, and allege a "likely" violation of a JMU policy that addresses financial conflicts of interest—a policy not relevant here.
"Senior administrators have met with faculty senate leaders at length to discuss certain individuals' concerns related to a search from last year and have already committed to working with the faculty on policy and process clarifications as needed. As always, the Provost's Office remains committed to shared governance through a respectful approach to problem-solving. In that spirit, a constructive solution to these concerns will not come through senate resolutions and motions, but rather through conversation and open dialogue to which the provost is committed."
Following publication of this article, the spokesperson for the Faculty Senate Steering Committee emailed The Breeze responding to Vass' statement, taking issue with two specific points.
The spokesperson said Coltman received the draft resolutions on Jan. 19 before they were sent to all Faculty Senate members on Monday.
In response to Vass' statement, the spokesperson also cited JMU Policy 1106, Section 5.1 Prohibited Conduct, Bullet 9, which addresses conflicts of interest. The policy states that no JMU employee may "use the employment to retaliate or threaten to retaliate against any person for expressing views on matters of public concern or for exercising any right that is otherwise protected by law. NOTE: the university is expressly authorized to govern the conduct of its employees and to take disciplinary action for misconduct or performance issues."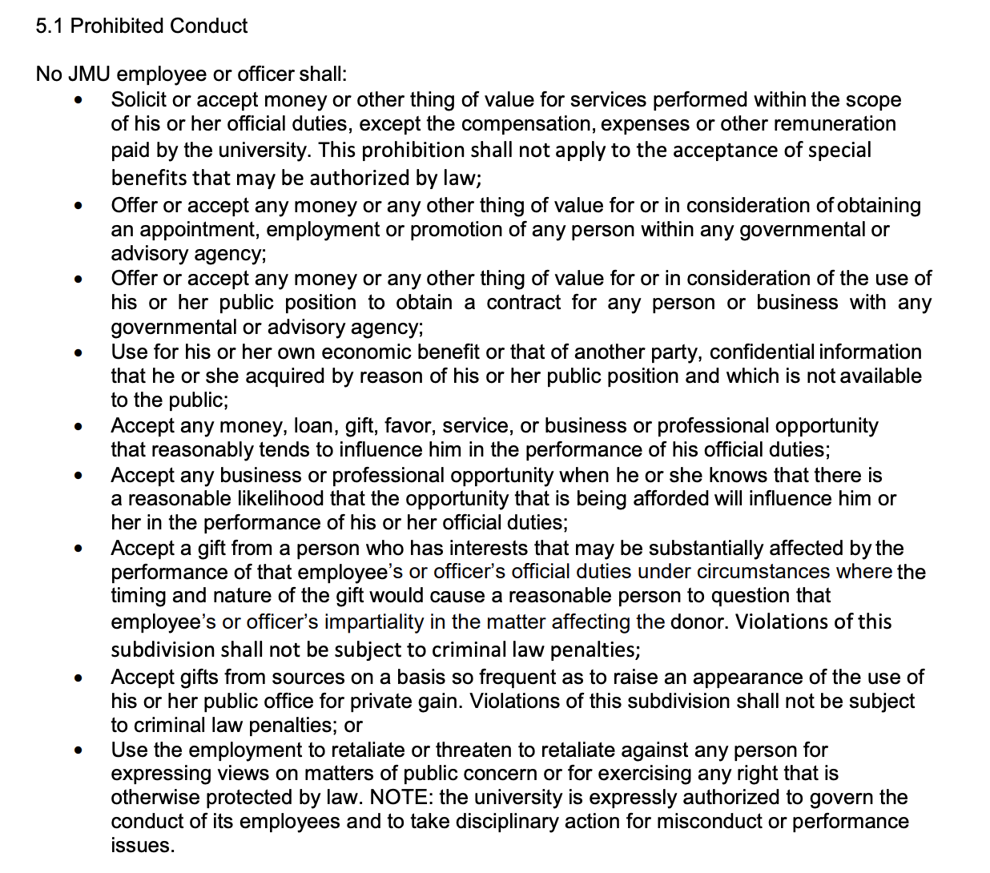 Faculty Senate to introduce resolution calling for transparency, accountability among hiring searches
In conjunction with the resolution that would condemn the provost, Faculty Senate will also introduce for first reading a motion regarding transparency and accountability of administrative and professional (A&P) hires within Academic Affairs.
The resolution cites JMU's 2021 Climate Survey, reporting 75% of tenured and tenure track faculty didn't believe JMU leadership meaningfully included faculty in decision-making processes.
It also details last year's search process for a new dean for JMU's College of Science and Math (CSM), over which Coltman has control within her role. The resolution alleges that the provost dismissed faculty feedback relating to the search process, specifically saying that members of the CSM dean search committee weren't allowed to view faculty feedback on the search. It also says a concern regarding a perceived conflict of interest was brought to the provost's attention, who then "failed to acknowledge or successfully mediate at least one perceived conflict of interest related to the search committee."
The resolution also alleges bias from Coltman within her handling of the perceived conflict of interest — in response to faculty inquiry about the conflict, it says, the provost CC'ed the potential subjects involved in the conflict of interest, including the internal candidate. This candidate already worked for JMU and was currently serving in the CSM dean's position. The person CC'ed was also a supervisor of the faculty members who raised the concern, according to the resolution, which brings up concern for retaliation against those faculty members.
Lastly, the resolution states that JMU Policy 1106 regarding conflicts of interest be revised — or a new one be written — to lay out a process in which concerns can be raised, and that faculty members can "verify and document that the conflict of interest claims have been properly handled and resolved." Additionally, the resolution argues for confidentiality agreements for members of search committees to clarify that faculty members may not be punished under confidentiality rules for raising "actionable objections in response to perceived violations of the search process."
Tomorrow's Faculty Senate meeting will take place from 3:55 p.m. to 5:25 p.m. Members of the public can attend the meeting via Zoom.
This is a developing story. The Breeze will update this article as needed.