Delegate Danica Roem of the 13th district spoke to JMU students and faculty about the importance of self-acceptance and inclusivity of the commonwealth. Hosted by the Madison Caucus for Gender Equality, the lecture focused less on the political state of Roem's district and more on how, in her opinion, people can live a happier and more fulfilled life regardless of the obstacles they may face.
Preceding Roem was David Owusu-Ansah, professor of history at JMU and associate provost of diversity. Owusu-Ansah shared some of the distinguishing moments of Roem's short time in Richmond, including something she's made history for — being the first transgender delegate in the state office.
With that, Roem took the stage, and the room fell silent in anticipation. Despite Roem's achievements on social and political fronts, she wanted the audience to know her not-so-proud beginnings, starting with her campaign for office.
"When I kicked off my campaign, I was uninsured, unemployed and driving a $324 '92 Dodge Shadow America," Roem said. "It had more rust than paint, and I don't mean that facetiously." 
Prior to running for office, Roem worked as a journalist making poor pay and working undesirable hours, but even as a delegate, she still loves the institution of journalism, especially now when the media is said to be "under attack."
Roem continued to tell her life story, including everything from spending 13 years in Catholic school to traveling the country following rock bands and being in college, facing the toughest challenge of her life – coming out. Roem revealed that she was terrified about losing her friends and disappointing her family, but she eventually concluded that it doesn't matter what others think. The only thing that matters is how she sees herself.
"It's not about who I'm doing anything towards, it's about who I am," Roem said. "If unconditional love is a thing, then shouldn't you be loved unconditionally because of who you are, not in spite of it? It took a long time to come to terms with that."
As Roem sits in the Virginia statehouse, she uses the obstacles and difficult experiences she's overcome in life as ways to strengthen her role in political office. 
"Be who you are, and be that well," Roem said." "That's something that I've tried to bring into office with the idea that's not just about me, it's about you. It's about the 83,000 people I serve every day back home. It's about our community, in that very idea of making Virginia a more inclusive commonwealth."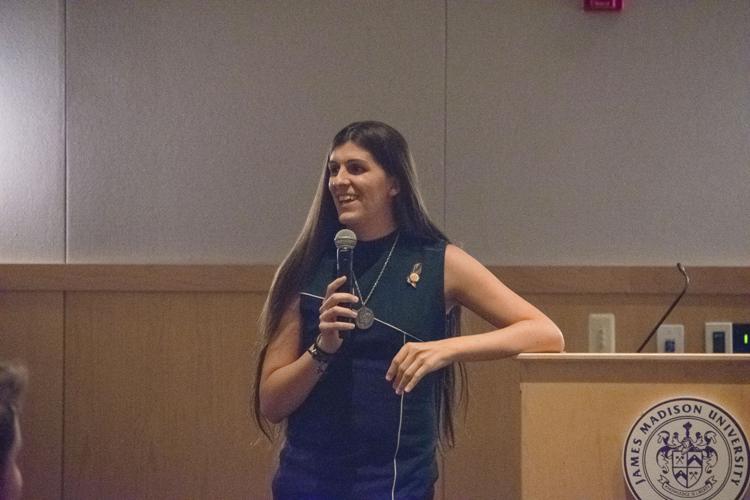 As Roem completed her speech, some audience members whose heads had been nodding in agreement for the entire speech stood up and applauded to show their support. Looking at audience members' faces, it wasn't difficult to tell how much some students and faculty appreciated Roem's words.
"It was pretty incredible," Ethan Gardner, a senior political science major said. "Danica was very personal with a lot of things. She talked about the importance of being authentic, which was pretty incredible to see that from an elected official."
Another JMU student, senior writing rhetoric and technical communications major Zach Welker, was so inspired that he had to hold back tears at certain points.
"I thought Danica was an amazing speaker," Welker said. "Her story was incredibly motivational, very personal and honestly, I almost cried a couple times during the thing."
Roem had struggled with difficult, life-changing events in her past, and even though she regrets allowing fear to control her, she told the audience how being herself had made her so much happier.
"When you have to blaze a trail to get somewhere, and then you get there, you're still blazing the trail when you get there, and that means you have to figure things out on the fly sometimes," Roem said.
Contact Christian Lovallo at lovallca@dukes.jmu.edu. For more coverage of JMU and Harrisonburg news, follow the news desk on Twitter @BreezeNewsJMU.