The Harrisonburg-Rockingham Living Wage Campaign has been accused by minimum wage supporters of trying to bypass state minimum wage policy to make the living wage standard — but that's exactly what steering committee members Chris Seidel and Ramona Sanders said they hope to accomplish.
The program, which began in summer 2018, is appealing to businesses in Harrisonburg and Rockingham County, asking that employers pledge to pay their workers a living wage. 
The 2018 United Way ALICE Report determined that over 65% of households in Harrisonburg and 42% of households in Rockingham County are living below or at the ALICE threshold or Federal Poverty Level. ALICE, which is an acronym for the population of people that are Asset Limited, Income Constrained, and Employed, represents full-time workers and their families who are still barely over the poverty line due to their low-paying jobs and vulnerable to sudden food, health and job insecurity. 
"That's why we're bypassing [the] policy," Seidel said. "We can't wait around. Family homelessness is increasing, and it will continue to unless we actually do something. And we can't wait for the people in the places where these decisions are supposed to be made." 
Appealing directly to employers is a strategy developed to have the most impact on the community at a fast pace. Six local businesses, including Bridge of Hope Harrisonburg-Rockingham, First Bank and Trust Company, Community Mennonite Church, Trinity Presbyterian Church, Friendly City Food Cooperative and Gray Jay Provisions have already been certified at the gold, silver or aspiring levels of living wage certified employer. 
These business pay or plan to pay their workers over $11 an hour, which has been calculated by MIT to be the living wage of Harrisonburg. But with more exposure to the community, the campaign's leadership predicts that more businesses will apply for certification to earn the public recognition that follows when an employer agrees to pay their workers fairly. 
This strategy is being applied in other localities in Virginia, such as Richmond, Alexandria and Charlottesville, that see the need for a living wage, thanks to the collaboration of community members with the Virginia Interfaith Center for Public Policy. The VICPP produces a toolkit to help launch local campaigns as a symbolic effort to convince employers to raise wages directly, independent of policy. The founder of the Harrisonburg-Rockingham Living Wage Campaign, Brent Finnegan, used this toolkit to begin the program after seeing the effect of low-paying and minimum wage jobs on the people of the community. 
"I think a lot of Americans grow up with the notion that if someone is living in poverty, they must have made poor choices," Finnegan said. "And that is simply not the case for most people living in poverty." 
Finnegan discovered this himself when he was laid off from his job at WVPT Harrisonburg during the 2008 recession, which left him working multiple low-paying jobs to make ends meet. Working occasionally as a cab driver in the area, Finnegan often drove workers from one minimum wage job to their next shift at another. 
"I started to realize that this isn't just a personal issue of one individual, myself, going through struggling to pay bills," Finnegan said. "This is a widespread problem in Harrisonburg." 
After reading the 2018 ALICE Report, Finnegan, who's now running for a seat in the House of Delegates, began to look into what could be done to fix this problem at the community level and started regular exploratory meetings with the group that would become the Harrisonburg-Rockingham Living Wage Campaign. 
The first local business to communicate an interest in becoming a living wage-certified employer was Gray Jay Provisions, the restaurant that steering committee members used as the meeting place to organize their campaign. After learning the benefits of paying a living wage on workers and the community, the owners decided to work toward raising their employees' wages. 
Gray Jay Provisions is certified by the campaign at an aspiring level, which means they pay their workers $11 an hour and have pledged a two-year timeline to raise wages to the silver level of $12.50. Gold level-certified employers pay wages at $15 an hour. 
"We want to pay our providers and our farmers what they deserve, and we want to pay our employees a fair wage," Seth Amsden, co-owner of Gray Jay Provisions, said. "We want everyone involved to be taken care of."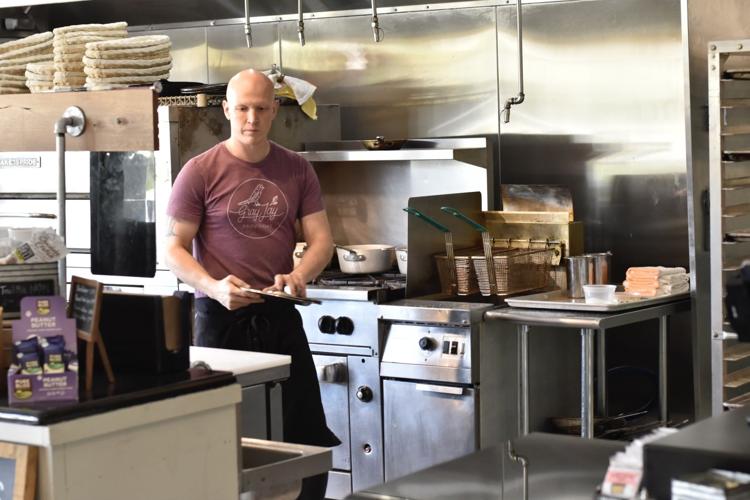 But for small businesses with less capital to draw from, pledging to pay a living wage is a significant commitment the Harrisonburg-Rockingham Living Wage Campaign wants to recognize. Business owners like Amsden often have to make sacrifices for it to work; he and his business partner aren't making a living wage in order to pay their employees ethically. But Amsden said he believes those hardships are an investment in their workers and the community. 
The Harrisonburg-Rockingham Living Wage Campaign hopes other businesses that already pay workers the living wage will apply for certification, a simple process that involves completing an application to be evaluated by the campaign. Ramona Sanders, steering committee member, contacted JMU to ask if the university is interested in certification after 109 full-time workers had their wages raised to above the living wage, which makes the school an eligible employer. 
As a prominent employer in Harrisonburg, the university would help to legitimize the campaign's efforts if it joined the group of certified businesses. Bill Wyatt, university spokesman, said the university has no current plans to become certified by the campaign despite paying employees a living wage. 
"Us moving these employees to the living wage, it's just a recognition that our employees are our most valuable asset," Wyatt said. "We feel like we have a responsibility to the Harrisonburg and Rockingham County community, and this was one way that we can ensure that our employees are taken care of."
Contact Jamie McEachin at mceachja@dukes.jmu.edu. For more coverage of JMU and Harrisonburg news, follow the news desk on Twitter @BreezeNewsJMU.