Prominent white text at the top of the website home page for RISE, a faith community in downtown Harrisonburg, reads: "EVERYONE MEANS EVERYONE." 
Those words, and the implications they carry, sit at the center of a debate threatening to split the over 14-million-member United Methodist Church in two — the possibility of which is forcing individual churches to take sides.
Guidelines for a split — titled the "Protocol of Reconciliation and Grace through Separation" — have been drafted. However, the final decision has been pushed off until next year, when the UMC General Conference is scheduled to reconvene and make up for this year's lost session. 
Had the coronavirus pandemic not shuttered all social gatherings throughout April and May, the quadrennial General Conference meeting — a gathering of delegates from regional conferences all over the world — would have concluded a little over a week ago with a final decision from conference delegates on a schism of the church around LGBTQ marriage and ordination. 
The line, "The practice of homosexuality is incompatible with Christian teaching" sits in the Book of Discipline, a collection of laws and doctrines the UMC adheres to, but it's been fought over since its 1972 inclusion. February 2019, a General Conference special session was called to resolve the nearly 50-year-long debate around human sexuality. The denomination's leaders voted on whether the traditional language of the denomination against LGBTQ marriage and ordination would be abolished or maintained.
After interviewing eight United Methodist Church leaders and two Free Methodist Church leaders, all of whom head churches within approximately four miles of JMU's campus, The Breeze found that the majority identify with the progressive wing of the church. There are nine United Methodist Churches within approximately four miles of the campus.
Amanda Garber, the lead pastor at RISE, said a plan dubbed the "One Church Plan" was widely expected to pass and would have allowed individual congregations to choose their position on LGBTQ affirmation while remaining in the UMC regardless of stance. However, the Conference ruled in favor of the "Traditional Plan" instead, doubling down on the existing non-affirming language, according to The New York Times. The vote prompted a large increase in separation discourse following the decision, according to The New York Times.
"We are often called 'the big tent,' which is … It's cool, right?" Garber said. "But, your tent can get too big — it just can."
Under the language of the current separation protocol, individual congregations would be asked to vote on whether they wish to stay within the post-separation UMC — which will become a more outwardly progressive denomination — or join a new denomination currently labeled as "Traditionalist Methodist," which will maintain the historic language and theological standpoint against same-sex marriage and ordination of people in the LGBTQ community.
United Methodist law also allows for the creation of additional denominations outside of the two proposed under the current protocol. However, Steve Hay, the senior pastor of Asbury UMC, said it's unlikely any other denominations would form due to financial strain.
If a vote isn't taken by its congregation, each church will automatically become a member of the denomination its parent conference — for Harrisonburg UMCs, the Virginia annual conference — chooses to affiliate with, whether that's the post-separation UMC or a newly formed denomination, according to the protocol.
David Burch, the lead pastor at Vision of Hope UMC, said that out of the 1,200 churches in the Virginia conference — which encompasses all of Virginia except for the southwestern tip — "maybe 100 churches might leave [the post-separation UMC]." However, he said, the decisions required will still affect every church, regardless of the outcome.
Putting a decision of such magnitude to a vote is worrying for church leadership, Adam Blagg, the senior pastor at Otterbein UMC in downtown Harrisonburg, said, as it may have long-lasting effects on members of the denomination.
"If you're voting over something silly like the color of the carpet or the paint on the walls, and it's 55/45, people will get over that," Blagg said. "When you're talking about whether we remain United Methodist or we go in a different direction, that has a long-lasting impact, and any kind of vote that is that close is going to have repercussions that are going to be challenging to work with."
Feelings of uncertainty around possible votes and divisions form a common theme with many of the United Methodist pastors in Harrisonburg. Burch and Hay both said their respective churches have already lost a few members because of the decisions made at the February 2019 General Conference. On the impact of future outcomes, Hay said, "We will lose people, whatever decision is made."
American participation in organized religion as a whole has continued to steadily decline, according to the Pew Research Center. Blagg said there's been increased questioning of what the institutional church will look like in the upcoming years — especially if congregants are pushed to make value decisions.
"Is that family church that you've been a part of more important than the denominational standards about things?" Blagg said. "That's a question that most people probably don't know the answer to until they're actually asked to sit down and vote about it."
The debate, Hay said, especially for church leaders having to make decisions on where to guide their congregations, comes down to a theological question of how God's message and intentions should be interpreted.
Hay is a member of the Wesleyan Covenant Association, the group spearheading the formation of a traditionalist denomination that would continue to stand by the traditional language and practices of the church, and he said he finds value in adherence to that tradition.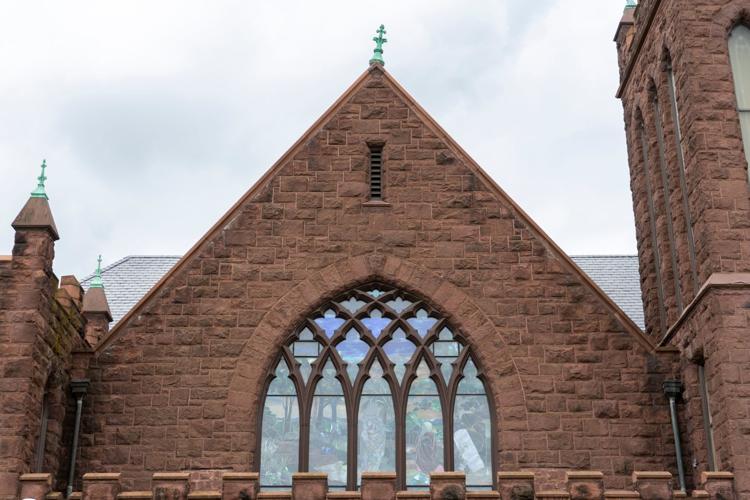 "I think the church has gotten it right, and the denomination has gotten it right, and so to change it is going away from what I think God's intent is," Hay said.
For him, he said, the debate of human sexuality comes down to God's plan for humanity as recorded in the Bible.
"My reading is Christ affirmed marriage as, you know, pointed to or created in Genesis," Hay said.
Many who hold a more progressive view on the matter, like Garber, Blagg and Burch, argue that if the church is to survive, it must adapt to changing times instead of continuing to adhere to a certain specific code of laws — which Burch supported, saying, "If you were going to observe a literal following of scripture, we wouldn't be eating any ham biscuits."
"I think the church in any given generation has to not look at scripture as being something static, but rather something that God's spirit continually helps us to see in different ways," Burch said. "If we are to remain an alive, vibrant body that impacts the world, we need to embrace that change rather than simply bury our heads in the sand."
For some United Methodists, including Eduardo Carrillo, the lead pastor of Cedar Grove UMC in Harrisonburg, the issue is one of inclusion and biblical exclusion. He said he believes that limitations shouldn't be placed on a love from God that he sees as all-encompassing. 
"The moment that one of my churches starts closing the door on anybody, that's a moment that we will have to reevaluate if my time here is up," Carrillo said. "Because, closing the doors of the church is not something that I saw Jesus say anywhere to anybody."
But, Carrillo also said that if a schism were to happen, his church would have to come together to determine a definitive stance on the matter. Currently, he said, Cedar Grove aligns with a more historical interpretation of scripture.
"It's hard to say where the church, the body, will move when that happens," Carrillo said. "If this schism happens — if it happens — I think that's another time of discernment that I will have to be doing to see, where do I fit in?" 
Additionally, Blagg said, a non-affirming policy of exclusion could also impact the denomination —  which is already declining in membership alongside other mainline Protestant denominations, according to studies from the Pew Research Center — by deepening an already existent deficit in upcoming church leadership based on factors he sees as unnecessarily restricting.
"We have a tremendous shortage of young, gifted, talented pastors," Blagg said. "To eliminate them based upon that, even if you want to call their lifestyle a sin, we all sin. Picking out one thing and saying, 'That is wrong' is very difficult for me to tolerate."
While the upcoming vote leaves many questions in the air, some in Harrisonburg's United Methodist community — such as Adam King, the associate minister at RISE — believe the imminent possibility of a schism offers hope for the Church to take the chance to reevaluate its mission. 
"It presents the possibility of having a … collection of churches that we could belong to where we can truly live in to who we are without constant fear of retribution or fear of punishment, where we aren't having to fight the fight, like, with our own people constantly and can instead keep getting back to the point that we're trying to get to, which is genuinely loving people and our community in a fresh way," King said.
Garber performed a same-sex wedding for two women in November 2014 and was temporarily suspended from ministry in the spring of 2015 for doing so. Since then, she said, she's made it her policy to not perform any weddings, saying, "If I cannot be a pastor to everyone equally, I'm just not gonna officiate any."
"If I am set free, I will with, like, an indescribable amount of joy, return to doing all the weddings," Garber said. "I will sign that marriage license with the biggest handwriting I possibly can. I just long for that."
Hay said he believes that while societal culture in the U.S. is moving in a more progressive direction, that wing of the church will ultimately decline as, to him, it's unaligned with God's will.
As he sees it, Hay said, the concept of a saving faith — "the idea of turning a heart" — isn't as much of a focal point in the progressive wing of the UMC as it is in the traditionalist wing. He said the progressive wing puts more of an emphasis on systemic cultural problems instead of focusing on individual reform, which to him gets away from the driving mission of the church.
"I don't see the progressive part of the church growing," Hay said. "When I take a look at the parts of the UMC that are most progressive, I see the fastest decline. When I look at the parts that are most traditional, I see growth or at least more stability."
For Glenna Tibbs, a regular member at Vision of Hope, she said the church's main focus should be on embodying God's love, as opposed to upholding traditional rules.
"I don't think that will be a theological weakening at all because those churches who are very focused on love are not going to be weaker — they're going to be stronger," Tibbs said. "They may be smaller in number because of splits, but smaller in number is not the issue. It's whether or not you can make a difference in the world."
Above the theological and logistical concerns, the overarching expression of many Harrisonburg United Methodists is a readiness for the debate around LGBTQ participation to resolve — a sentiment echoed by Burch, who said, "It's been like a Groundhog Day movie."
"We've been held captive by this conversation for the past 40 years in the UMC, and it's time for us to move on," Blagg said. "It's time for us to actually get to the work of the next generation, and it seems like until we put this behind us, it doesn't seem like there's enough energy to do that."
While specific dates aren't officially public, the General Conference is scheduled to reconvene in 2021, where a final decision will be made on the schism protocol and implementation. Until then, smaller conferences and individual churches must work to make a decision on where they'll choose to align, should a split occur.
"Breaking up is hard," King said. "It's kind of like a divorce … We've been sleeping in separate rooms for a while, and we've been separated in some ways for a while, but not formally, and so, making this happen is gonna be rough — who gets the kids?"
Contact Jake Conley at breezeinvestigations@gmail.com. Contact Amy Needham at needhaal@dukes.jmu.edu. For more coverage of JMU and Harrisonburg news, follow the news desk on Twitter @BreezeNewsJMU.