WAKE UP, or White Accomplices Knowing Experiences Underlining Privilege, is a new club for faculty and staff that'll allow members to critically self-reflect and work to become upstanding allies for people of color through reading books. The group will work to develop strategies and commitments to actively engage in practices that increase fair-mindedness on campus and society overall.
The club plans to meet in Madison Union biweekly. The RSVP list has already been filled. The organization is currently closed because it's designed for members to come to every meeting rather than come at their leisure. Club founder Jennifer Iwerks is excited to give members a space to further their understanding of their racial identity development.
"I think that race is a very important identity in our society, in our culture," Iwerks said. "I think, especially right now, we're seeing a lot of conversations about race, and so having a space for people to be able to talk critically about that identity, and really any identity, is really valuable."
Iwerks was inspired to start the club while attending an event in the spring sponsored by the Center for Faculty Innovation. The event was a fishbowl conversation — a discussion between four to five people in the middle with a surrounding crowd of people — where visiting professors spoke about their recently released book. The professors, all of whom were people of color, mentioned the idea of creating a space for people to consider their racial identities together, which sparked Iwerks's interest.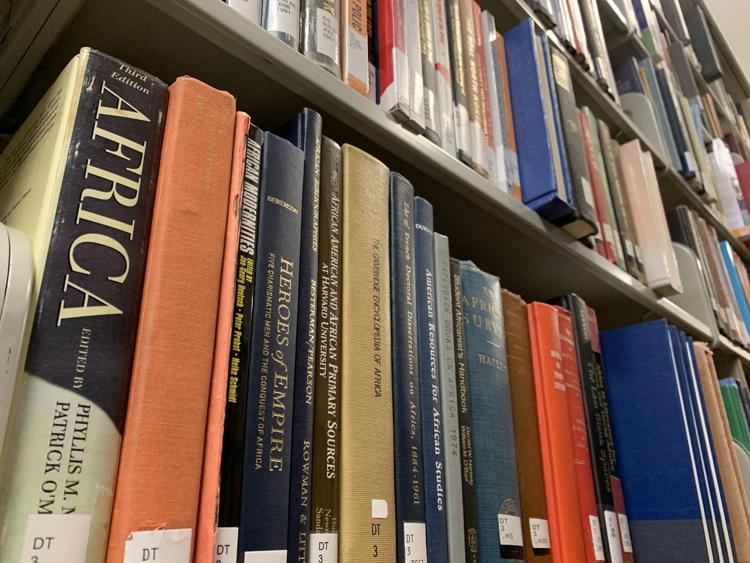 Iwerks works as the assistant director of SOGIE of JMU, or Sexual Orientation, Gender Identity and Expression. She received her master's degree in college student development and worked in the Office of Multicultural Student Development at Appalachian State University in addition to working part-time in the LGBTQ Rainbow Resource Center and the Office of Multicultural Student Life at the University of Maine. With an elaborate history of work with many kinds of identities, Iwerks wants to extend her knowledge and get the conversation started for JMU faculty and staff.
"I think that identity development is something that's always happening for people — it doesn't just stop after a certain part of our life," Iwerks said. "As a white woman, I want to be reflecting on my own identities and engaging myself so that I'm reflecting on how my identity has been formed and how that impacts the interactions I have."
JMU communications professor Jennifer PeeksMease came on board to accompany Iwerks after being connected through JMU Prevention Coordinator and Survivor Advocate Arianna Sessoms. PeeksMease sees the club as an opportunity for members to educate themselves on how to be successful accomplices by using prepared resources rather than constantly leaning on people of color.
"There's a delicate balance as white accomplices and allies in supporting efforts of people of color on campus and taking them over," PeeksMease said. "So, one of the things that we are trying to do is create a space where white people can be committed to racial justice and not take over spaces that should really be centering the voices of people of color."
This semester, the group will be reading "White Fragility" by Robin DiAngelo and the workbook "Me and White Supremacy" by Layla Saad. The reading circles are intended to be equitable, so rather than structuring the club as a hierarchy, it's more of a leadership endeavor for everyone participating.
Sessoms, who started the Shades of Sisterhood book club in fall 2018, is eager to see another book club that strives for racial justice and identity development. Although she was happy to see white students and faculty at SOS meetings, it limited the connection between people of color and took away from the safe space that was meant to be created. Now Sessoms feels that WAKE UP can give white people a chance to learn about and challenge racism without taking away from that safe space.
"It's good to have different places and people from all over campus really invested in doing that long term work," Sessoms said. "I'm just excited to see people learn, to see people grow and to see what could come from that."
According to a JMU database, 22% of JMU's student population consists of minorities. Because of this, PeeksMease hopes the organization can open the eyes of members to see how race functions rather than be unaware of privilege.
"It's not by accident that a primarily white institution is a primarily white institution," PeeksMease said. "We can't pretend that it happened on accident and that it's going to fix itself. Since these structures were created intentionally, it takes intentional work to undo them. It really is more than a book club — it's a group of people who are committed to action."
Even though the group will be made up of faculty and staff, PeeksMease is hopeful that members can be role models for the surrounding student body. The ultimate goal of the organization is to help create responsible allies enabled to help dismantle the unfair power structures of our society. PeeksMease emphasized the importance of action itself rather than merely acknowledging the need for it.
"It takes work," PeeksMease said. "It takes intentional work to educate yourself and learn how to do the work in society to really accomplish that identity." 
Contact Kamryn Koch at kochkr@dukes.jmu.edu. For more coverage of JMU and Harrisonburg news, follow the news desk on Twitter @BreezeNewsJMU.