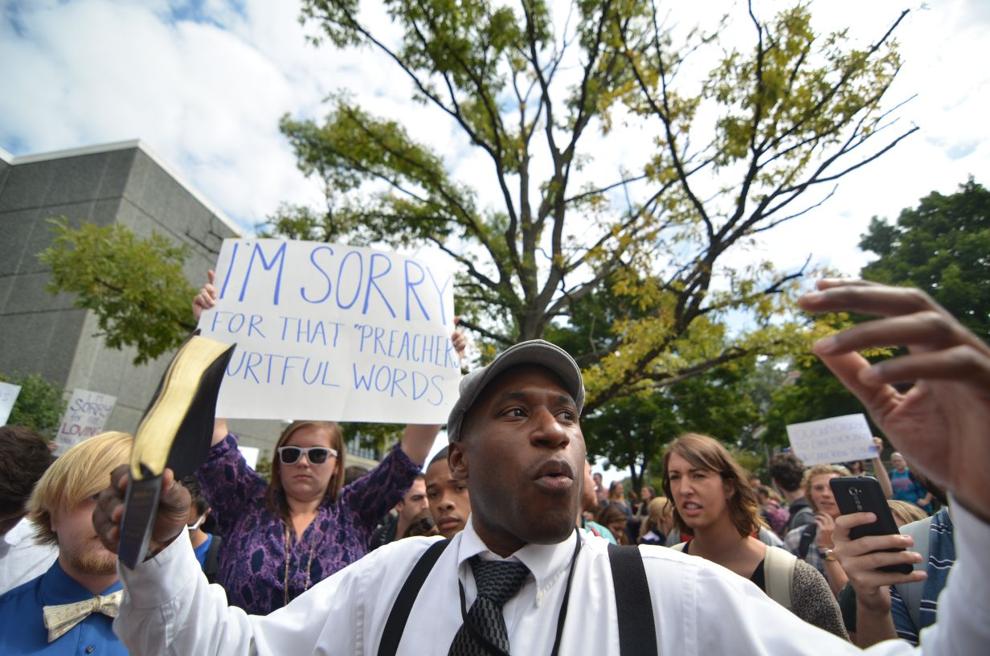 A flurry of scripture and speech bellowed out across campus this week as some students were condemned to a life of eternal damnation.
On Tuesday and Wednesday afternoon, students gathered at the forum outside of Carrier Library to engage in discussion with Ross Jackson, the founder of Revival Mission Ministries — a ministry committed to preaching the gospel "in open air" on university campuses up and down the East Coast.
Lee Shifflett, chief of JMU Police, confirmed that Jackson was summonsed for assault and battery on Wednesday afternoon but was released at approximately 2:30 p.m.
Shifflett wouldn't go into detail about what the incident causing the summons entailed, but emphasized that no one was injured. Jackson was also issued a no trespass notice, which means he's subject to immediate arrest if he returns to the JMU campus.
Trespassing is a class one misdemeanor which is punishable by up to 12 months in jail, according to Shifflett.
Shifflett said that during Tuesday's and Wednesday's events, there were, at most, three JMU police officers making sure both students and Jackson were safe. He added that similar incidents have occurred before at JMU.
"There is free speech — this is a public university," Shifflett said. "We don't police content. We're there to make sure that [Jackson's] safe but also the crowd's safe."
According to Jackson's blog, which documents his ministries, he's traveled to various college campuses including the University of North Carolina at Greensboro and West Virginia University in the past year.
Jackson was arrested in Wilmington, N.C. back in May for inciting a riot among audience members, according to WNCT-TV 9 News. The article cites that he was a regular preacher at Eastern Carolina University.
He often appears with a woman who appears to be his wife, identified on the blog as Samantha, and their two young children.
On Wednesday, during Jackson's second appearance at JMU, the tone shifted from an open discussion to a more aggressive rebuttal of Jackson's message. Students came prepared with signs and cornered Jackson against the wall in front of the Hillcrest House, even following him when he tried to move.
Some students sang offensive lyrics from songs like "Get Low" by Lil Jon and The East Side Boyz and "Baby Got Back" by Sir Mix-A-Lot. One group of students even drew a pentagram with chalk outside of Carrier.
Ashanti Wright, a junior media arts and design and communication studies double major, was one of the students who directly confronted Jackson.
Wright said she was working on a paper outside of D-Hall on Tuesday when she saw two police officers race toward Carrier Library. She saw the large crowd surrounding Jackson, asked another student what was going on and then headed over.
"I see [Jackson] and he's saying if you're in a sorority, you're a slut and you're going to hell; you're a hoe, the cheerleaders are whores; they're going to hell and the football team is going to hell," Wright said.
Wright, who identifies as Christian, said the preacher angered her because she believed his abrasive behavior and judgmental, condemning attitude don't coincide with the ideals of Christianity.
"I may not be in a sorority, I may not, you know, be on the football team and I might not be homosexual, but just because they're involved in those activities … it does not make them worthy of your hatred and your scorn," she said. "I don't want people to think of Christians that way … it's not right and it's not what we preach."
Wright said she then approached Jackson directly, quoting scripture from the Bible from the book of Romans, which states: "You, therefore, have no excuse, you who pass judgment on someone else, for at whatever point you judge another, you are condemning yourself, because you who pass judgment do the same things."
To which, according to Wright, Jackson replied, "If [Wright] was making this much noise, [Wright] should be making this much noise in the kitchen," and that "good Christian girls don't do this."
"I said, 'How am I not a not a good Christian girl? I have a 3.5 GPA, I go to church, I pray … he ignored me," Wright said. "He ignored a lot of my arguments. He said I was going to hell because I was a sinner."
Jackson also ignored other audience members' comments and questions. He continued to repeatedly condemn members of sororities, the football team, the cheerleading team and the entire JMU population for "sins" such as premarital sex, drug use, drinking alcohol and masturbation, according to Wright. She said he even sang a short song condemning homosexuality.
Wright added that she doesn't think Jackson's statements about JMU students are true.
"Sure, we have a drinking culture, but … not everyone is a binge-drinker or a heavy social drinker," Wright said. "I think it's a very distasteful generalization of this campus to say that we all take drugs, have sex and get drunk — because we don't."
At one point during their heated exchange, Wright said that the police officers who were present had to get physically involved because of Jackson's increasingly vulgar and aggressive behavior, which included directly calling her a "whore" and getting closer to her face.
However, Wright said she felt empowered by the experience and that many students around her banded together against Jackson. The crowd even chanted "J-M-U!" and sang "Amazing Grace."
"We told him to get off our campus and to stop spreading this hate — we don't want this on our campus and he tried to tell us that this wasn't our campus," Wright said.
A YouTube video that was passed around social media over the past two days showed junior justice studies major Luke Reeping with a guitar leading a group of about 20 students in singing a Christian song, drowning out Jackson's multiple attempts to speak. That Tuesday evening, the video already had more than 20,000 views.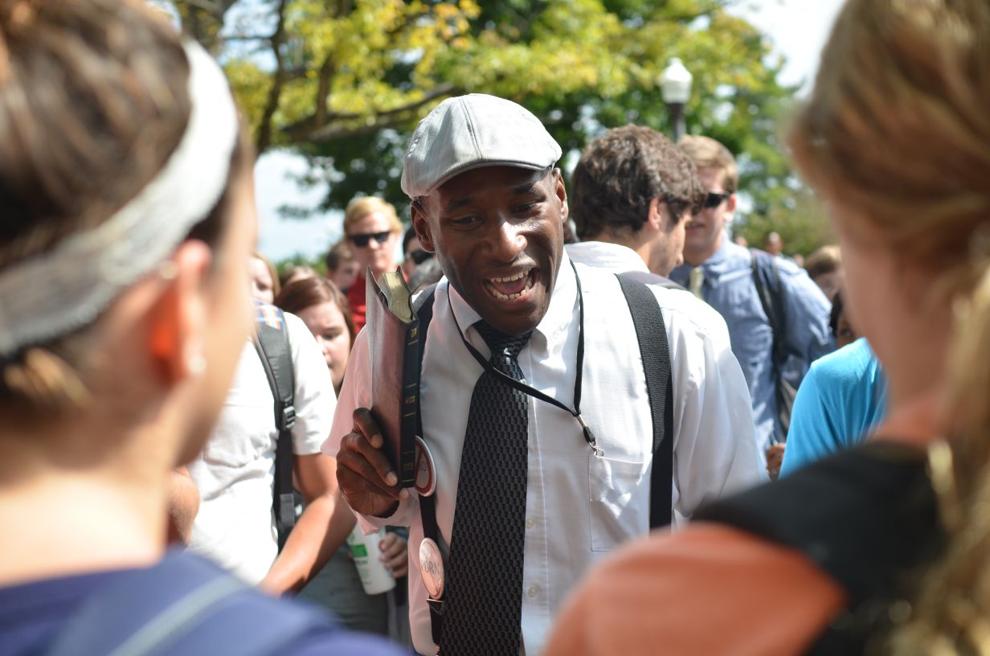 In April, Gov. Terry McAuliffe signed House Bill 258 into law, giving public university students the right to free speech and protest at any outdoor area on campus. Prior to this amendment, JMU had only designated certain areas, such as the commons in front of D-Hall, as locations for free expression.
Since people aren't restricted on the time, place and manner by which they can speak on campus, people like Jackson are free to gather without permission or a required permit as long as they don't pose a physical threat to the environment around them.
Joseph Urgo, associate director of Madison Union, explained that these changes are representative of a balance between an individual's rights and a university's right to provide an education for its students. Urgo believes that as long as safety is maintained and the university's mission isn't compromised, public discussion can be practical and engaging.
"Obviously the way they're presenting it has everything to do with how students will respond," Urgo said. "If they're loud, or not abrasive but direct, and say things that students will have a challenge with, they're gonna stop and challenge it, and I think that's what they want — is that friction, that dialogue — it engages them."
Just down the steps from Jackson and his crowd at Carrier on Tuesday, another Christian preacher happened to be sharing with students. Mike Barko, president of Communities 4 Christ, is a regular at JMU.
Many students who pass through the commons by D-Hall on their walks to class may recognize Barko with his bucket of colored wristbands, which he hands out to passers-by while sharing his faith.
Barko said he could only hear the commotion that Jackson caused, but still had visitors — many of whom had just witnessed Jackson's preaching. Barko said the students thanked him for sharing his faith humbly, and sharing a message of love and not a message of hate.
"The gospel is a gospel of love … but [Jackson] is sharing in a wrong spirit. We need to share with a humble spirit," Barko said. "I've sinned just like every other student, so I don't want to be speaking to them in a condescending manner … I want to share with them in a loving manner that says, 'I'm right there with you. I've done the same bad things, I have a solution — Could I share the share the solution with you?'"
Barko added that although he agrees with Jackson that Christians go to heaven and non-Christians go to hell, he emphasized that it's not up to people like him or Jackson to condemn people to hell or even accept Christianity into their lives. Rather, it's up to the individual to decide, as well as the God that he and Jackson both believe in.
In addition, Barko also said that although he disagrees with Jackson's method of preaching, he still thinks that Jackson should be allowed on JMU's public campus and honor his free speech rights.
"JMU is blessing me by allowing me to come, and if they want to bless him and allow him to come, he has every right to come and share his views," Barko said. "Anytime you have freedom, you're going to have abuses … if you let people come, you're going to get some that are good and some that are bad, and that's just the way it is."
Contact IJ Chan, Patrick Mortiere and Lauren Hunt at breezenews@gmail.com.
Many students engaged in heated discussions with Ross Jackson while he preached on campus Tuesday and Wednesday afternoon. After being cited with assault and battery, and a no trespass notice, Jackson steps back from JMU and opens up about his past.
---
Check out The Breeze's full video and social media coverage of the incident on our Storify: