The JMU Board of Visitors (BOV) has met in an online format three times and held one public comment meeting since the university moved online because of COVID-19. Here's everything to know about what happened at the online meetings. 
First online meeting
The board met via WebEx on April 24 to discuss the university's response to the pandemic. At the time of the meeting — which occurred 45 days after the announcement that JMU wouldn't reopen after spring break — the university's COVID-19 webpage had acquired 174,965 views, and the pandemic email hotline had received 587 emails. Abandoned student belongings still outfitted 11% of on-campus beds.
Former Rector Mary Herod delivered a report on JMU's transition of 5,441 classes, 21,000 students and 1,403 full- and part-time instructional faculty to online teaching. Herod said hardware and internet problems have created synchronous difficulties.
"These challenges exacerbate the socioeconomic divide and put some students at a disadvantage," Herod said.
Also at the meeting, Vice President for Student Affairs Tim Miller tossed around the idea of planning a fall prom for incoming freshmen who missed out on their senior prom.
Then came the bad news.
JMU originally planned on freezing tuition for the second year in a row because the Virginia General Assembly allocated more than $440 million in higher education investments in its 2020-2022 biennial budget. However, the pandemic has created economic instability, forcing lawmakers to reevaluate the $7 million funding to JMU. The General Assembly is scheduled to reconvene on this award Aug. 1, but Charles King, the senior vice president for administration and finance at JMU, said the university must move forward under the assumption that it won't receive the funding. Although tuition bills have already gone out, this year's budget isn't set in stone.
JMU's coronavirus bill totals around $33 million, and The Breeze has looked into why that is.
King warned freshman in-state students that they may see a tuition increase between $0 and $1,000. Sophomore and junior Virginia residents' tuition could've swelled an additional $362, while in-state seniors' could've surged $330. For undergraduate out-of-state students, King's team originally recommended a tuition increase of $500 for all classes.
The proposed tuition increase ranges were determined by a few key university goals, including maintaining a low student-to-faculty ratio, increasing operational costs for new facilities and inflation adjustments.
The BOV held a virtual public comment meeting four days later to discuss the potential increase of tuition and fees because of the coronavirus. Two members of the public phoned in to the meeting — a student and the state advocacy manager at Partners for College Affordability and Public Trust.
Second meeting
The board ultimately decided to freeze tuition and increase comprehensive and housing fees at its May 15 meeting. Its decision was unanimous and extended to all JMU students — undergraduate and graduate, in-state and out-of-state.
However, while tuition plateaus, students will have to shell out an extra $124 in comprehensive fees and an additional $384 in room and board next year. The fee hikes mean a $508 increase from last year, pushing freshman out-of-state students' total annual cost of attendance to over $40,000. JMU's comprehensive fee is already one of the highest in the state. King said the fee increases will cover operating costs, new facilities like the 150,000-square-foot College of Business building and student services.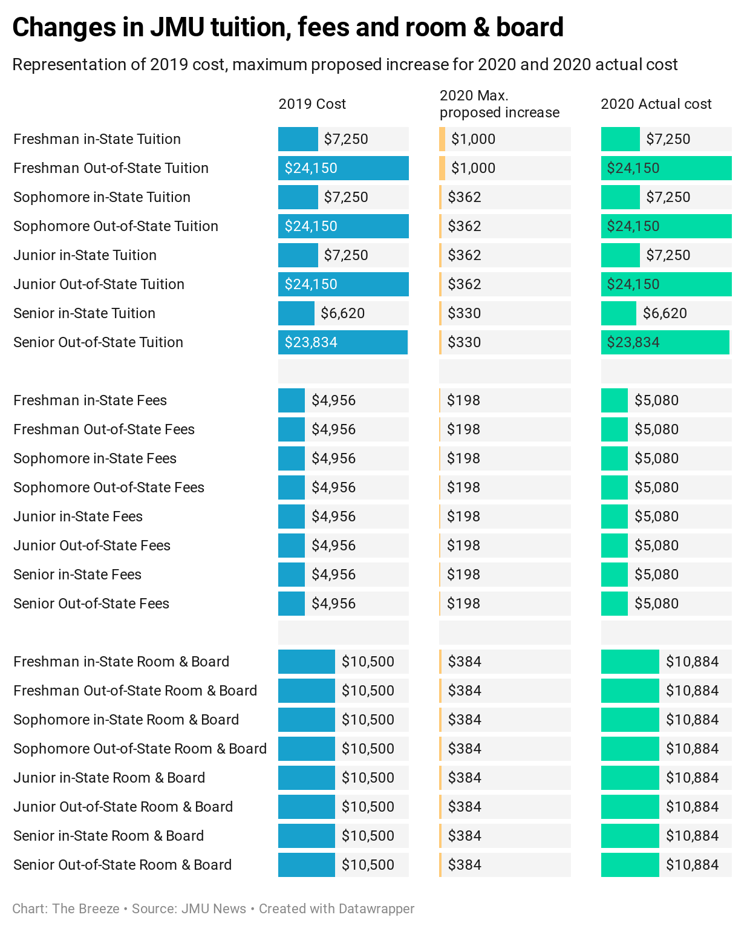 King revealed that a week before the meeting, his team planned to recommend a $400 tuition hike for all students. Then other Virginia institutions — like VCU and the College of William & Mary — announced their decisions to freeze tuition in light of the pandemic. King said he revised his recommendation to mimic those schools.
Tuition funded 70.3% of JMU's operating budget for educational and general programs this year, while the general fund from the state accounted for 28.3%. The remaining 1.4% was funded by miscellaneous revenue sources, according to JMU's 2019-20 operating budget. JMU ranked the lowest among four-year Virginia public institutions for general funding per in-state full-time student, receiving $5,294 per student, as opposed to the state average of $7,140. King said that since 1998, the general fund has been cut almost in half, from 47.3% to 28.3% in 2020. Student tuition picked up the slack.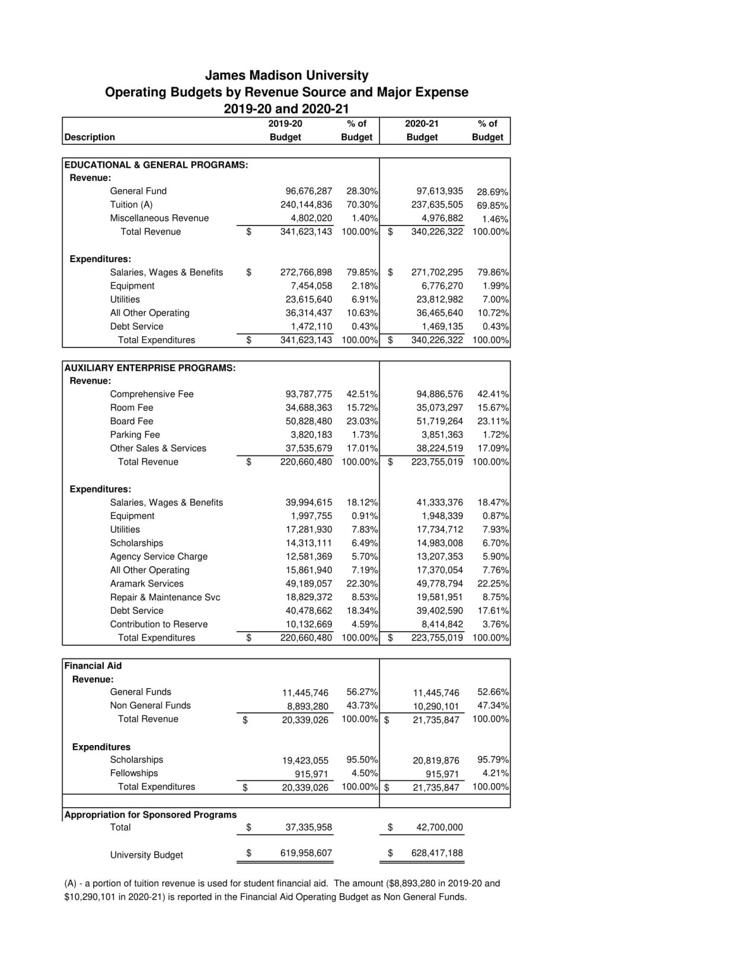 "This is why we're so dependent on tuition," King said. "But, we do a heck of a job with what we're given."
King said he believes the lack of general funding from the state is because JMU grew too fast for the state's funding to keep up and because JMU has a large out-of-state population — currently 24% of the student body — which factors into a higher tuition profit. Compared to neighboring universities' out-of-state populations — with Virginia Commonwealth University at 14%, George Mason University at 20% and University of Virginia at 30% — JMU is in the midrange.
Despite being the lowest funded institution in the state on a per-in-state student basis, JMU's total cost of attendance is also one of the least expensive among four-year institutions in Virginia. The university ranks 11th out of the 15 Virginia public institutions.
Also at the meeting, President Alger unveiled that a group of patrons — which, among others, includes every BOV member — agreed to match contributions to the Madison for Keeps scholarships up to $250,000. Donors hit the target within a day. Alger said he hopes the Madison for Keeps scholarship will allow 150 students financially impacted by the pandemic to remain at JMU. As of June 19, the university has raised $759,012 with 1,304 gifts.
Third meeting
On July 7, the BOV discussed how life on campus will change this fall, doubling down on its determination to host in-person classes.
Heather Coltman, the senior vice president for academic affairs, said a "heap" of eligible returning students hadn't enrolled yet. She said this could be because of uncertainty related to the pandemic. Coltman said the provost's staff individually contacted the students and have since enrolled nearly half. Coltman said over 20,000 students have now registered for 4,025 fall classes.
This semester will largely occur in an online format. Coltman said she anticipates that up to 40% of classes will be online or hybrid online and in-person instruction, but some deans reported only needing 10% of their department's classes online. JMU is making "case-by-case decisions" on which classes will be online based on their syllabi, learning objectives, class sizes and the professor teaching the course.
"Some of our faculty and staff are in at-risk categories. Some have family that they care for that are at-risk," Coltman said. "We have asked academic unit heads and supervisors to be extremely flexible in determining which faculty could teach online."
King said JMU has spent $400,000 this summer upgrading online instruction — approximately $20 per student. Each classroom was equipped with the ability to live stream and record lectures.
"This virus is going to be with us when we open," King said. "So, we have to use technology to get us through this crisis."
Director of Athletics Jeff Bourne said the future of fall sports is uncertain. Bourne said he corresponds weekly with athletic directors at other Virginia universities to draw up a game plan. As a part of increased safety procedures, student athletes will arrive back at campus in waves to reduce the opportunity for an outbreak. The first group of athletes touched down on campus July 6. 
One board member raised the question of moving fall sports to the spring. Bourne said simultaneously managing fall and spring programs would be challenging. He also said the revenue the university collects from the football and men's and women's basketball programs is a financial incentive to continue the seasons as planned. JMU Football and Basketball collected $5,460,336 in operating revenues during the fiscal year that ended June 30, 2019. 
Though the CAA has suspended its conference-wide season for football, JMU Athletics has announced its commitment to still play in the fall as an independent team.
"Given where the NCAA finds itself, there are certain programs that are going to have to play," Bourne said. "We're just figuring out how that will happen."
As the fall season approaches, JMU Athletics has yet to make any large-scale budgetary decisions, citing a pending review of 2019-20 fiscal end-of-year reports to be completed early in the fall.
Miller said all of these adjustments are an effort to control the spread of the virus while students are on campus, but the success of this plan is going to depend on students' off campus activity.
"This semester is going to rely almost completely on our students' choices off campus," Miller said. "They have the power and responsibility in this situation."
Rapid changes in operations
Secretary to the Board Donna Harper said the university coordinated with JMU's X-Labs to determine the best way to hold meetings during the pandemic, and it landed on WebEx video conferences. The university incurred no additional costs associated with transitioning its meetings online.
Harper was responsible for setting up the online meetings and disseminating materials to the board — her normal duties, but fulfilled remotely. 
"It was a growing experience," Harper said. "It allowed us new opportunities to understand our technological capabilities and develop new skills."
Student Representative Norman Jones III said he felt more connected to his constituents through an online forum. Several students who are recipients of Deferred Action for Childhood Arrivals (DACA) approached him with concerns because they were excluded from CARES Act aid. Other students confessed their fears about the potential tuition hike proposal. Jones said he had to maneuver the altered meeting format to voice these anxieties.
"Being an advocate for students in a space where we're not all in the room together is a little more challenging in online format," Jones said. "We can't bounce questions off one another, and it's harder to interject with concerns."
Jones said that regardless of how the university operates in the fall, he'll continue to work diligently to meet students' needs.
"I want to make the board more accessible to students, especially during this time of uncertainty," Jones said. "That's my priority this coming year."
This is the second article in a series by The Breeze's investigations desk examining the financial impact of COVID-19 on JMU. The next article in this series, covering JMU Athletics, will be published Friday.
Contact Brice Estes at estes2ba@dukes.jmu.edu.
Contact Jake Conley, investigations editor, at breezeinvestigations@gmail.com. For more coverage of JMU and Harrisonburg news, follow the news desk on Twitter @BreezeNewsJMU.