When a group of girls' small get-together of 10 people spiraled into an unruly crowd, they never imagined it'd lead to facing suspension from JMU.
Especially not after Vice President for Student Affairs Tim Miller wrote that students were entitled to a warning before being referred to the Office of Student Accountability and Restorative Practices (OSARP) in a tweet on Aug. 21.
"Dear @JMU, please be smart and safe tonight," Miller wrote. "Be aware, if you host a large party you will receive a warning and if we have to return, all lease holders will be suspended from JMU immediately. The health of this community is too important to risk."
Dear @JMU , please be smart and safe tonight. Be aware, if you host a large party you will receive a warning and if we have to return, all lease holders will be suspended from JMU immediately. The health of this community is too important to risk.

— Dr. Tim Miller (@JMUTimMiller) August 22, 2020
This differs from OSARP's code of conduct.
Director of OSARP Wendy Lushbaugh said OSARP has no policy that states a student must receive a warning before they stand trial for an alleged violation of the Stop the Spread Agreement — which asserts, among other things, that students won't host or attend social gatherings larger than 10 people.
Miller said he tweeted this information after he conducted a ride along with a Harrisonburg Police Department (HPD) officer who explained their enforcement strategies. HPD employs an ordinance that requires officers to dish out warnings before writing students up and turning them in to OSARP.
Sam Fairbanks, a senior geology major and director of Student Defenders, said the police who reprimanded the girls who "lost control of their house" wrote up the group without a warning because their house was a fraternity house last year that police had been called to.
Student Defenders counsels students navigating OSARP's "obscure" process. Fairbanks said the organization currently represents 10 students who are accused of violating JMU's Stop the Spread agreement.
"Students are expecting this one warning and instead [are] getting suspended," Fairbanks said. "They shouldn't be gathering in the first place, but that doesn't change the fact that JMU is backhanding their students."
Interim Police Chief Gabriel Camacho said HPD has only charged one group with hosting a gathering larger than 50 people, and those students were issued a warning. Camacho said it's not HPD protocol to discern JMU students from permanent Harrisonburg residents.
"We're not treating one group of people over someone else," Camacho said. "They're all residents."
Mary-Hope Vass, JMU's deputy spokesperson and assistant director of media relations, said the JMU Police Department has received a total of 1,627 COVID-related complaints since students' return in August. Each of those complaints were forwarded to OSARP, though many of those complaints weren't specific and couldn't be followed up.
According to JMU's daily crime log, authorities issued 35 total warnings to students hosting mass gatherings — with 13 issued in August, 20 in September and two in October. The log doesn't detail the actions taken on 19 additional mass gatherings reports. Six mass gatherings were dispersed and one arrest was made in relation to mass gatherings between August and October, according to the documents. The crime log also details that 91 additional mass gathering complaints were unfounded. These numbers exclude all calls related to noise violations.
Vass said OSARP was investigating 330 cases of Stop the Spread violations with 164 students found responsible as of Wednesday. Lushbaugh said sanctions for students found responsible range from a semester of probation to expulsion depending on the severity of the offense.
"Our goal is to have students at school and protect the local community," Lushbaugh said. "Anytime there's a concern of safety, it's important to hold students accountable."
OSARP's process begins when a case manager receives a write up from either an officer or a resident assistant (RA). If the case manager determines that a JMU policy was violated, the student is emailed their charge three days in advance of their hearing — a one-on-one meeting with the case manager. Fairbanks said case managers are typically "overzealous about punishments" in these meetings.
Students can either accept or reject the consequence the case manager assigns. If the student rejects the decision, their case is ordinarily heard in front of a four person board of faculty, staff and students. Fairbanks said OSARP has told students their board review this semester will instead be conducted by one person and a chairperson rather than four board members.
The last line of defense a student has is to appeal the board's decision, but students can only take advantage of this option if there was a procedural error or if new information on their case arises.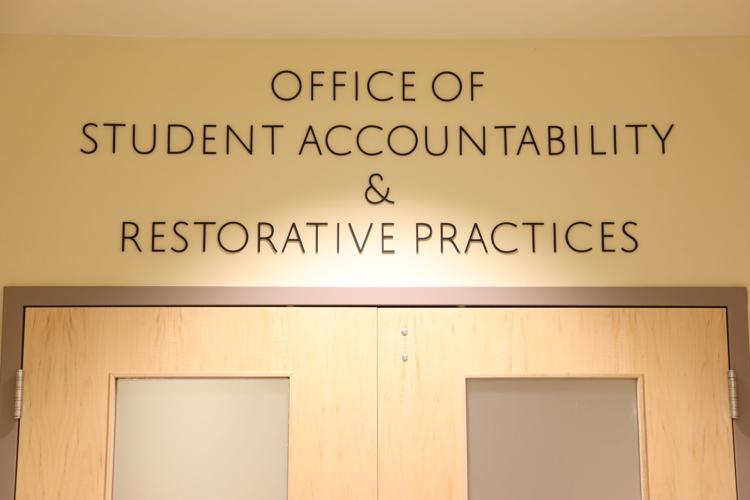 Lushbaugh said typically sanctions are issued by a case manager within one to two weeks. If the student elects to meet with the board, decisions are normally reached within five weeks, and if the student appeals that decision, it can take six to seven weeks.
Fairbanks said she disagrees with the accuracy of this timeline. She said OSARP has been charging students three weeks after their offenses and board reviews are scheduled three weeks out from the time students reject their case manager's chosen sanction.
"They're holding our students in limbo for months wondering what will happen to them," Fairbanks said.
Lushbaugh said the added volume of Stop the Spread violations on top of OSARP's regular array of cases leaves her office with up to two-thirds more work. She also said OSARP is down two full-time staff members because of "normal vacancies," exacerbating the pressure to comb through the violations in a timely fashion.
One student who was working with Student Defenders has already been suspended. Fairbanks said the group is writing an appeal with the student who expected a warning that never came, although categorically that doesn't fall under the grounds of appealing due to a procedural error or new information.
Fairbanks said partygoers have become the scapegoat for JMU's failures in August, but she said the blame belongs on the shoulders of the administration at JMU.
"Administration didn't do what they were supposed to do," Fairbanks said. "They're doing more harm than the students."
Contact Brice Estes at estes2ba@dukes.jmu.edu. For more coverage of JMU and Harrisonburg news, follow the news desk on Twitter @BreezeNewsJMU.