Jonathan Alger is JMU's sixth president. But what else do you know about him? We asked him about his hobbies, his past jobs and some of the places he enjoys at JMU.
M101: What is/are something surprising that students don't know about you?
Alger: One summer in college I worked three jobs: at a day care center, in a small store, and as a bouncer on the weekends at an outdoor concert tent.
I once sang on stage at a sold-out concert in Carnegie Hall in a world premiere of a piece in which the chorus imitated bird noises for several measures.
This past summer, I went zip-lining in the rain forest in Costa Rica with my family — it was quite an adventure!
M101: Where is your favorite spot on campus to watch JMU sunsets?
Alger: My wife and I love to watch sunsets from the president's house in Forest Hills, where you can also see the mountains in the background.
M101: What do you do in a typical work day?
Alger: While there's probably no such thing as a "typical" day in the life of the president, I spend a lot of time in meetings during the day on a wide variety of subjects. I also often attend university events on evenings and weekends. My job also entails a lot of travel for conferences, meetings, alumni visits, and other events where I represent JMU. The university has a dizzying array of constituencies on and off campus, all of which require attention from me and my colleagues.
M101: Do you travel often? If so, how many countries have you been to? What's the most interesting trip you've taken?
Alger: I love to travel and have been to about 30 different countries so far. I particularly like to visit JMU study abroad sites and partners. One of my most memorable trips recently was to Kosovo, a small nation that is working closely with JMU to strengthen its higher education system to support an emerging economy and democracy. The people there are truly inspiring, having overcome a history of war and genocide to build a better future. We have a lot to learn from their forgiveness and resilience.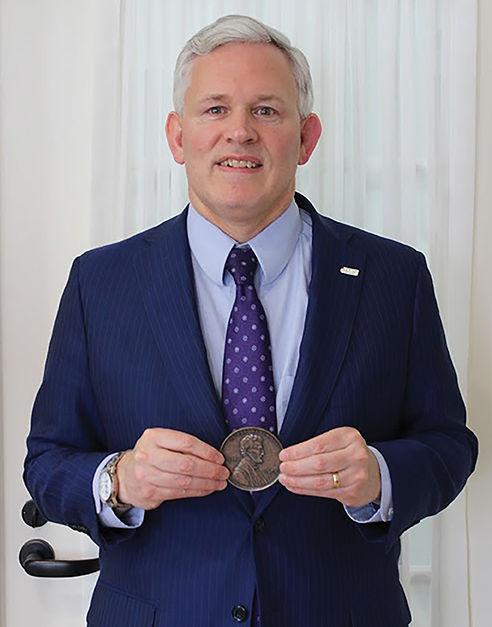 M101: I read from your bio that you are a coin collector. How many coins do you have? How do you find them? Do you have a favorite, sentimental, or most interesting coin?
Alger: I have thousands of coins in my collection, most of which I collected when I was a child. I used to comb through everyone's change to look for hard-to-find dates and mint marks, and even now I always bring home coins from every trip to a foreign country. My most sentimental coin is a rare 1909-S VDB Lincoln Cent, which was my high school graduation present from my parents and which completed my collection of Lincoln cents. I like to joke that I am the only person I know whose parents gave him a penny for his graduation present—in fact it was an extraordinary and meaningful gift.
M101: Are you a picky eater? What's your favorite food or dish?
Alger: I was a picky eater when I was young, but my taste buds have expanded over time. I love Italian food in particular; chicken parmigiana is one of my all-time favorite dishes. I also have a sweet tooth and love chocolate and peanut butter in any kind of combination.
M101: Do you sing? Act? Dance?
Alger: As noted above, I was involved in choral singing for much of my life. I sang with a large chorus in DC for 11 years, The Choral Arts Society of Washington. We gave concerts in the Kennedy Center, performed on national TV, and participated in several international concert tours. I have also done a bit of acting in my distant past—appearing in a few musicals many years ago.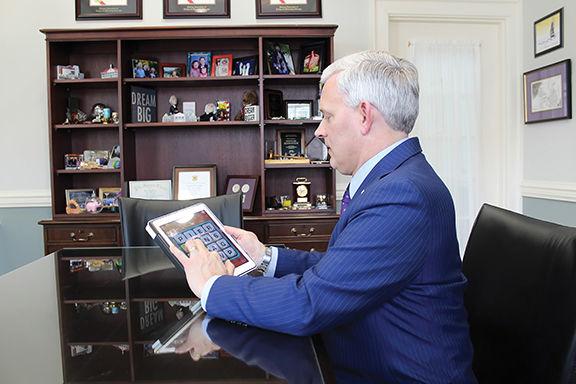 M101: Do you have any other hobbies? If so, what are they?
Alger: I wish I had more time for other hobbies right now, but I do enjoy tennis, swimming and theater among other things. I also like to play the word game Boggle—for some reason my brain likes to connect letters in that way.
M101: Favorite childhood memory?
Alger: I loved traveling with my family, and my favorite such trip was a three-week road trip in a station wagon across the entire country. My grandparents came along to help keep the peace among me and my two sisters, and we visited a lot of great landmarks and national parks along the way.
M101: What was your favorite subject in school when you were growing up?
Alger: I always loved history, especially American history. Maybe that's why I ended up at James Madison University. I even had a set of small ceramic presidents on my dresser as a child.
M101: What were you like in college? Did you ever change your major as a student?
Alger: I loved learning and was a very diligent student in college. I majored in political science with a history minor and a public policy concentration in the Honors Program at Swarthmore College. I did not change my major, but had the opportunity to take a broad range of liberal arts courses (which I loved). I was also involved in student life, most notably in choral music on and off campus.