The boxes are unpacked, walls decorated and doors opened. While this time of year is frequently associated with the move-in of new JMU students, several new companies have also moved in downtown. 
On July 20, Hotiman Ridwan and his co-owner officially opened BoBoKo Indonesian Cafe in the Ice House on S. Liberty Street. 
"BoBoKo is my concept inspiration," Ridwan said. "So in my country, when I was growing up, my mom steamed rice and put it in the BoBoKo [a basket made of bamboo] and then we would share it together and pass it around kind of like side dishes. So when I was coming up with the concept, I stuck to that name. It means a lot to me."
Ridwan describes his flavors as a fusion of Vietnamese, Thai and Indonesian. He uses ingredients from the Harrisonburg farmer's market to complement the vegan, vegetarian and gluten-free options. In addition, he gets his chicken from Shenandoah Valley Organic Chicken, also located in the Ice House. 
Ridwan isn't the only one bringing fresh flavors to downtown Harrisonburg.
Rob Roeschley, one of the owners of Shirley's Gourmet Popcorn, has introduced new and bold flavors of popcorn, such as the Windy City Style mix of cheddar and caramel, to Harrisonburg after opening less than a month ago. While the Shirley's franchise is new to Harrisonburg, the Roeschleys have been in town for 24 years.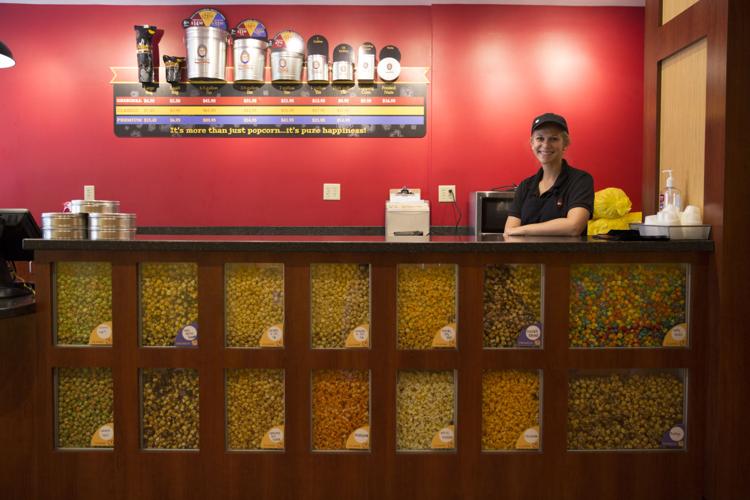 Roeschley and his wife Lisa met in college in Bluffton, Ohio, where the Shirley's headquarters is located. Once an empty spot downtown opened up, Roeschley was eager to take a little piece of Bluffton and bring it to Harrisonburg.
"From what I understand, our store and our unit here had been vacant for about a year," Roeschley said. "We've had all kinds of compliments from people, thanking us for bringing something different to downtown." 
The popcorn flavors range from the movie-theater butter original popcorn to exotic flavors like the rainbow-colored Jelly Bean with six different fruit flavors. They cater to a variety of pallets, from the spicy Afterburner to the sweet-tooth's Buckeye.
Shirley's also uses local ingredients to make their gourmet popcorn, featuring the standard movie-style butterfly popcorn from a farm in Dayton. Roeschley expressed hopes to soon get their mushroom popcorn, which is the dome-like popcorn used for the caramel-based styles, from the local farm as well.
Shirley's locations in Ohio and Harrisonburg feature the same flavors, but Roeschley hopes to tailor the downtown location to the community. 
"Really the only ones that we will have different from any of the other stores will be if we decide ... to come up with a flavor that would be unique for the JMU community," Roeschley said.
While these two new companies incorporate local flavors and products as they begin work downtown, one new company has had roots in Harrisonburg since 1922. 
As the co-owner of Dream Cones, Angeliki Floros has been involved in the long-running family business Jess' Lunch Downtown since she came to Harrisonburg from Greece in 2002. Over the last year, however, she and co-owner Thomas Marchese have worked to bring their latest dream to life.
"It came together like small pieces of a puzzle," Floros said. "We didn't wake up one morning and say, 'Today we're going to make … ' No, no. We had the building and we had to remodel it; we had to fix it. When you see the building, the building by itself tells you what it wants to be."
Floros originally thought she would use the building — which used to be Hole in the Wall, an adult entertainment store — as an art studio. However, after coming across an ice cream stand for sale, Floros and Marchese knew they wanted to bring a new ice cream shop downtown. 
For the upcoming colder months, the ambitious duo plans to make cheesecake bites along with cappuccinos. 
"I'm going to go to my Greek heritage [with] Greek coffee, which is like espresso [paired] with, we call it Loukoumades, but it's more dough, like fried dough with honey and ice cream [on the] side," Floros said.
Tasty treats like these are part of what makes downtown Harrisonburg unique. The new companies recognize that they wouldn't be where they are without the support they've received from the community. 
"If you don't have a business in Harrisonburg, you don't understand how strong [of a] pillar the JMU students are for business," Floros said. "They support the business, they support the community."
Contact Alison Gips and Emma Korynta at breezearts@gmail.com.