I live on chicken, so going a week without it to sample the best of JMU's vegetarian options seemed like a daunting task. But surprisingly, I didn't miss the chicken quesadillas, chicken caesar salads or chicken paninis that compose such a huge part of my diet as much as I thought I would. Fortunately, JMU offers a wide range of meatless foods to satisfy a variety of palates. Here's my definitive top 10 listing of the best vegetarian foods on campus to chow down on. 
10. Market 1 cranberry, walnut and feta salad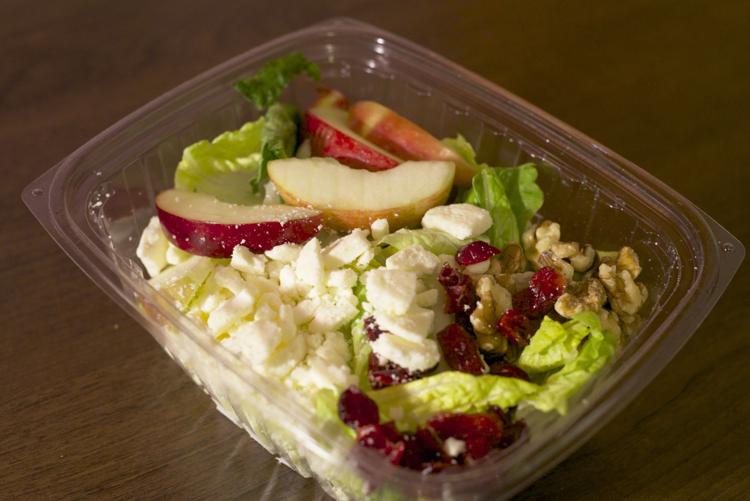 Although the burger and sandwich stations are typically my go-to while visiting Market, the grab-and-go section was deliciously void of meat. I sampled a pre-made salad that contained cranberries, walnuts, apple slices and feta cheese. Although the lettuce wasn't as crisp and fresh as I would prefer, the combination of ingredients was flavorful and had an intricate texture arrangement with crunchy nuts and apples and soft, delicate cheese. This particular salad is appealing, mostly because I've never seen it offered at other grab-and-go locations throughout campus. The potato soup from Market was also a tasty hit and paired well with the salad. It offered a warm, creamy blend of potatoes and vegetables that was hearty enough to satisfy my appetite. 
9. P.C. Dukes quesadilla
I usually get a chicken quesadilla from Zoca several times a week and surviving without that staple was initially terrifying. Luckily, a friend suggested that I replace the chicken with black beans instead to make it vegetarian. Although the filling of the quesadilla was slightly mushier, I could barely notice a difference with the bean substitution. This "new" quesadilla still offered the gooey, stringy cheese, the light and refreshing pico de gallo and the Mexican flavors reminiscent of my mother's cooking that the chicken version did. 
8. Get Your Green On! Make-your-own quinoa bowls: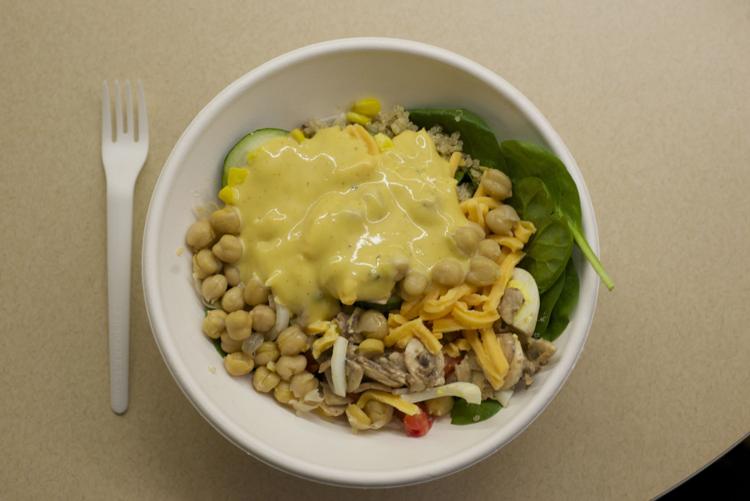 This hidden gem was unfamiliar to me prior to my vegetarian experiment. But after uncovering the deliciousness that is the quinoa bowl, I will be making visits to the Student Success Center often. I opted to make my own quinoa bowl so I could stock it up with all of my favorite veggies. As my base layer, I selected some of the freshest, greenest spinach I've ever tasted and topped that off with cooked quinoa. Finally, I added tomatoes, cucumbers, corn, mushrooms, shredded cheese, chickpeas and a light drizzle of honey mustard to round out the dish. I've had minimal experiences with quinoa, so I was skeptical as to how it would mix in with the remaining ingredients. It proved to be a delicious addition to the salad-like dish, as it offered a fluffy yet crunchy component.
7. Mongolian Grill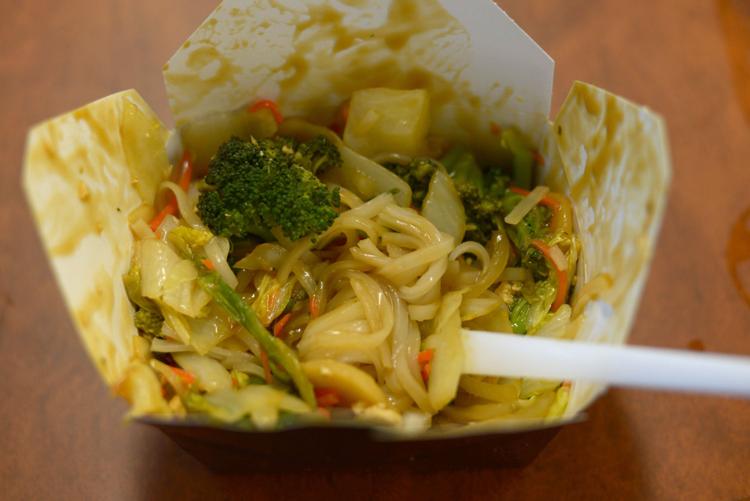 Thankfully, I didn't have to make any vegetarian adjustments to my typical order at Top Dog. The vegetable stir-fry at Mongolian Grill is something that always curbs my cravings for Asian take-out food. The long noodles with the sweet teriyaki sauce are perfect for slurping. By adding the golden blend of vegetables, an extra element of crunch is thrown in to perfectly balance out the soft noodles. The portion was plentiful and filled me up well, which is especially important considering the lack of protein in this dish.
6. Chophouse at Student Success Center veggie burger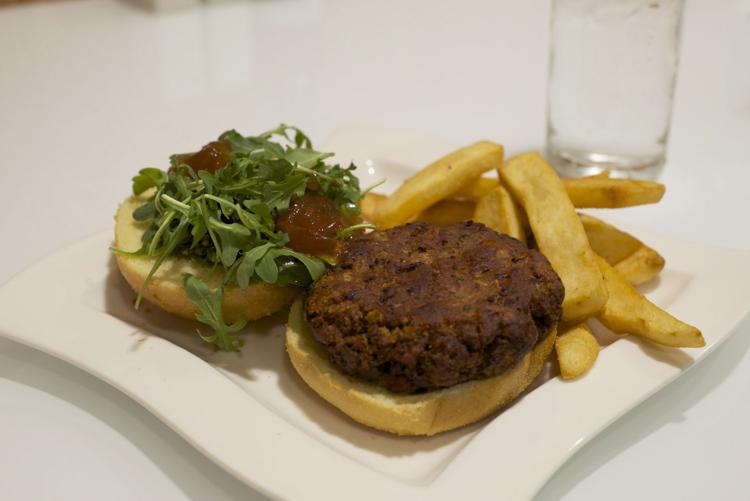 The kind of veggie burgers I'm used to are dry, gritty and disgusting in general. SSC is the one veggie burger I've tasted that puts most meat burgers to shame. The veggie patty is incredibly well-seasoned with a thin layer of fried crispiness that gives an extra dimension of flavor. The toppings make it an even better standout and add a uniqueness that goes unparalleled in the burger world. The fresh pesto and arugula greens provide a clean, earthy taste that reminds me of how a garden would taste. A surprisingly sweet tomato jam serves as the perfect alternative to boring ketchup and rounds out the dish. The only complaint I would make with this meal is that the bun to burger ratio is a little disproportionate. 
5. Festival grilled cheese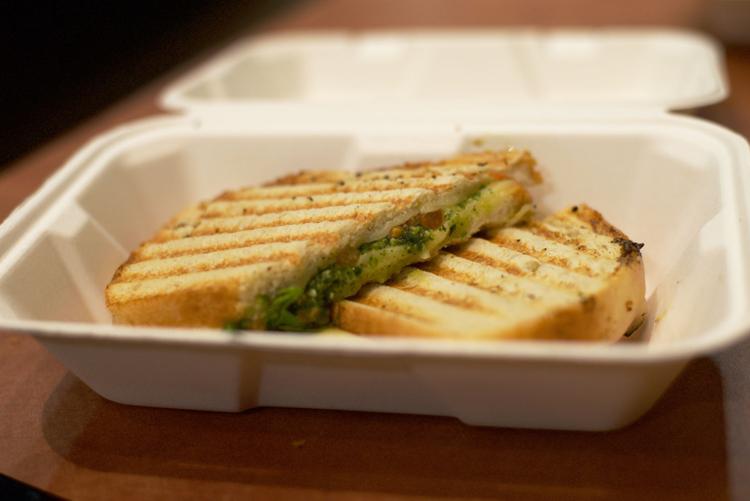 I'm not typically a huge fan of grilled cheese, but when it's done right, it ranks pretty highly on my favorite foods list. Cheeze Please is the perfect place on campus to get a quality grilled cheese that has a little pizzazz. I've discovered a winning combination of ingredients and plan to stick to that regimen because the sandwich is that good. Italian bread that's flawlessly buttered serves as the crispy base. In between the bread goes some ooey-gooey cheddar cheese and of course, caramelized onions. A smoky and flavorful chipotle mayo sauce rounds out this masterpiece and really ties all of the flavors together.
4. D-Hall
Carbs are by far my favorite food group and D-Hall is the one place I can always count on to fill my needs. Whether it's home fries, French toast and biscuits at brunch or pizza and French fries at dinner, D-Hall doesn't disappoint. Of course, when I'm feeling healthy, the salad bar is a delicious option as well. D-Hall does offer the most vegetarian options on campus, at least according to a friend of mine that's vegetarian. I decided to explore the Veggie Variations station to decide for myself if it was the cream of the crop. Sure enough, she was right. I tried the Spicy Tofu Stir-fry, something I never would've glanced at in a million years. The tofu was a light, non-rubbery consistency and blended into the dish instead of sticking out. The stir-fry included a zesty broth chock full of green and red peppers and red onions that had the smoky, hearty qualities similar to a sausage sandwich.
3. E-Hall Pasta Bar
Living on the Quad, I typically don't venture toward East Campus to dine very often. But whenever I go to E-Hall, I never pass up the heaven-on-earth that is the make-your-own pasta bar. The best thing about pasta is that no substitutions are necessary for vegetarians to eat it. I was able to get my usual order of whole-wheat pasta, spinach, mushrooms, marinara sauce and a heaping spoonful of shredded cheese without worrying about a missing ingredient or an unfit substitution. The al dente noodles mixed with the softened vegetables, garlicky marinara sauce and melty cheese never fail to disappoint, and this time was certainly no exception.
2. Festival Crepes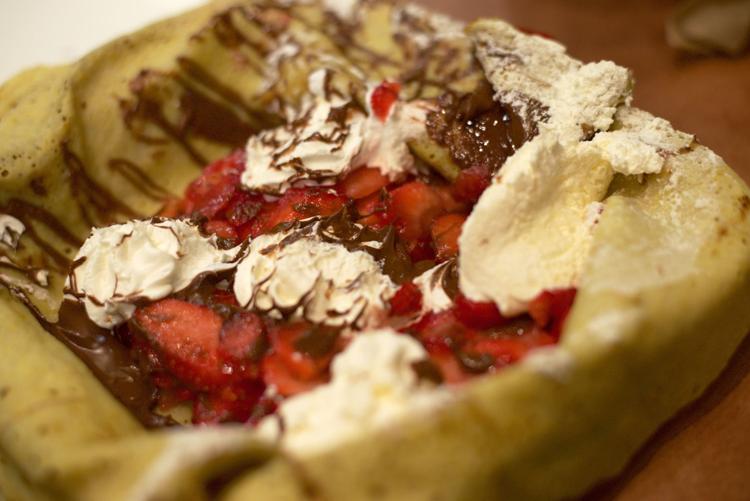 Although crepes are technically a dessert, I usually consider them to be a meal. The crepes at Festival are perfect for when you want to "treat yo self" and are best consumed at the end of a long, draining day. Strawberries are always my staple filler for the delicate, pancake-like crepe. Paired with a delectable drizzle of Nutella and a heaping mound of fluffy whipped cream, this dessert never fails to curb my sweet tooth with its tasty simplicity. If I want to mix up my order a little bit, I'll fill my crepe with perfectly ripe banana slices, chopped walnuts, a sprinkle of honey and of course the sweet whipped cream. 
1.  Mrs. Greens Salad Bar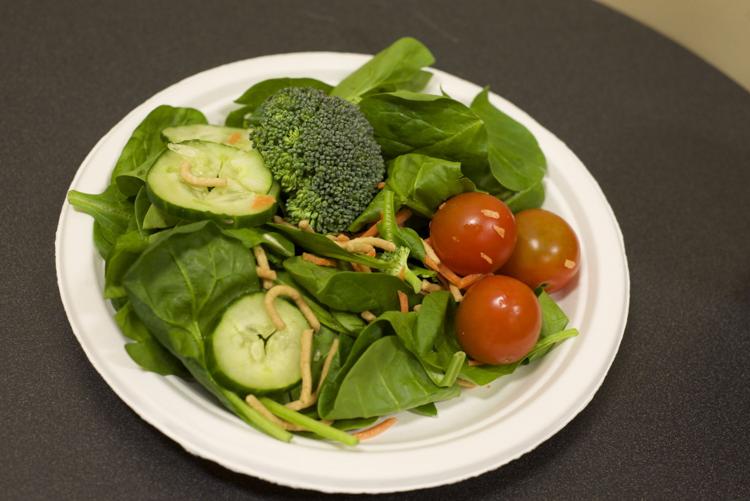 Salad is the stereotypical food that comes to mind when I think "vegetarian." Although I tried to come up with something a little more original to label as JMU's No. 1 vegetarian item on campus, absolutely nothing can compare to the salad bar at Mrs. Greens. The salad bar is a vast land of ingredients that extends throughout half the dining space. It has every vegetable and topping under the sun and can convert those who typically stray from vegetables to become salad enthusiasts. My favorite salad combination starts with a bed of crisp, green spinach and is topped with carrots, broccoli, tomatoes and cucumbers. For some added protein, I usually include crunchy chickpeas and hardboiled eggs. The standouts of this salad bar are definitely the toppings, though. Well-seasoned croutons are an option for those that like to stick with the traditional route, but I prefer chow mien noodles or goldfish to make my salad extraordinary.
Nicolette Chuss is a freshman undeclared major. Contact Nicolette at chussns@dukes.jmu.edu.