Bodies twisted in confusion and pain crawled down the stairs, draped in handmade canvases as they made a mournful descent. Cries of "Am I welcome here?" echoed repeatedly as a frantic girl ran around, lost and desperately for a safe space.
Although it happened in real life, this scene was not from war-torn countries like Syria, but was rather a theatrical performance reacting to the recent executive order on immigration. On Monday evening, a group of JMU theatre students gathered in the Forbes Center lobby, using their artistic talents and resonant voices in a passionate response to the recent immigration decision.
The idea for this short reaction piece started with Rebecca Lustig, a costume design professor, and Ingrid DeSanctis, a community-based theatre professor who focuses on current topics and issues in theatre, as their thoughts circulated about the refugee crisis and the controversies of the immigration ban.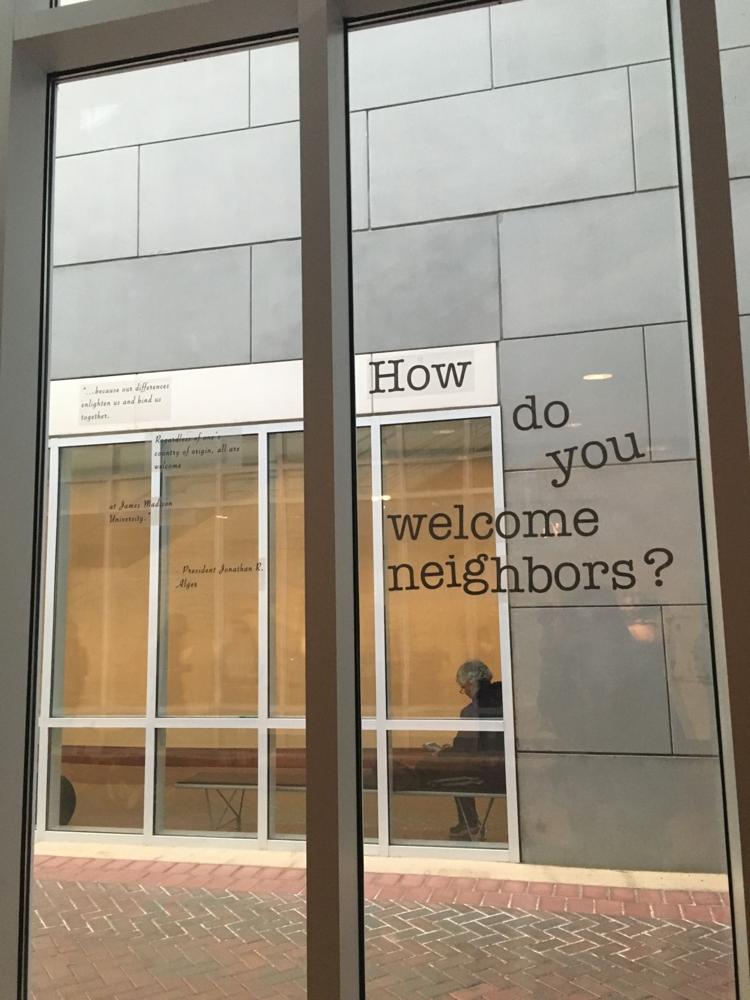 "I started talking to Ingrid about maybe we need to do something as artists to respond to what's going on," Lustig said.
They initially considered reintroducing a production of "The Trojan Women" that JMU did in 2013, drawing on the inspiration of women being displaced after a war and feeling lost. Lustig and DeSanctis realized a more direct and authentic reaction to the executive order was needed, and decided to include students from their classes.
"So the professors came to us and were like, 'So we have this idea and we want to respond to this, but do you guys want to do it?' And we were all like, 'Yes!'" Elana Swartz, a senior theatre major, said. "And then all of us poured our hearts into it."
President Alger's supportive comments and the Harrisonburg community's welcoming acceptance helped develop a theme of loving and accepting your neighbors.
The "no matter where you are from" signs also contributed a significant role into motivating the students.
"These signs are all around Harrisonburg, and that's also what inspired the whole thing," Swartz said. "Like, what is a neighbor? And what does it mean to be a neighbor?"
In just two class periods, DeSanctis' performance students crafted their own statements, using these signs and words of support as a catalyst for their creations.
"We all kind of just thought about neighbors and homes and so we thought up different pieces, monologues and a dance and song and movement … that goes with the idea of neighbors and getting in somewhere that you're not really welcome," Isabelle Burden, a sophomore theatre major, said.
Swartz wrote her own poem, titled "A Neighbor Should," to include as a personal anecdote of how she views the word "neighbor."
"I started thinking about all of the things that my neighbors were," Swartz said. "They were my babysitters, they were my playfriends, they were the people that walked my dog with me, the people that I learned to ride a bike with. And so those are the kinds of relationships that people are looking for. They just want to have a better life and they want to be safe."
In order to allow each student to contribute his or her personal message while still maintaining a connected performance, the class employed a devising technique into the show, allowing the audience to capture the reaction and emotional catharsis of each student's feelings.
"It's what Ingrid says is the art of just winging it," Burden said. "So all of this was kind of like, OK, we have a list of things we all want to do, but we don't really know how to intertwine them together to make a cohesive thing … so that's kind of how we did this process, literally 15 minutes before we started."
One student initiated the show by reciting Martin Luther King Jr.'s "I Have a Dream" speech. As these famous words faded out, Swartz took over with her neighbors poem.
"A neighbor is someone who always has extra sugar," Swartz said. "A neighbor is someone who always has your spare key."
Kerry Paige, a junior theatre major, overlapped Swartz's verse with a poem he wrote about the discrimination that immigrants and refugees face.
"Let me in, let me in," Paige said. "Not by the hairs of my chinny chin chin."
Another performer interjected with her self-written poem, yelling "knock, knock" in an outspoken nod to the walls and prejudices that such immigrants face. Each performer gradually joined her distraught shouts until eventually the entire stage was a chorus of desperate pleas from outsiders, begging to be let in as they writhed around the stage in distress.
"All of us played into our strengths really well to be able to make a piece," Burden said. "I sing, so I was like 'OK, I'm going to sing for this', and my voice will be able to add something to this message. So that was the coolest part, everyone being able to do what they love about something that we're passionate about."
As the performance aspect came together, Lustig's costume design students got to work creating costumes, starting with a vision Lustig painted in her head.
"When you look at the footage of all the people going out to the airports and a bunch of people who want to come into the United States, it made me start thinking about bodies, and how the human body is a canvas," Lustig said.  
With trench coats, sack-like pants and other blank canvases, her students began exploring their feelings about the executive order and creatively expressed these thoughts onto the surface of the costumes.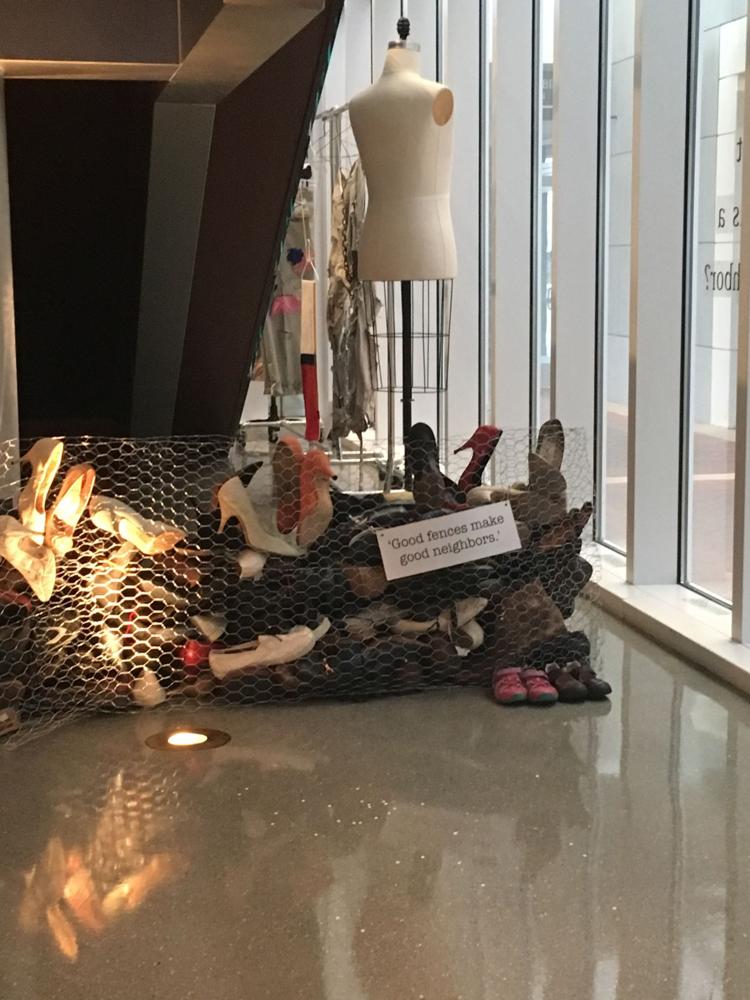 Some are splashed in various shades, representing the colors of the countries impacted by the crisis. Others have words of hope and inspiration covering their surface. Paige even created a pair of shoes with the words "try walking in my shoes" to add to his opinions about the executive order.
"Basically, we kind of related our message, the performance, over to the costume design to get kind of a sense of what we were doing," Paige said.
These creations are on display in the Forbes Center lobby and will be used again this Thursday at 2:15 p.m. for another performance. Students hope that by voicing their opinions in an artistic display, people will recognize their claims and develop their own thoughts about the recent immigration events.
"I hope this is one of those things that makes people question and think about this whole ordeal in a different way," Swartz said. "I hope people think about it as people that are looking for a place to be and live instead of people that are trying to take advantage. I just hope it sparks conversations, because there's so many different perspectives."
Contact Nicolette Chuss at chussns@dukes.jmu.edu.