Throughout history, paintings have been displayed using different mediums, ranging from cave walls to canvases. Recent artists, however, have chosen a much more unconventional approach, creating some of their best work on people's bodies.
"People really like it," Genni Askin, a sophomore psychology major, said. "It's kind of like an expression of yourself on someone else's body."
Askin was originally inspired to try body art after seeing pictures online, but she decided that backs would be the perfect channel for her paintings because of their relatively flat space. She says that while some people didn't understand the reasoning behind her body painting at first, nearly all of the feedback has been positive. Jenna Wine, a sophomore English major and the first person Askin painted on, was particularly thrilled with the galaxy design Askin created.
"She's an amazing artist," Wine said. "I always got her to draw stuff for me and draw on me."
Askin sticks with acrylic paint — as opposed to one specifically for body painting — and a variety of brushes to slowly sweep across the models' backs. Although Wine enjoyed the process, she admitted the feeling was peculiar.
"It feels like a massage to me," Wine said. "You just lay there and feel like duct tape [is] being put on you."
Jessica Hill, a junior sociology major at Randolph-Macon College and Askin's friend, is also a huge fan. After seeing some of her other work, Hill asked if Askin would paint on her.
"She just picked a design out of thin air," Hill said. "It was really fun and afterwards we did a little photoshoot. I thought it looked amazing. Honestly, it was astounding how she could create something like a moving canvas."
Although Askin loves the look of the back paintings, she finds that the primary downside is that the designs wash or peel off later, even though each takes approximately one to two hours, depending on the design's complexity. However, taking pictures is one way Askin can preserve her work, which is why working with Hill — who also has an interest in photography — makes the process more permanent.
"When I first started doing them three years ago, I literally had them lying on the floor, and I would just take photos of them," Askin said. "I have the artist's view on things and she has the photography aesthetic."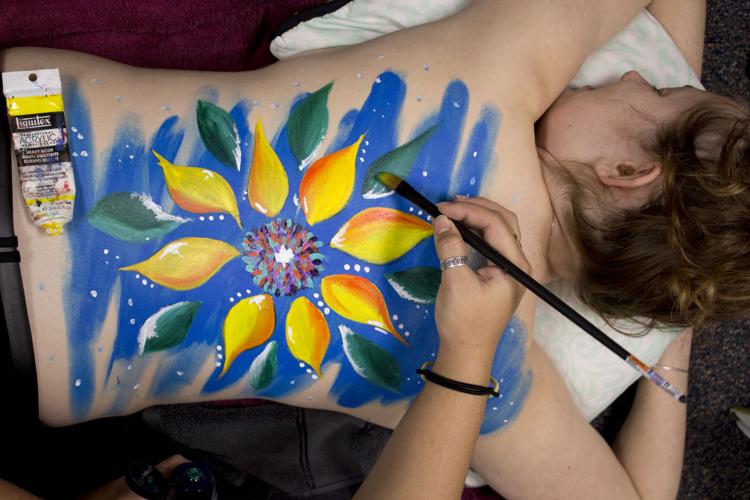 Although photography is one way Askin preserves her artwork, she also occasionally repaints them on more permanent surfaces. 
"I'll do [a back painting], and then later I'll like it so much I have to put it on a canvas," Askin said. "It's kind of like tattoos, but I can't do tattoos — that's my brother's thing."
Askin's paintings are often influenced by the particular shapes of people's backs, creating designs that match the flow of different silhouettes. This idea was especially present in a  painting of the sun and moon she did for a friend last year.
"He was really fit so he had a dorito-shaped back, where he had heavy shoulders and a slim waist," Askin said. "It worked on it because the design went in with his body shape."
A lot of Askin's spare time is spent pursuing sketching and painting. Askin specifically wants to bring attention to unique art forms at JMU, where she feels there isn't always a heavy presence. She does this by showing her work to friends and posting pictures of her back paintings on Instagram. 
While each design is her own, she also likes to take the personality of the person she's working with into account. Her designs have ranged from galaxies, Mandala paintings —  which look similar to henna designs — a set of wings and a variety of animals, each corresponding to the model she's painting at the time.
"I like to do a person's piece that either comes from myself or comes from them," Askin said. "I don't like to just take something from the internet and put it on your back, I like to have meaning to that person."
Contact Carrie Domenic at domenick@dukes.jmu.edu.