Frequently rocking black tracksuits and spitting dark lyrics in a hyperactive fervor, rapper Skepta's music is full of an intensity and grit fittingly described as "Grime."
Hailing from the Tottenham borough in North London, Skepta isn't new to the rap game. He currently has four studio albums under his belt, with the first, "Greatest Hits," coming out in 2007. With an already established British audience, he's recently risen to American prominence following the success of his 2015 single "Shutdown" and the album it proceeded, "Konnichiwa."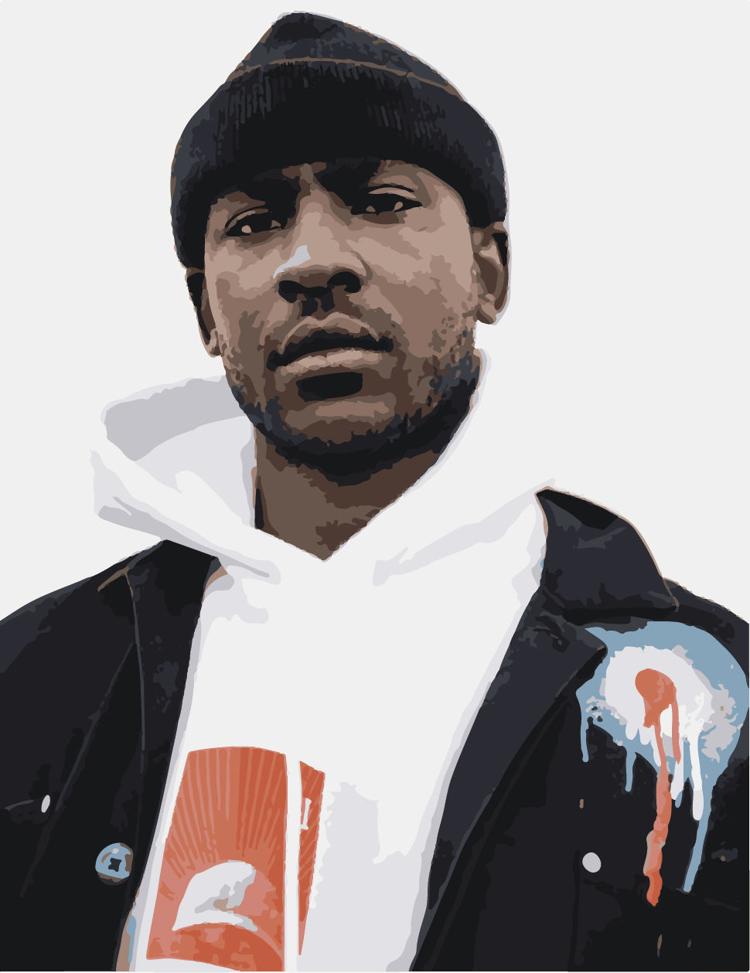 "Konnichiwa" was the turning point in Skepta's career. On the single "Coming Soon," Skepta refers to it, saying "Dropped 'Konnichiwa' that's the 'Blueprint,' now you're stuck with me," an allusion to the Jay Z album by the same name, widely considered his best. Now that's a pretty big boast, but it's not unsubstantiated. In September, Skepta took home the 2016 Mercury Prize, an award for the best album to come out of the U.K. and Ireland. This was the first time a rapper had received the distinction in over a decade, beating out big names like Radiohead and David Bowie. In the week following this victory, "Konnichiwa" saw a 226 percent increase in sales, propelling it to be certified gold in the U.K. on Nov. 7. 
Once Skepta had a foot in the American rap game's door, he burst onto the scene with a slew of recent features. Just a month after "Konnichiwa's" release was the previously mentioned "Coming Soon," a collaboration with Makonnen, the Atlanta singer known for his weekday partying anthem, "Tuesday." Aptly named, Skepta tells audiences to expect more from him, well, soon. Then, just in the past few weeks came prominent features on RiFF RAFF's "Balloween" and A$AP Mob's "Cozy Tapes: Vol. 1 Friends -."
But, strangely enough, the song giving him the biggest boost in the America came in a collaboration with two foreigners. In July, Skepta hopped on a remix of Nigerian rapper Wizkid's song "Ojuelegba" alongside notable Canadian rapper, Drake.
And it seems Drake and Skepta have become pretty chummy. Earlier this year, Drake appeared as a surprise guest on Skepta's tour, and brought him out to perform "Shutdown" at OVO Festival 2015, a festival put on by Drake that's named after his record label. They even made their love permanent, with Skepta getting the OVO owl logo tattooed on him in response to Drake getting "BBK" tattooed on him, a reference to Skepta's label, Boy Better Know. And, in a bizarre turn of events, the two claim Drake has signed to Boy Better Know.
Yes, Drake, the biggest name in hip-hop right now, is signed to the domestically unknown Skepta's label. Drake first made this claim in February, posting on Instagram that he's, "The first Canadian signed to BBK." Skepta confirmed this claim in a May interview, saying that the two are "putting together an official worldwide BBK label." The details on this deal are sketchy at best, but it seems the two have big plans for the future.
What will come out of this relationship is uncertain, but while this might be the first time you've heard the name Skepta, expect it to be popping up more in 2017. There will most likely be a Drake feature on Skepta's next project (which will garner significant attention for the British rapper) and don't be surprised if Skepta has a verse on Drake's upcoming "More Life," a project that was initially rumored for a December 3rd release, a rumor Drake recently denied.
All of this to say: start listening to Skepta now; start with "Konnichiwa." When all your friends inevitably get hip to him next year, you'll already be rocking the black tracksuits and spewing British slang. And that's the idea, innit bruv?
Matthew Callahan is a junior media arts and design and writing, rhetoric and technical communication double major. Contact Matthew at callahmx@dukes.jmu.edu.