At 12 years old, Kristi Monte taught her first student how to pick up a bow and drag it gently across a violin's strings to emit a light, melodic sound. Now, she's had more students than she can count.
The excitement Monte, a junior music major, has experienced when teaching not only fueled her passion to become a music teacher, but to start her own music company. 
"This summer I found an entrepreneur in me that I didn't know existed," Monte said.
Got Strings by Kristi is a music company made up of current and former JMU students who teach instrumental music and play at events. A professor had explained to her that students across the Shenandoah area have no exposure to classical music in schools, which gave her the idea.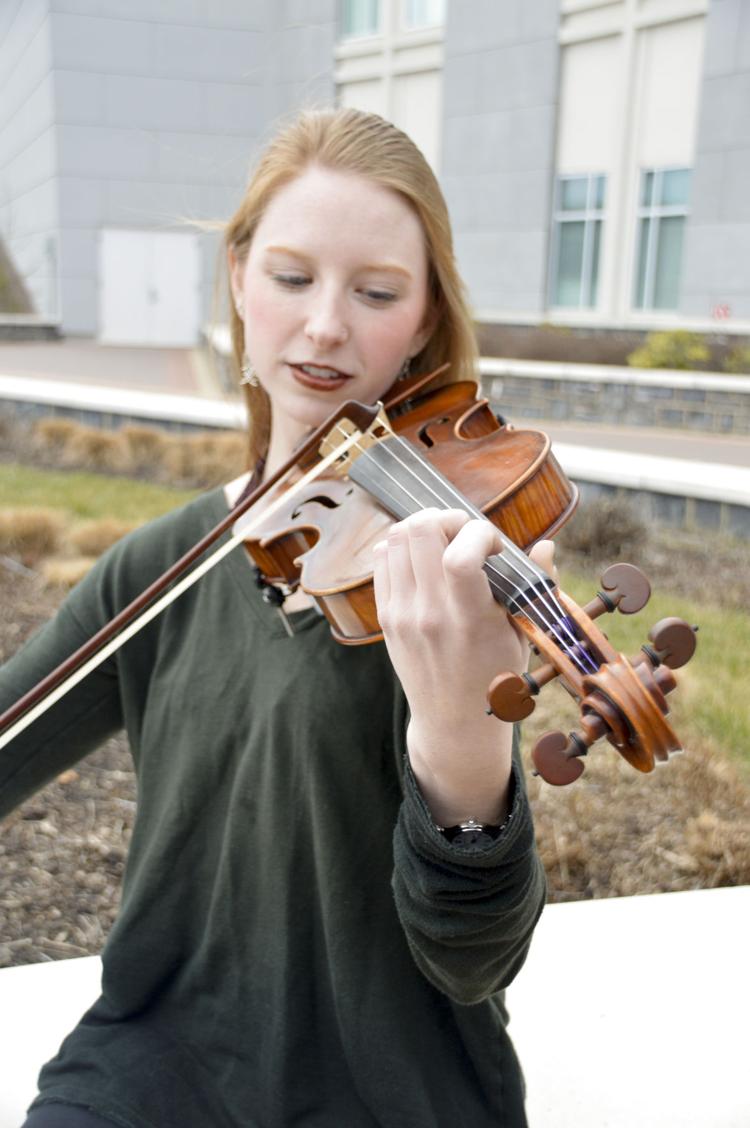 Monte isn't only doing this as a way to bring her love for classical music into nearby schools, but has a much larger goal ahead of her, which is what pushed her to become a businesswoman.
"I'm trying to revolutionize the way people see string ensembles," Monte said.
She wants to show people that quality string musicians and ensembles aren't only played by graduate professionals who've been doing it for decades. Her company guarantees that even as college students, "everyone knows their stuff" and shares similar passions in the music they perform.
"It doesn't need to be like this big, intense, hoity-toity, classical musician thing," Monte said. "We're just as good as professionals."
Got Strings is made up of 13 JMU music majors, who perform or teach in the local community at special events or in nearby schools.
"It's so important for people to realize that music is so accessible in the community," Greg Childress, a sophomore music major and Got Strings musician, said. "And to be a part of this is such a great opportunity for us, not just Kristi. It gets our names out there."
Along with teaching, Monte and her musicians enjoy playing for local weddings. In this case, most brides will hire Got Strings to play a solo violin, trio or string quartet during their ceremony. 
"That's the best part about doing weddings," Monte said. "You get to be a part of the best day in somebody's life."
All of the musicians carry similar repertoires of music, which allows traditional wedding music to be easily accessible among players. According to Childress, this makes playing at weddings much less stressful for the student musicians.
"I do guarantee to all of my brides that we're going to deliver a quality product every single time," Monte said. "As long as you know your music, you show up, play and then leave."
Because these musicians have been playing for so long and know a lot of the music by heart, Got Strings doesn't require the time commitment that other music companies might. This then leads to more involvement by musicians and a lower cost for clients.
"I feel that we are worth a lot of money, but I also don't think that we should be breaking the bank for people," Monte said. "I'd rather not be something that they have to worry about."
For some clients, the desire to have live classical music played at an event trumps the possible high costs. This is because classical music brings a certain energy to events that is necessary but hard to get by oneself. A radio can work as a self-sufficient source of music, but some people feel that live classical music is the better option for private events.
"There's nothing like having the live music there," Marty Mitchell, a client of Got Strings, said. "It adds so much more of a special touch to things. It's definitely worth the money, for us to bring that feeling to our customers." 
Mitchell went on to praise Monte and her musicians.
"I think it's brilliant what she's doing," Mitchell said. "Starting this business with her fellow students and putting themselves out there, starting this early. I wish more students were as aggressive and entrepreneurial in trying to promote themselves."
Like so many other students, Monte has discovered other passions that work alongside her major and will never forget her real motivation for creating Got Strings.
"We're all friends and we love to make music together," Monte said. "That's what it all really comes down to."
Contact Maddelynne Parker at parkermn@dukes.jmu.edu.