Electrifying colors and intricate details decorate the ceiling of a Copper Beech townhome. Over a hundred colored pages are placed in precise columns on the living room ceiling — after all, there's no room left on the walls — displaying the creativity of their artists.
Brooke Pearson and a group of her friends spend their Sunday nights hitting the books — the coloring books.
The project began in March 2016 when Pearson's roommate's mother sent a coloring book to their apartment. It then grew into something bigger when Pearson and her roommate started to invite friends to reach their coloring goal of covering the ceiling. Pearson has now contributed 41 pages to the ceiling herself.
"When Brooke first brought up the coloring parties, I thought it sounded really lame," Aidan Williams, a senior integrated science and technology major, said.
Now, he spends his Sundays working to cover the ceiling.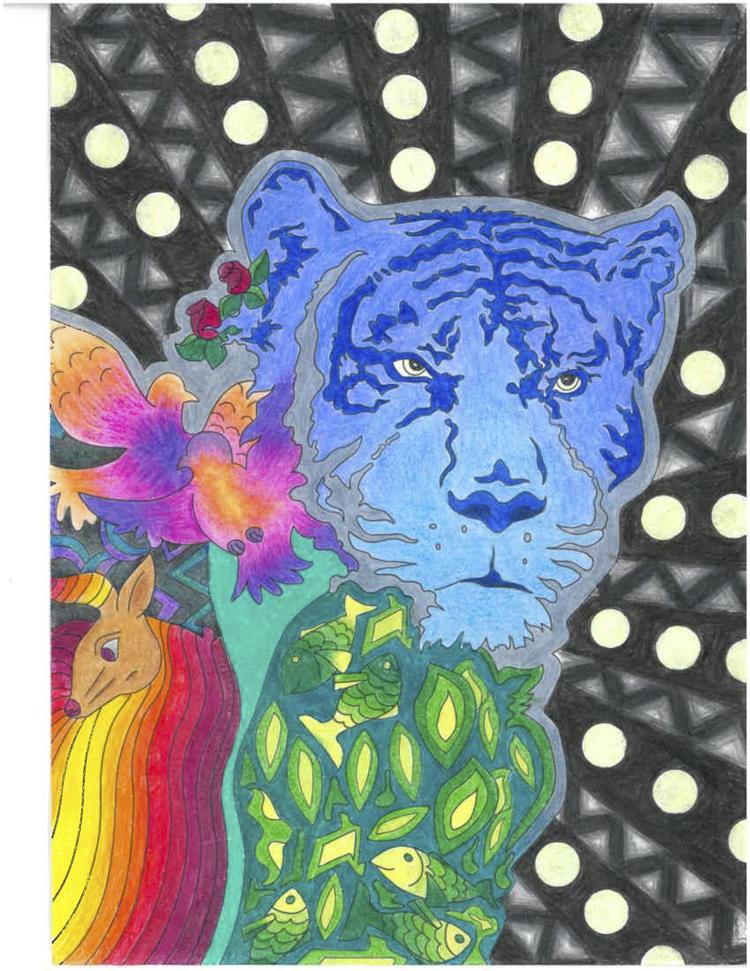 Coloring nights allow this group of friends to add some more color to their lives.
"It's just when everyone doesn't want to do any work but still wants to chill," Pearson, a senior accounting major, said. "We're all so different, so it's a cool thing we do together."
Williams prefers to separate the warm and cool colors such as blues and reds to create contrast in his pages.
"I just think it looks aesthetically pleasing," Williams said.
Coloring and recapping the weekend make the Sunday scaries a little more bearable.
With nine books to choose from, Pearson also enjoys coloring in her spare time.
"I get, like, really into them when I start and then I can't stop because I just want it to be up there," Pearson said.
Pearson's passion for coloring motivated her to create an Instagram account, @coloring_goddess. Nearly every day she posts a picture of a coloring page to fit the day's mood. For example, on the last snow day, Pearson posted a coloring of coffee cups accompanied by the caption: "Hope everyone is enjoying some nice hot tea or cocoa on this snowy Tuesday afternoon!"
Pearson's friend, Anna Soyka, describes the detail required to complete a page as an investment.
"Some patterns are more mindless coloring and don't really require a lot of attention to detail," Soyka, a senior integrated science and technology major, said. "Other designs that I just like a lot more, I tend to put a lot more effort into."
Each artist has his or her own unique approach displayed on the ceiling. The detail required doesn't come as quickly as you might think. Coloring requires patience.
Pages can take days to be completed depending on how complex they are. For Williams, his first page took about five hours.
"Most people don't finish them the night they start them," Pearson said.
Her most recent page took about four hours.
For Kayla Gallico, a senior psychology major, completing a page usually takes about five sittings.
"There's one coloring book we have with geometric designs, and those take a lot longer than the average because of the detail," Gallico said. "Using colored pencils allows us to be precise and detailed, which is helpful."
Of course, coloring within the lines is more directional compared to a blank page, as it's mostly decision making — but choosing the colors to fill those lines is no simple task. According to Williams, most people tend to test their colors on the back of the page to make sure they look right.
"Our one friend will sit there for like an hour and just look at the colors before she starts," Pearson said.
Each friend who has contributed to the ceiling has left with a memory of their experience. Gallico describes the ceiling as a timeline or a story of their year with each coloring having a specific story attached to it.  
"One of my friends really liked this one pattern with squirrels in it and immediately sat down to get to work on it, before realizing that it probably had some of the tiniest bits and pieces that needed coloring all over the page," Soyka said. "It was his first coloring ever. After like two minutes he's just like 'oh my god,' just realizing what he's gotten himself into. The look on his face was so funny."
The squirrel page is still being colored to this day.
When a page goes up, they get to admire the latest addition while reflecting on the memories that came with the previous pages.
"It's really cool that so many different people that have come through the place have wanted to be a part of it and put up one of their own colorings," Soyka said.
The coloring books bring people together while each page tells its own story.
Although coloring nights are intended for fun, Pearson has one rule — color your borders.
"When people don't color their borders … they look incomplete," Pearson said.
When finally finished, each page gets signed and dated before being placed on the ceiling. Pearson plans to take her pages with her after graduation to make her walls complete without her friends nearby.
Contact Maria Keuler at keulermc@dukes.jmu.edu.