Known as an outcast, fictional character Taveol is desperate to get away from the villains that are constantly chasing him through Avengarde. 
"Avengarde" is a fantasy novel that portrays a fictional human race that's forced to face constant battles against racism and hatred, topics that are unfortunately still prevalent in today's society. The story takes place in Avengarde, the titular ancient city, perched on the edge of nowhere and characterized by its widespread hatred. The book came on shelves Nov. 16 and is authored by Zachary Barnes, a JMU alumnus ('14), who majored in music education.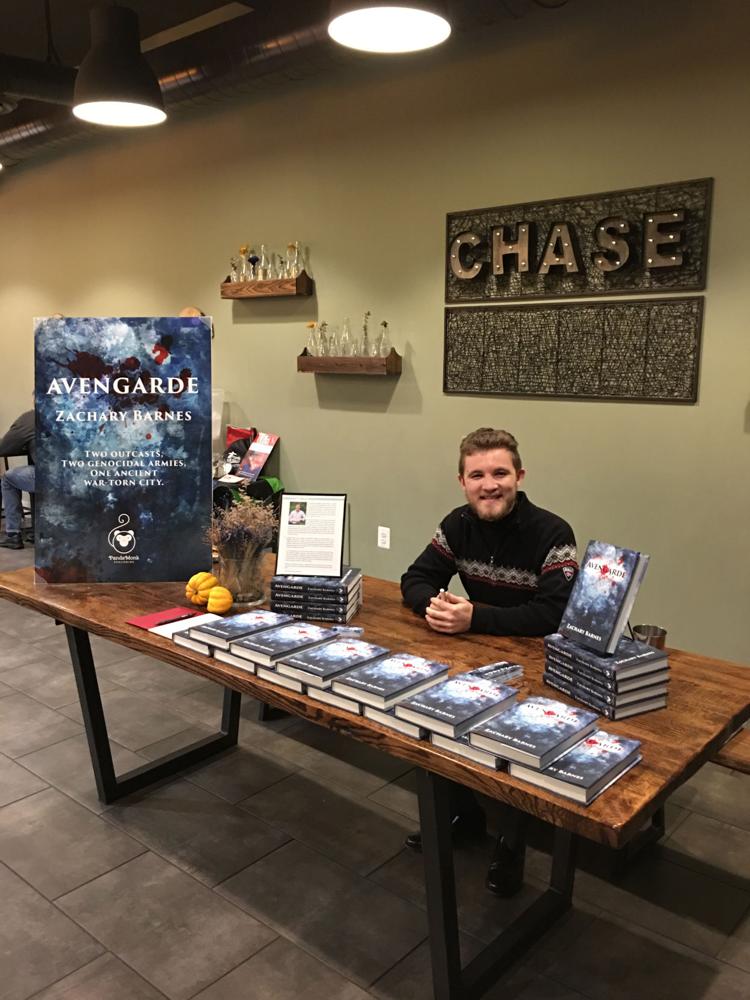 "For me it was the change at JMU, I was moving on to a new chapter in my life," Barnes said. "I had this very poignant image of a character and soon after that I had a dream. It was a vivid scene where this innkeeper gets kicked out of his own inn by his patrons and I thought that was just so ironic." 
As a child, Barnes read constantly and occasionally wrote stories with his younger sister for fun. But it wasn't until his senior year of high school that he unexpectedly found his love for writing while taking a creative writing course. Four years later, during his senior year at JMU, he found inspiration to write "Avengarde."  
The book was mostly influenced by a seminar Barnes took with professor Brooks Hefner. 
"American Pulp," a class that Hefner teaches every few years, is an honors seminar that looks at the history of American popular and sensational genre fiction that moves from the 1790s to the 1950s. Students in the class read a variety of pieces that were once popular but have since fallen off the radar and work with the pulp magazine collections in Carrier Library. 
Hefner's seminar helped form the moral message of "Avengarde" and in the seminar Barnes came to the realization that "all fiction is rooted in its time." The class teaches that texts might be popular at the time they were written because they speak to the historical concerns of the moment, and that popular pieces in different time periods may be saying something vital about "what people were obsessed with at the time."
Barnes used this to his advantage when writing his novel. He claims that timeliness should be embraced, since social progress might depend on art reflecting or debating a specific situation. 
Hefner remembers Barnes from his class years ago, and said he was enthusiastic about his creativity and excitement for the course material. Barnes expressed his desires to be a published author to his professor during the time he spent in his class.
"I sort of knew this was on his radar and I'm really impressed to see that he's done this; it's really terrific," Hefner said.
The story is written in a medieval time frame and told through the eyes of the protagonist Taveol. Barnes intentionally avoided fantasy hero stereotypes by making Taveol's character elderly and disabled. Taveol's mind is his strongest element. 
In an attempt to escape the villains of his past, Taveol has found refuge within Avengarde. 
"I've always thought of fantasy as a really good way to examine our world through kind of a distorted mirror," Barnes said. "Basically, you can examine and pick apart ideas and concepts, put them in a different light and expose truth or expose a different perspective." 
Barnes chose the title "Avengarde" because he felt as if the city was a representation of the many that refuse to let go of the hatred and racism that's existed for centuries. In the city of Avengarde, power shifted constantly and rulers were known for replacing buildings constructed by previous rulers with their own constructions. Because of this, the city is multilayered, with the architecture of the old city at the bottom and the new at the top. Barnes described it as a "fungus expanding on itself." 
Lani Furbank, Barnes' girlfriend of six years, has been very supportive of Barnes' work and is excited for his story to finally reach the public.
"Writing has always been very important to him, especially since he had this idea that he thought could really become something," Furbank said. "It was just such a powerful story that he needed to get out, so it was very fascinating to watch."
The fantasy novel took Barnes nearly three years to create and he's excited to see it in the hands of others. He also intends for "Avengarde" to be part of a stand-alone book within a trilogy.
The theme Barnes most predominantly conveys in his novel is that "hating the 'other' can and often does lead to atrocities." He explained that he wanted readers "to understand that sympathizing — even empathizing — with people who are very different from them is possible." 
Barnes doesn't expect to change the world through his novel. Instead, he hopes to change the minds and the actions of those around him, even if it's just a small group. 
"Maybe I can influence a small part of people to have a better thought, to have a different thought and maybe — maybe —  that will influence … their words and their destiny," Barnes said.
Contact Jazmine Otey and Abby Church at breezearts@gmail.com.