Tucked away in the Shenandoah Mountains, Shaina Allen and her partner and producer, Mike Esposito, work tirelessly on their new documentary "The Rebound." The documentary centers on the Miami Heat Wheels, a wheelchair basketball team.
"From a very young age we are separated in our classes, told not to point, not to stare, not to ask questions, but those questions, as difficult as they are, are key to understanding each other," Esposito, a JMU alumnus ('10), said. 
Esposito met the coach of the basketball team by chance at a dog park in Miami. After getting to know the coach, Esposito realized that he and Allen, a JMU alumna ('10), could help advertise the team by creating a promotional video.
"I was happy to do it … just to do something on my own was exciting for me," Allen said. "I went out having no expectations as to what wheelchair basketball was." 
One of Allen's most vivid memories is from the first time she filmed the team on the court. 
"These guys were rough," Allen said. "They were falling all over the court. They were yelling at each other and fighting. It was just like regular, able-bodied stand-up basketball. I think my eyes opened to how competitive and how gritty the sport was."
After filming for a while, the duo realized they had too much footage for just a promotional video and wanted to do something more. 
"We asked ourselves, 'How can we use our limited resources and skill sets to make something happen?'" Esposito said. "Maybe this isn't just a promo video, maybe this could be something bigger. Let's keep learning."
The duo continued filming the team and gathering the players' stories. One player they focused on was Orlando Carrillo, who suffered a spinal cord injury after being shot years earlier in Venezuela.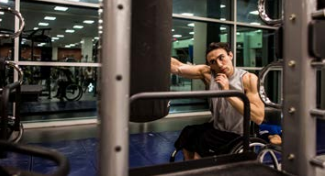 "Within two years of being shot he turned his life around and now is on his way to a new opportunity with a full college scholarship at the University of Texas at Arlington," Allen said. "He was just this shining light of positivity. The coaches told him it would probably take three or four years to get to the point where he could play in college. He had done it in a year and a half or two years." 
As Allen and Esposito continued to film they also learned how important a documentary covering this topic and helping fight stigmas that surround people with disabilities was.
"With a story like this, our eyes really opened up to a perspective we never had before," Allen said.
Allen graduated with a degree in media arts and design while Esposito graduated from the business school with a degree in marketing. Allen was a member of Students Helping Honduras and led a trip through JMU's alternative spring break program, while Esposito played on the club lacrosse team.
"These experiences really helped me be the change I wanted to see in the world, JMU's motto," Allen said. "All of my experiences there helped lead me to this path of documentary filmmaking with a social impact undertone to it."
It wasn't until the end of their time at JMU that Allen and Esposito actually met during a study abroad trip to the Philippines.
"We traveled around the country and we got to see what life was really like," Allen said. "It's one of the most real and raw things that I've ever really done and I think that influenced our documentary film making as well."
Members of the JMU community are also excited to have alumni work to overcome stigmas dealing with disabilities. 
"I think that stigma is one of the hardest issues when disabilities are concerned and anything that we can do to break those walls down would be helpful," Haley Lipton, a peer access advocate in JMU's Office of Disability Services, said. "It's a natural inclination to see something that is concerning and look away … A documentary like this, in which it sounds like they are putting names and stories and a whole persona behind just this image in a wheelchair, that's hugely helpful."
"The Rebound" will make its Virginia debut at the Virginia Film Festival in Charlottesville on Nov. 5. Both Allen and Esposito will answer audience questions afterward.
Although filming this documentary took years of hard work, Allen and Esposito believe bringing attention to this cause was worth the effort put in.
"No matter what challenges you are facing, we are all human, we are all going through these things, and it's all about how you rebound from it," Allen said.
Contact Joey Scully at scullyjs@dukes.jmu.edu.