The odds may be ever in your "flavor" if you're headed to J-Petal, a new Thai ice cream and Japanese crêpe joint in Harrisonburg.
Menu items at J-Petal range from savory to sweet crêpes that are gluten-free, Thai-style rolled ice cream and "light bulb" drinks, which are various fruity and fizzy non-alcoholic drinks served in a lightbulb-shaped cup. The type of food is unlike anything else found in Harrisonburg.
"I didn't expect it to be as popular as it was," Tori Purcell, a senior social work major, said. "We went at 9:30 and it closes at 10, and the line was out the door until after it closed. I think it has the potential to be a cool hangout spot once it calms down. The place was really cool, just expensive, but everything was super fresh."
Owner Jean Lin prides her business on providing healthy, fresh and handmade food for its customers. Everything's made in front of patrons: crêpe batter is poured and spread out on an cast iron hot plate, ice cream is chopped, mixed and rolled on a metal surface, and everything is given toppings. Lin strives to give customers both good quality and quantity of food for their money.
"They look really good in the pictures, but then they bring it out and it still looks just as good," Kirsten San Nicolas, a junior international affairs major and employee of J-Petal, said. "I don't think it's very often that I see products look as good as the pictures."
The atmosphere of the restaurant, with its low leather futons, wood detailing and green accents, gives off a young, hip and lively vibe. The open seating is what helps bring in large groups of all types, from families and friends, to businessmen and women.
"Since the location is right here next to JMU, I am first targeting JMU students," Lin said. "I'm trying to approach those young customers. If young people want to come, kids want to come, then their whole family will come."
Not only is the environment of the restaurant family-friendly, but so is the staff. Employees are very familiar with each other and often bring their own families to socialize in the back.
"Working for the owners and the people there is really awesome," San Nicolas said. "They're very engaging. I would say they're probably the sweetest and most understanding people I've ever had to work with."
As far as advertising goes, word-of-mouth and social media use by customers help make the restaurant known in the Harrisonburg and JMU communities.
"I think it's awesome because I've been seeing these kinds of foods popping up on videos on Facebook and Instagram, so it's really cool for people to come in," San Nicolas said. "Everyone is really excited and takes lots of photos to post on Instagram or Snapchat."
As of now, J-Petal has ten employees, but its success has led Lin to look for more. There's a learning curve that comes with being exposed to a different style of ice cream and crêpes, but J-Petal employees have been quick to catch on.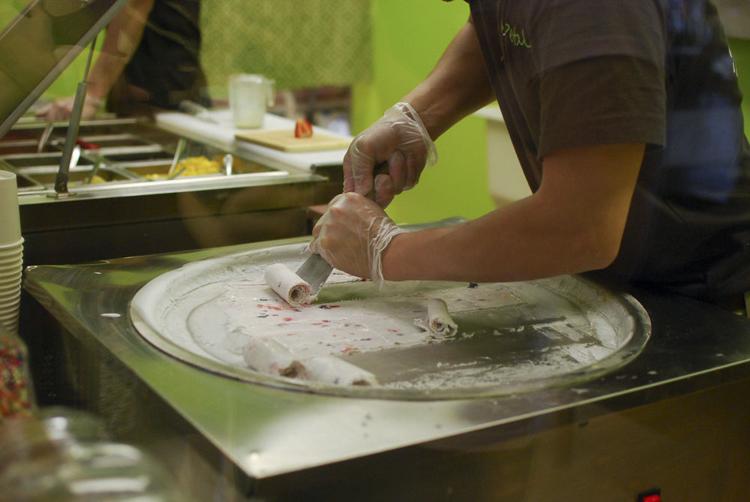 "I really like working here," Benson Chien, a junior computer science major, said. "The way they make the ice cream, I've never seen it before. The first hour for me was hard, but after I got used to it, it was pretty easy."
In addition to the opening of J-Petal's Harrisonburg location, Lin also owns the two other locations in Brooklyn. She heard about Harrisonburg from a friend and was drawn to the people and the friendly environment of the city.
When she came to America from China 14 years ago, Lin opened a Japanese hibachi restaurant in Ohio. She found that hibachi was tiring, but crêpes gave her more of an outlet for creativity.
"I have a lot of ideas, but I'm not doing them right now because I want more people to try what we have," Lin said. "I'm concerned with what the customers like. If they love [what we have], then we'll try the new styles."
With the excitement of opening a new store comes thoughts about future goals. However, Lin wants to slow down and focus on the three locations she already has.
"I don't have a really big goal," Lin said. "And I haven't thought much about opening other branches. I just want to make sure that every single restaurant I own has good business and a good reputation first."
Yasmine Maggio is a senior writing, rhetoric and technical communication major. Contact Yasmine at maggioym@dukes.jmu.edu.