Photos of friends wearing graphic T-shirts and tank tops flash across the laptop screen as "Never Be Like You" by Flume plays in the background. Within reach is a black Moleskine notebook filled with Sina Shahcheraghi's inspiration and ideas.
"The way I think about it, it's not just clothes," Shahcheraghi said. "I'm selling you a lifestyle.
That's the idea behind his streetwear brand, 95 to Infinity. What started as a side job selling T-shirts out of the trunk of his car in high school has turned into Shahcheraghi's passion. His brand relaunched last October.
"There was a point when I was a freshman where I was like, 'What am I doing?'" Shahcheraghi, a junior computer information systems major, said. "But once I was planning for the relaunch, I started getting a better idea of what I needed to do. I started budgeting better and I had a solid plan."
Rather than merely trying to sell products, Shahcheraghi's main focus became creating a brandname and then generating popularity around it. From there, he could focus on selling his products to fans of the label.
"Once I stopped worrying about making money, that's when I had my 'aha' moment that this could go far," Shahcheraghi said. "I'm just so motivated to make it succeed. The motivation and the determination is like my coffee. That's what gets me going."
Although Shahcheraghi markets his brand to those in big cities like New York and Los Angeles through urban-like social media posts, he has narrowed his focus to JMU students. As a result, the brand has gained much popularity on campus.
"I wake up, I go outside and I see some guy wearing my T-shirt," Shahcheraghi said. "Whenever I see that, without knowing it, they're complimenting me. They're wearing a part of my personality as they're walking around. I made it, that's who I am and someone liked it enough to spend money and put it on their body, which reflects their image."
Running a clothing line is no small feat. Shahcheraghi spends his summers working in order to save money and invest in his brand. He designs all the products himself, from T-shirts and tanks to hoodies and hats. After spending time perfecting them to his liking and receiving samples from the printer, he sends them to a drop shipping company in Los Angeles for printing and shipping.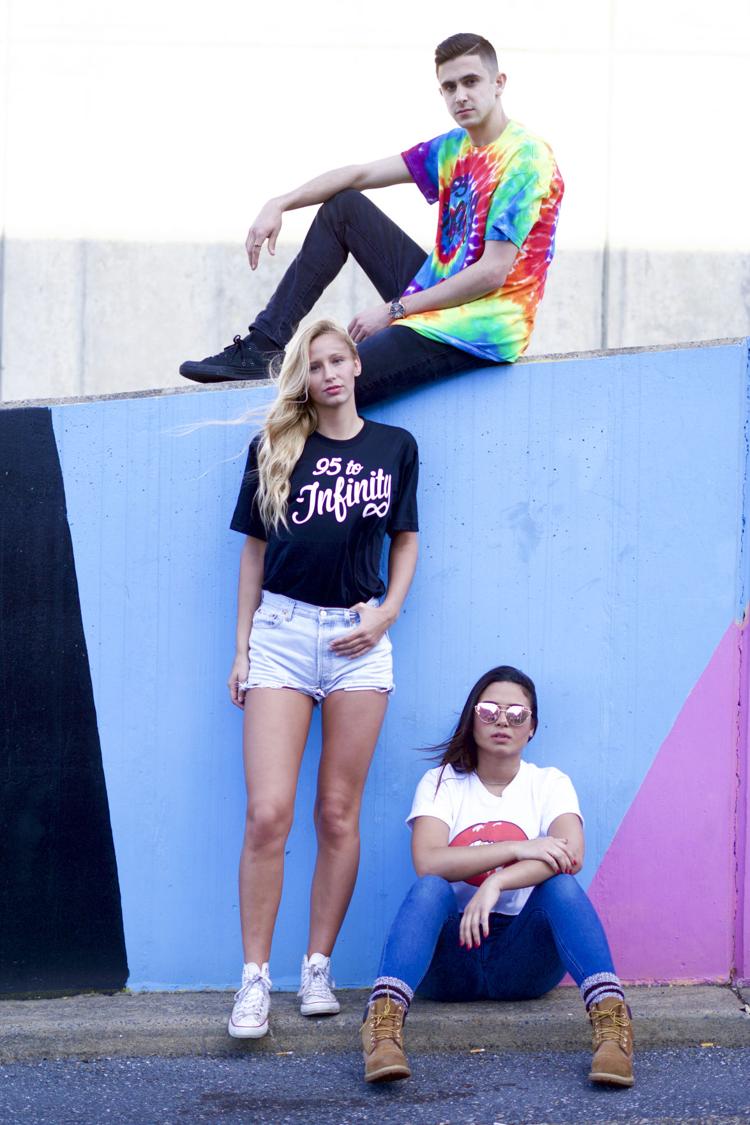 As for the name, both time and location are the motives behind it.
"I was born in '95," Shahcheraghi said. "It's meaningful to me. '95 lives on forever."
Location-wise, Shahcheraghi's target audience is the East Coast. Many streetwear companies originated on the West Coast, but few call the East Coast home. Interstate 95 runs along the entire East Coast, from Canada to Florida, connecting different cities and their cultures. Right in the middle it hits Washington, D.C., a city not known for its fashion, but where Shahcheraghi's company originated.
For Shahcheraghi, inspiration is all around him, from hip-hop and rap to graffiti and street art. But most importantly, he focuses on movements.
"I try to see what people are paying attention to and I put a cool spin on it," Shahcheraghi said. "Trends, subcultures, movements; I see what's cool, what falls in line with my vision and my style and what people would like to see."
While Shahcheraghi is aware of the movements around him, he also created his own, "#sluttyboyz," which is the tagline for the brand.
Selling streetwear is a competitive business, but Shahcheraghi doesn't let that stop him. He understands that growing a brand is a gradual process, not an instantaneous one.
"It's not an easy game to be a part of, but Sina's vision is so clear and particular," Navya Dev, a junior independent scholars major and close friend of Shahcheraghi, said. "I see 95 to Infinity really making a name for itself. Sina works so hard to make it happen."
Shahcheraghi's clear passion for his work is what has contributed to his success.
"95 to Infinity is different because of the way Sina has created the brand," Brooke Schedler, a junior finance major and a model in 95 to Infinity's latest photoshoot, said. "When I was working with him I could really see his ideas for the brand and how passionate he is. I think that's important in a brand. If the creator isn't insanely obsessed and passionate, that won't shine through in the clothing."
Setting goals is what helps Shahcheraghi expand his brand. He works backward, setting long-term goals, then mid-term and short-term goals to keep himself on track, celebrating each accomplishment along the way. With his objectives lined up, Shahcheraghi has no plans to hold back from his brand as his future unfolds.
"People see me grinding, keep seeing the name out there and they want to get involved," Shahcheraghi said. "They want to be a part of it. It's like a little movement. You're part of this little clique who knows about 95 to Infinity. I'm hoping soon everyone will know about this."
Contact Yasmine Maggio at maggioym@dukes.jmu.edu.