The Steven Alan storefront in Washington, D.C. gives off the vibe of modernity to passersby. Windows take up most of the storefront space, edged with thin black framing, creating a pristine set of display windows. A mural of swirling pinks, peaches and grays that catches the eye and draws the viewer in to determine whether they're actually looking at a collection of clouds above their heads or something else entirely, now wraps itself around the shop. 
The calming mural extends itself around the windows up onto the ceiling above the walkway, immersing shoppers in a springtime delight while also creating a stark contrast from the dark contemporary structure currently in place.
Lynda Bostrom graduated from the Ringling College of Art and Design in Sarasota, Florida, before moving to the Shenandoah Valley, where she's lived for eight years. Some of her work can be found on the walls of Ruby's Arcade in downtown Harrisonburg. 
"It's a Georgia [O'Keeffe meets Dr. Seuss] landscape," Chris Howdyshell, the Arcade Manager of Ruby's Arcade, said in an email. "For an arcade that can be somewhat masculine in its competitive nature, I feel like what [Lynda] did was bring out a nice balance in the dining room with a feminine feel."
She used elements of this mural to inspire sections of her first sketch for the Steven Alan team. 
From the beginning, Bostrom and the team's creative vibes were in sync. She wanted the mural to feel "suspended in movement, weightless and botanical, soft and strong," she said in an email. 
This was achieved with a design that curves around the storefront walls and up onto the ceiling. The design and combination of light colors emulate a springtime sentiment. 
"Lynda's playfulness is so apparent in her designs and colors and movement," Katie Schmid, who photographed both the project and Bostrom's studio, said in an email. "Down to the little wisps that seem to flow underwater like sea anemone, or painting a blue trickle of water under the water valve that comes with painting on buildings ... she uses the environment she's given to help design the way the mural moves." 
Making the mural came with challenges, but Bostrom was motivated by the enthusiastic encouragement of passersby.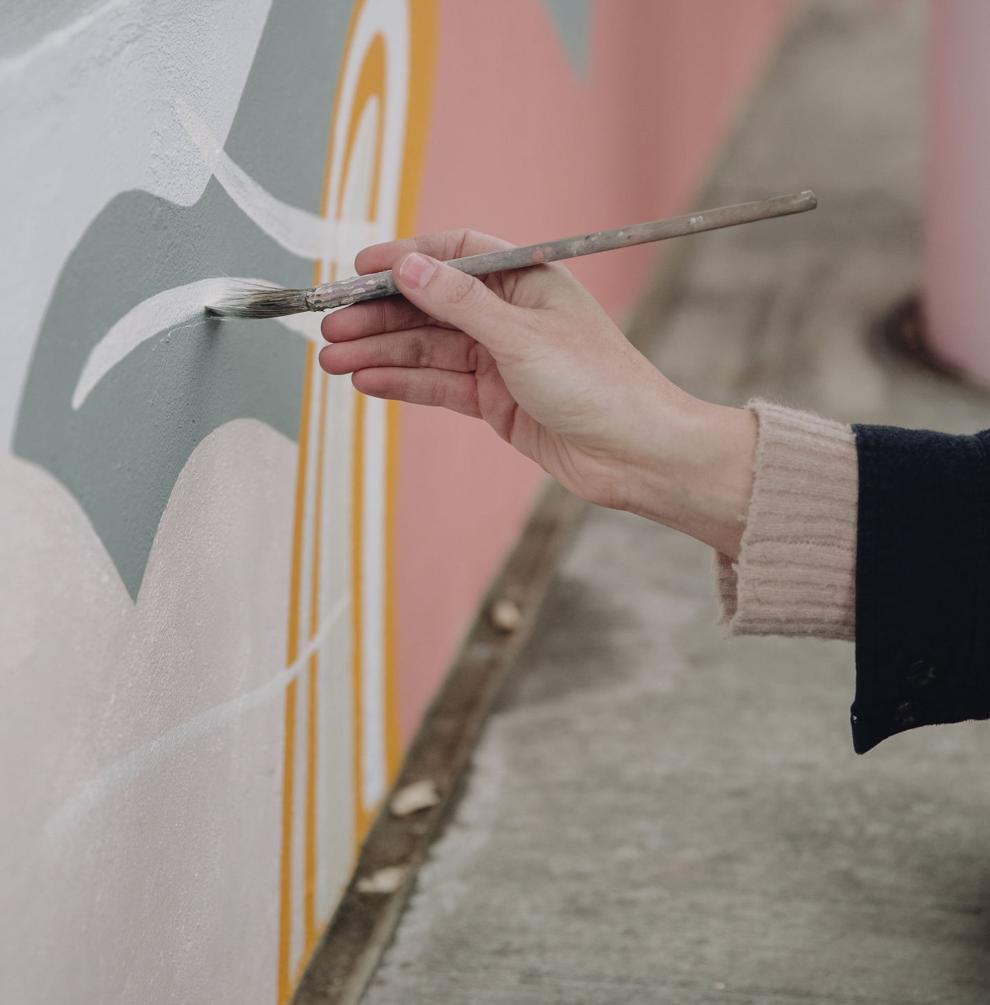 "Hearing 'GET IT GIRL!! GO GO! IT'S BEAUTIFUL!' when I was so tired and cold recharged me," Bostrom said.
When creating her art, Bostrom gains inspiration from the world around her. She picks up pieces from listening to music, silence and podcasts about science and technology. 
Bostrom said she likes to feel as if she's "being very present in the moment while simultaneously free to daydream."
Art's been her passion since she was a child, or as she likes to say, since she "was just a kitten." While there've been some difficult moments, she gets through them by continuing her work. 
Bostrom is passionate about her work, not only because she gets to create something out of nothing, but also because of the impact her art has on others.
"When I finish a piece or a body of work, and share it with others, it usually leads to meaningful connections and conversations," Bostrom said. "That kind of communication feels like breathing pure oxygen."
The mural's a fun mixture that combines multiple elements, including Bostrom's medium of paint, the texture of the building itself and the passion and vision of Bostrom and the Steven Alan team. This piece is one to check out on a sunny or rainy day to remind viewers of the beauty and creativity that comes with springtime.
Contact Alexis at Alexis Miller at mille2af@dukes.jmu.edu