A windmill spins as the smell of apple pie is carried through the breeze. Just behind it, a large building emits the scent of southern comfort food. The sound of banjos and classic carols fill the room. Countless antique, food and specialty local item stores surround the building.
A man stands inside a shack selling freshly made gourmet popcorn, greeting all who walk in. While this market may sound like a trip down South, these local country-style goods are only a 15-minute drive from campus. 
The Shenandoah Heritage Market has been open for over two decades and has about 20 locally owned shops, including an antique store that sells items from area auctions and an old-fashioned toy store that stays true to its name, Timeless Toys, with handmade yo-yos and classic stuffed teddy bears.
Unlike other farmers markets, the shops are adjoined on the inside of a large warehouse, just like a mini-mall, with each store different than the last. 
The country-style grocery store, Grandma's Pantry, is particularly popular at this farmers market, according to one of the owners. 
"We have a variety of customers," Brenda Shenk, owner of Grandma's Pantry, said. "I love dealing with customers. Probably my favorite part of my job is just getting to know people." 
The range of freshly made treats and packages of premade mixes for at-home cooking draws both locals and visitors to the Shenandoah Heritage Market, located just off South Main Street. Some customers come in once a week to stock up on their favorite products, and other customers are known to come once a year when they visit the nearby Massanutten Resort. 
The store has a variety of locally made products, but there are a few that stand out.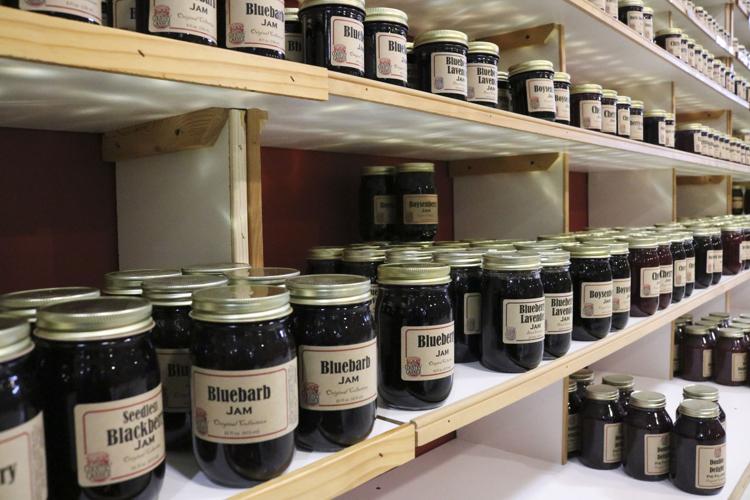 "Fudge is huge, candy is huge, our Pimento cheese is good," Shenk said. "I think part of that is because we make it here."
The employees of Grandma's Pantry allow customers to sample their multiple fudge flavors made in-store and even pair different cheeses with unique crackers to enhance their flavors.
Down the road is The Dayton Market, another farmers market with a variety of local vendors and activities for friends and families. 
Among the 20 stores, Landscapes in Miniature stands out as a creative shop where customers come to make unique miniature gardens or fantasy lands to fit inside a small hanging orb.
An old wagon is filled with fake moss and tiny trees and glass is manipulated to look like a pond with fish in it. This wagon is a scavenger hunt made by the owner, Pam Shank, for the people who visit Landscapes in Miniature. 
"When JMU students come in it's hysterical," Shank said. "I have students that will sit here for hours trying to find the six frogs and the four little birds' nests."
Shank makes most of the premade gardens and globes herself, in addition to the classes she holds for people to make their own fantasy land.
"Instead of getting someone flowers, we say, 'Tell us something about them,' and we'll take parts of that person," Shank said. 
And with little details about a mother-in-law who loves to quilt and a father-in-law who calls himself a cowboy, Shank creates a miniature scene where a little rocking chair resides in the corner with a tiny quilt in it, and right beside it lie a pair of cowboy boots and a hat. 
"You can't get [it] anywhere else," Shank said. 
Of course, farmers markets are known for their fresh foods and other treats, rendering a visit to either of these markets incomplete without trying a taste of the local culture. 
Megan Heatwole opened up her own shop, Taste of Virginia, after working for her mother at The Cheese Shop in The Dayton Market. 
Right after a store went out of business in the Market, the empty space gave Heatwole's mother an idea for her daughter to open her own store, a Made In Virginia shop that can sell locally harvested honey, dried goods, coffee and a variety of cheeses. 
"The products are from all different types of people like mom and pop's, stuff like that," Heatwole said. "I've met a lot of people by doing this."
These farmers markets offer a wide variety of stores from artisan cheese to miniature worlds, offering students a chance to support local markets and get a brief break from campus.
Contact Emma Korynta and Joanna McNeilly at breezearts@gmail.com.