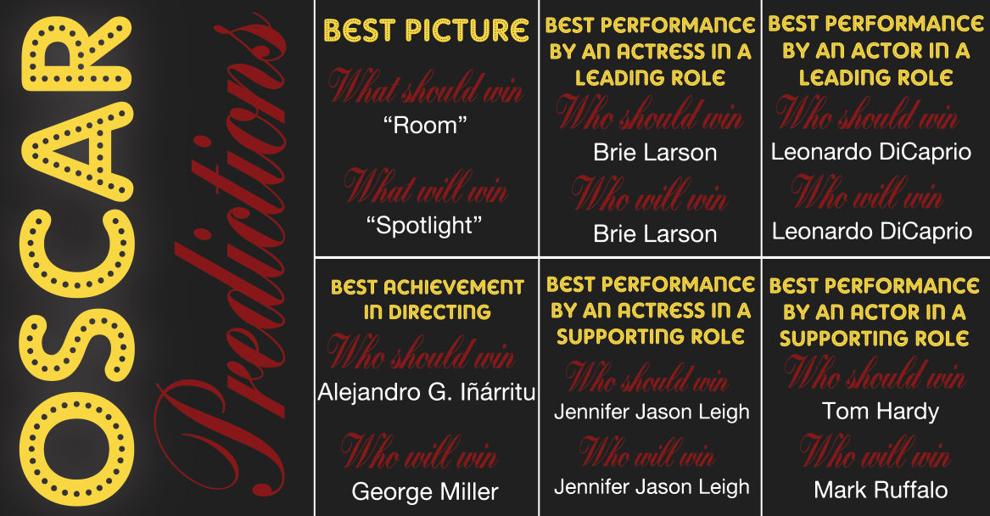 Every January, people like me sit with bated breath, refreshing whatever page they have up on their laptop, awaiting the announcement of the Oscar nominations. This announcement is often followed by either joy or anger depending on your favorite movies of the year. This year is no different. I'm of the opinion that the Academy has a knack for getting things wrong and in what seems like an attempt to prove me right, they snubbed the two best films of the year when they failed to nominate "Beasts of No Nation" and "Steve Jobs" for best picture.
But even though the Academy ignored these films, along with a few other deserving individuals in other categories, 2015 was still full of great movies and performances. All that being said, here are my predictions for the 2016 Academy Awards:
Best Picture
What should win: "Room"
With the absence of the two movies mentioned above, "Room" is definitively the best film nominated for best picture. Because of the stellar performances all around, an incredible script and director Lenny Abrahamson's sense for soul, rediscovering the world with Jack (Jacob Tremblay) was the most uniquely human experience of any this year.
What will win: "Spotlight"
Though certainly a fantastic film, "Spotlight" is the least deserving of best picture, at least according to this critic. However, several experts in the media have labeled it the frontrunner for the Oscar and that doesn't surprise me. "Spotlight" is a reserved, brooding sort of film that features a heavyweight cast doing excellent work, and it also just so happens to be the final piece in a long quest for justice, and that seems right up the Academy's alley.
Best Performance by an Actor in a Leading Role 
Who should win: Leonardo DiCaprio
The furious, bloody and determined core of "The Revenant" is DiCaprio's incredibly raw performance as Hugh Glass, a frontiersman who gets left behind by his hunting party after being mauled by a bear. Crawling, sprinting and fighting his way across hundreds of miles of tundra, DiCaprio not only delivers one of the most physically impressive performances I've seen to date, but also the best of the year. 
Who will win: Leonardo DiCaprio
His prize has dodged him four times before, but I believe this is finally DiCaprio's year. Though he says very little throughout the film, DiCaprio is and should be the frontrunner for the Oscar, with Michael Fassbender coming in at a close second for "Steve Jobs."
Best Performance by an Actress in a Leading Role 
Who should win: Brie Larson 
Larson has very little competition for the Oscar this year. That's not to say that she gave the only good performance, but rather that she gave such an incredible performance that everything else pales in comparison.
Who will win: Brie Larson 
As stated above, Larson is a shoe-in for the Oscar this year. Her role as Joy in "Room" is by far the most impressive and complex of any of the other nominees. Larson has been climbing the totem pole for a while now, but I think it's finally time for her moment in the spotlight.
Best Performance by an Actor in a Supporting Role 
Who should win: Tom Hardy 
Hardy has been providing Oscar-worthy performances for years, and now that he actually has the Academy's attention, it'd be a shame if it slipped through his fingers. Hardy's possessed turn as the vile antagonist John Fitzgerald in "The Revenant" is one worthy of both admiration and decoration.
Who will win: Mark Ruffalo
Once again, I predict that "Spotlight" will undermine the achievements of "The Revenant," but that's not something I plan on complaining about. Ruffalo provides the best performance of anyone in "Spotlight," nailing every tic and strange nuance of quirky Boston Globe journalist Mike Rezendes.
Best Performance by an Actress in a Supporting Role
Who should win: Jennifer Jason Leigh
Though it may not be the easiest to stomach, Jennifer Jason Leigh's performance as Daisy Domergue, the crazed outlaw antagonist in "The Hateful Eight," is the best of any supporting actress this year. She yells, swears, bleeds and sings, and should be rewarded for it.
Who will win: Jennifer Jason Leigh 
I may be going out on a limb here, but I'd like to think that in this instance the Academy will recognize Leigh even though her role is unconventional. She definitively provides the best performance of the year in her category and it'd be a shame if she didn't get her due credit.
Best Achievement in Directing
Who should win: Alejandro G. Iñárritu
One of the best directors working today, Iñarritu proved that he's capable of churning out landmark films on a yearly basis when he released "The Revenant" one year after he won best picture and best director for "Birdman." I believe the man deserves a repeat victory on the grounds that he several months in the ice and snow, working under terrible conditions and enduring setback after setback, and still managed to produce a work like "The Revenant."
Who will win: George Miller
Though the Academy clearly appreciates his work, I don't think they'll give the Oscar to Iñarritu two years in a row. What seems more likely is that they'll award Miller for his brilliant film, "Mad Max: Fury Road." Miller works like nobody else does and I believe he'll win not only on the merit of his most recent film, but also because he's an artist whose body of work deserves to be rounded off with an Oscar.
Michael Carter is a senior media arts and design major. Contact Michael at carte2md@dukes.jmu.edu.