When one walks into Wrecked Records, they might first notice the large mirror covering the wall or the instruments dotting the room.
The most eye-catching, however, is what takes up the majority of the studio's space.
Protruding from the left wall is Jake Hitzges' audio engineering alcove. Speakers, a soundboard and computers create a U-shaped area for Hitzges to work, and a large TV displaying audio software is the center of it all. Blue, black and teal wood panels hang in seemingly random places all around. This is where his and others' music can come to life.
"We didn't sleep, for like, three days to build everything and get it all set up for our first client," Hitzges, a junior computer science major, said.
Hitzges is the owner of Wrecked Records, a recently opened recording studio in downtown Harrisonburg. He explained his team's ambitious plan to bring in their first client just three days after moving into the building.
"When we first moved in, we had to build all the wood acoustic panels; we had to build the vocal booth, so I remember I actually was in Home Depot for eight hours," Hitzges said.
Hitzges began his music career as a two-year-old when he learned violin on a cardboard cutout instrument. While he was initially a musician, he became interested in audio engineering at 16 when he realized the quality it added to his band's songs. Learning this craft was originally a necessity to improve the sound of his band's music, but Hitzges eventually realized he enjoyed the process as well.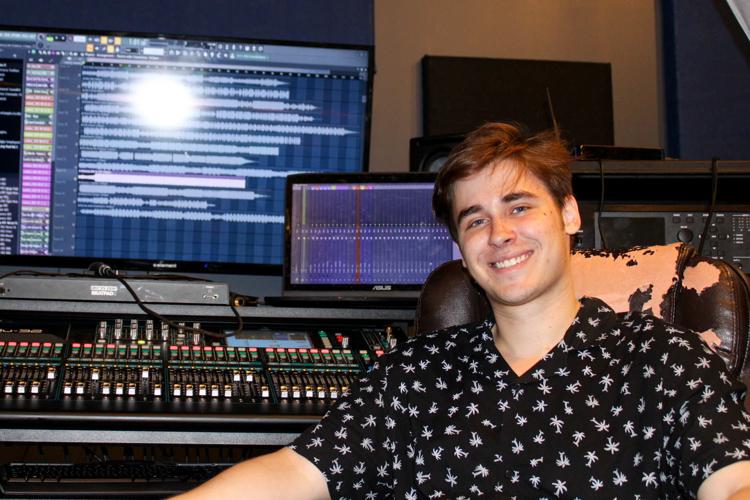 Launching his recording studio began with finding business partners. He then sought out an investor, someone to run social media and another to keep the studio's books, essentially constructing a team that was willing to help him open the studio. Then, they began looking for a location. 
Luckily for Hitzges, a recording studio on East Market Street was leaving right as he and his team began searching, which left a vacancy for Wrecked Records. The studio has been open for about two months and has received opportunities Hitzges never imagined at the outset. However, whether the artists he brings in are local or well-known, Hitzges has the same goal in mind.
"Myself and many, many engineers in my generation started out in basements," Hitzges said. "[Artists] can work with a basement engineer, and they can feel comfortable. And so, ideally, I'd like to have a studio that has the quality of a professional studio but the feel of a basement studio."
It's consistently important to Hitzges and his team that the artist gets what he or she wants out of their experience. As a musician himself, he recognizes the importance of making sure the finished product is something the artist is completely happy with and not simply a task done to obtain a paycheck.
Dylan Bernetich, a junior media arts and design major, was impressed with Hitzges' authenticity when he and his fellow band member, Jake Rodriguez, toured Wrecked Records. Bernetich and Rodriguez make up an Americana band called American Woodstock. 
"They literally want to take your image and be able to portray it in the best form of music they possibly can," Bernetich said. "It's nice knowing there's someone out there who wants to help you become an even better artist."
 Jacob Rozmajzl, a senior music major who occasionally works as a drum session player for Wrecked Records, has been a part of the team since the studio opened. As a drum session player, Rozmajzl is hired by the artist to play when the musician doesn't already have a drummer on hand. 
"Jake came to one of my shows. He found me and then gave me a shot, and I enjoy working with him," Rozmajz said about his time working at the studio with Hitzges.
Hitzges has received encouraging feedback, but his experience hasn't come without its challenges. Currently, Hitzges faces difficulties balancing schoolwork and production at the studio. To combat this, he said he's training new audio engineers to help him and allow him to be there less often. Right now, he's typically at the studio five days a week.
However, when asked what advice he has for other students looking to get started on their own businesses, Hitzges is only encouraging.
"Working on a company that can pay the rent of a commercial building; [that's something] I believe a lot of students can do," Hitzges said.
Bernetich similarly shares this inspiration. He said that if one's passionate about something, they can make it happen."
While opening Wrecked Records was a huge step for Hitzges, he's only getting started. In the future, he plans to work with a variety of artists spanning every genre, not just the heavy rock and rap musicians he usually covers. The goal is to keep evolving, working with as many artists, audio engineers and musicians as possible while always producing authentic music that sounds good.
For Hitzges, there are aspects he enjoys about his job at the recording studio, such as being his own boss and deciding for himself how much he gets paid. What comes to mind first, though, is the people.
"You'll meet people you thought never would've wanted that, and they'll come in and be so passionate about it," Hitzges said. "It's just so interesting the people that you meet. You'll always see something new in all the musicians that you work with, and that's something that I like about it."
Contact Paige Pettry at pettrype@dukes.jmu.edu. For more on the culture, arts and lifestyle of the JMU and Harrisonburg communities, follow the culture desk on Twitter @Breeze_Culture.