T-Pain and Two Friends' performance Tuesday night was everything but forgettable. From his iconic dance moves to his cover of Sam Smith's "Stay With Me," T-Pain proved his music career is still just as strong as it was a decade ago. 
Eli Sones and Matthew Halper, who make up the duo Two Friends, are SoundCloud musicians known for their hour-long song mixes — of which they've released 15. They opened for T-Pain and began their set with a remix of "Bohemian Rhapsody" followed by numerous popular songs such as "Africa" by Toto and "I Love It" by Kanye West. Occasionally showering the pit with water, Two Friends had the entire auditorium on their feet and dancing throughout their whole set.
Sones and Halper left the stage with a final selfie and "thank you" to the audience. They were visibly sweating as they left — as expected from their high-energy performance, which was filled with jumps off tables and interacting with the pit. A few students were even lucky enough to catch hats and shirts thrown into the crowd.
If their duo name doesn't make it evident enough, Sones and Halper are friends who love what they do. Throughout Two Friends' performance, it felt as though they were actually part of the crowd rather than the performers. Their connection with the audience was palpable and a big part of their show. From the music and the light show to animations that played on the screen behind them, Two Friends put together a set that was gripping from the beginning.
After the cheers for Two Friends' performance died out, everyone knew what came next. After waiting 45 minutes, the lights finally dimmed and the roars of students echoed through the auditorium. Smoke clouded the rays from the spotlight as the quiet music slowly became louder. Chants of "T-Pain" repeated over and over drowning out any other noise in the room. Soon, the recognizable beginning beat of "Ringleader Man" faded in and T-Pain, wearing a "Wiscansin" shirt, burst through the cloud of smoke. The auditorium erupted.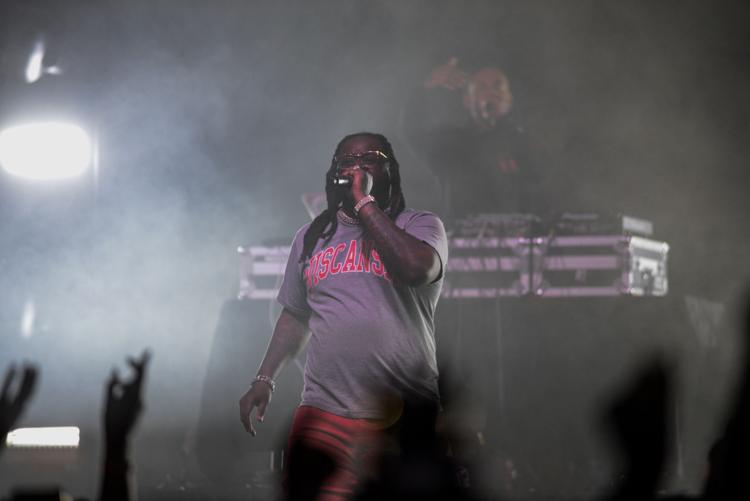 He began the show with a medley of some of the choruses of his songs, including one everyone knows: "Buy U a Drank (Shawty Snappin')." Despite only singing the chorus of this hit song, the energy in the auditorium drastically elevated as the sounds of thousands of students belted the lyrics. Surprising everyone with his dancing, T-Pain played to his loyal fanbase with his most popular songs — such as "Kiss Kiss", "Five O'Clock" and classics like "I'm Sprung" and "Chopped and Screwed". Along with his top songs, he called out to the fans that know him best with a tribute to his time on Masked Singer, a show where celebrities compete in a singing competition while in a full costume that conceals their identity.
Throughout his performance, spotlights panned over to the pit and the students sitting above showing everyone's hands moving with the music together.
T-Pain didn't speak much throughout the show, choosing instead to move from song to song without much transition. His set included a video tribute to Nipsey Hussle and Tupac Shakur in between some of his songs and he even sang some of Hussle's songs, which the students received well.
The show ended with T-Pain performing covers of famous songs such as "Don't Stop Me Now" by Queen as well as mixing in "Location" by Khalid with one of his own songs. These covers came as a surprise due to their seemingly drastic contrast to his preferred genre. Sans auto-tune, T-Pain showed the full range of his vocal ability with these more ballad-style songs. To close, he sang "All I Do Is Win" — a song he's featured on — by DJ Khaled, leaving the crowd as energetic and lively as they were when he first got on stage.
By the end of the night, students went home leaving their voices in the auditorium, and T-Pain left with the red solo cup he'd been drinking out of throughout the show in hand. T-Pain left the stage with one final message for JMU.
"I'm motherfucking T-Pain. We out."
Contact Tristan Lorei at loreitm@dukes.jmu.edu. For more on the culture, arts and lifestyle of the JMU and Harrisonburg communities, follow the culture desk on Twitter @Breeze_Culture.