From canvases of all sizes covered in strokes of black and pink to silver designs showcasing a zany yet organized display, Lia Ferro's art is lively and spirited. Upon first glance, one wouldn't know the intriguing story behind these works. Almost all the supplies used to create them are reused and recycled to emphasize a zero-waste lifestyle.
The local business, Bring Your Own, has joined the Arts Council of the Valley in participating in First Fridays Downtown. During this once-monthly event, artists have an opening show to discuss their work with attendees. This month, Bring Your Own is hosting artwork representing a less wasteful lifestyle called "New Wave. Zero Waste." Her art show will be on display at the store downtown, opening Thursdays through Saturdays from 11 a.m. to 6 p.m., until March 1.
"The series of pieces I'm showing at Bring Your Own is all created on either thrifted or repurposed canvas and I bought no new paint or supplies to create these works," Ferro said. "People donate canvases and perfectly good art supplies all the time and I can't justify supporting new production of resources that are wasted all the time. I need my work to reflect my ethics, which means using what we already have in this world." 
With a solid background and zig-zag patterns, the artwork on display at Bring Your Own is colorful, modern and eye-popping. Among expressing her other styles, Ferro describes the process of creating her pieces.
"Since I use thrifted and recycled canvases, my process normally starts by covering what is already on the canvas," Ferro said. "I choose a base color for these pieces and do one to four coats of paint until it is opaque. For the patterns on these pieces [on display], I used paint marker, something very much not environmentally friendly, but as an artist brought up by other artists, I have a lot of certain supplies lying around that need to be used before getting new, to me, supplies."
Bring Your Own's owner, Allie Emerick, believes Ferro's art truly embodies everything she supports and promotes at her store, in which she sells practical, sustainable and non-disposable products.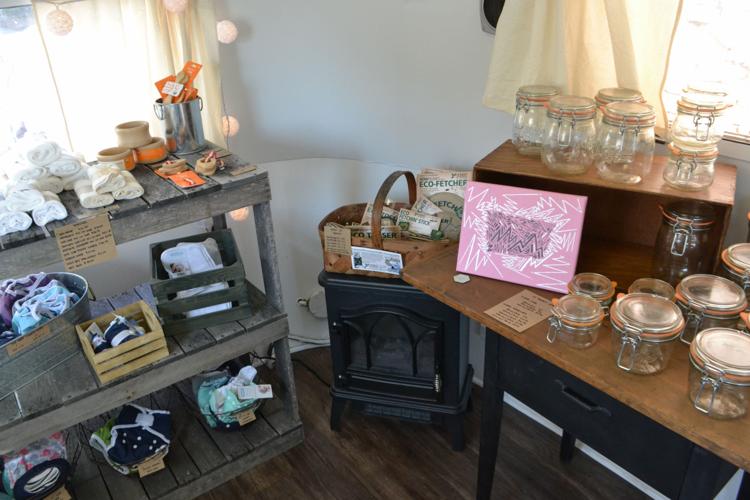 "It's really important for me to think about how much trash and waste we are creating and Lia makes a really big effort to use old paint supplies," Emerick said. "When you look at her work, it's not clear that it is from donated or thrifted supplies. But if people ask about it, it's really cool to tell them where it came from and how she gets her materials. I appreciate the effort she's making to not create any additional waste in order to carry out her passion of art." 
Others within the Harrisonburg community also admire Ferro and Emerick's collaboration to advocate for living a less wasteful lifestyle.
"I think the two were a perfect fit," Brandy Somers, an art teacher at Broadway High School and photographer for a local blog, said. "I really appreciate how Allie doesn't just simply own a business that promotes zero waste but she lives it. Lia's work took materials that could easily be discarded and resurrected them. She saved them from the landfills, giving them new life. The values of Bring Your Own are in line with that: reduce your waste, buy products that can be reused, put your money into people, concepts and goods that value the planet." 
Zero waste isn't just confined to the art community or businesses that sell environmentally friendly products, but is a lifestyle that anyone can take advantage of. Living in Washington, D.C., zero-waste participant Kristy Halderman met Ferro through a community on Instagram that strives to lead the same lifestyle and share similar principles. She agrees the zero-waste movement can be beneficial to not only the environment, but humans and animals as well.
"I started reading a lot more on garbage and waste production," Halderman said. "It's a never-ending rabbit hole of how that's primarily affecting environmental, animal and human health. For example, there are PSAs that show poor little turtles or fish caught in plastic bottle rings, and because of those images, those plastics are few and far between now. People are becoming more aware of single-use plastic products because it causes so much pollution. I feel like those images were a motivating and driving factor for real change."
Ferro does her part by producing art both as a creative outlet and as a way to spread the word about reducing waste. Living in Arlington, Virginia, she also showcases her passion by working with Art Brains, an enriching program for children. In addition, she's displayed her art at Boston University's Center for Gender, Sexuality and Activism, Covet in Arlington, Va., and The Lab by Alchemy Coffee in Richmond, Virginia. She believes it's important for college students to become more aware of how to reduce their waste and gives examples that they can easily follow.
"Solo cups and to-go coffee cups are almost impossible to recycle," Ferro said. "Zero- wasters bring their own reusable coffee cups and coffee shops will sometimes give you a discount or let you have a free coffee because they appreciate you not creating more trash. It's cheaper for you and the coffee shop. Simple swaps like this are great jumping-off points to reduce waste." 
By taking her own reusable cups to coffee shops or requesting other non-disposable options, Ferro reduces her footprint in the amount of waste produced every day. This is a zero-waste principle that she incorporates into her art in the hopes that others will be inspired as well.
"I've been a creative person forever and have been doing art for as long as I can remember," Ferro said. "In the last couple years, it's become apparent that I have to make art that doesn't compromise my principles. There are so many resources that already exist in the world and I would rather take advantage of those things before buying something new."
Contact Traci Rasdorf at rasdortl@dukes.jmu.edu. For more on the culture, arts and lifestyle of the JMU and Harrisonburg communities, follow the culture desk on Twitter @Breeze_Culture.