After an unprecedented season, Tayshia has found love on "The Bachelorette."
But first, she had to wrap things up with the remaining men — and face an unexpected visitor.
Monday: Fantasy suites
This week, it's finally time for fantasy suites. Tayshia's remaining men — Ivan, Zac and Brendan — each get the opportunity for an overnight date before meeting Tayshia's parents.
Ivan is up first, and Chris Harrison challenges them to set a new record for the world's longest, coldest kiss. Changing into bathing suits, the two step into 40-degree ice baths and start the clock.
The date is uncomfortable to watch, to say the least. In order to break the record, Tayshia and Ivan can't break the kiss, and they're visibly shivering during the challenge.
Imagine signing up for the #TheBachelorette thinking you'll get to travel to exotic places and gain thousands of ig followers but instead you out at the La Quinta in 100 degree weather and forced to break the world record for longest kiss with Chris Harrison watching

— L (@prosciuttotoast) December 22, 2020
Over six minutes later, the record is broken and they finally break the kiss. 
Later that night, Ivan confesses that he's falling in love with Tayshia and Tayshia thanks him for giving her the validation she needs. She invites Ivan to spend the night with her in an Airstream trailer on the resort property, and Ivan said the two spent the night talking about what their lives would be like after the show.
Zac is up next, and Tayshia invites him to "explore themselves" by stripping down to bathing suits and painting a large canvas with their bodies. It's another recycled date idea, but sweet nonetheless. They affectionately name the painting "Clarky and the Queen."
They daydream about their ideal date in California after the show, and their chemistry is clear.
Later, the two sit down to chat. Zac tells Tayshia that meeting her has made him want kids of his own and tells her he's in love with her. To fans' surprise, she says it back. It's customary for leads to save the L-bomb for the proposal, so Tayshia's reveal of her feelings is shocking.
Zac is invited to the fantasy suite as well, and the two spend the night in a mega-suite in the resort.
Brendan's date is last, and he voices concerns to producers that he doesn't want another failed engagement or marriage. Naturally, he's sent on a date to meet Bachelor Nation diamond guy, Neil Lane, to try on wedding bands with Tayshia.
He's visibly uncomfortable with the date, but he tries his best to remain present.
But as Tayshia brings up the idea of a fantasy suite, Brendan reveals his true feelings. He tells her a part of him is still healing from his divorce, and he can't give her his whole heart. Tayshia says she understands how he feels, but is visibly upset.
After a tearful goodbye, Tayshia tells producers she thought she'd marry him since their first one-on-one.
In a sit down with former Bachelorette Rachel Lindsay, Tayshia tells her she's been thinking about a man she eliminated last week: Ben.
Later that night, Tayshia is shocked to see Ben show up at her door, in what's obviously a ploy by producers to shake things up after her premature declaration of love to Zac. He tells her he's not necessarily asking to come back, but he couldn't leave without telling her that he loves her.
The episode ends with Tayshia telling producers she's concerned about the rose ceremony.
"What am I supposed to do with that?" Tayshia said.
Tuesday: The finale
In the last episode of the season, Tayshia must choose who she wants to marry.
But she must first make a decision about Ben.
She tells him he can come to the rose ceremony with Zac and Ivan, but there are only two roses available, meaning only two of the three men can meet her family.
At the rose ceremony, Zac and Ivan are shocked to see Ben arrive, and Tayshia pulls Ivan aside to chat before giving out the roses.
In what feels like a random excuse, Tayshia tells him she doesn't see a future with Ivan because their views on religion don't match. Fans are left confused by Tayshia's reasoning, because a conversation about religion between the two of them was never shown.
After Ivan's departure, Ben and Zac are set to meet Tayshia's family.
Tayshia's parents and her two brothers — including her youngest brother who was made into a meme during Tayshia's time on Colton's season of "The Bachelor" — are there to meet the final two, and Ben's introduction is first.
It's clear Tayshia's father, Desmond, is still as skeptical of the process as he was during his introduction to Colton on "The Bachelor," when he told Tayshia, "You can't microwave relationships."
But he seems to appreciate that Ben rectified his mistake and confessed his feelings to Tayshia, and seems to approve of Ben.
Tayshia says she started to "fall in love with Ben all over again" in that moment.
Zac's next to meet the family, and he chooses to be upfront about his previous marriage. He says he looks forward to supporting Tayshia during the hard times, and Tayshia's family seems to appreciate his candor.
The next morning, Desmond sits down with Tayshia and tells her not to rush into a marriage if she's not ready. 
"You could be making the biggest mistake of your life," Desmond said.
In her final one-on-one with Zac, her conversation with Desmond still seems to be affecting her, but she relaxes as the two take a first dance lesson for their potential wedding. 
Zac reassures her of his feelings, and the two say goodbye until proposal day.
Before she can have her final one-on-one with Ben, Tayshia unsurprisingly reveals she's already made her decision.
"I know what my heart wants, and it's not Ben," Tayshia said.
Her second breakup with Ben is even more heartbreaking, and he appears to close himself off again as Tayshia sends him home. 
"I lost a really good thing," Ben said. "Our life would have been so good."
It's finally proposal day, and Zac sits down with Neil Lane to pick out the perfect emerald-cut ring to give to Tayshia.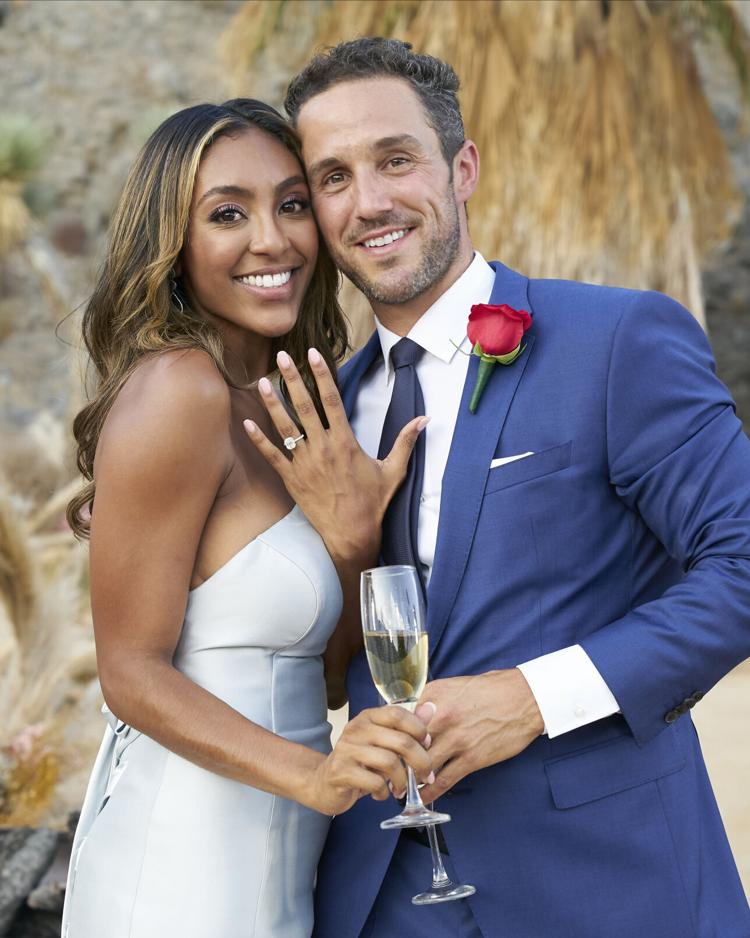 Tayshia stuns in a white, silk A-line dress, while Zac opts for a classy blue suit and tie.
In a final conversation with Chris Harrison, Tayshia breaks down in tears of anticipation, excitement and nerves. Harrison reassures her and sends her down to the altar.
Zac approaches, and the proposal that follows is arguably the best the franchise has seen in years. 
He tells Tayshia that he believes he was meant to come on the show and fall in love with her.
"Nothing has ever felt so right in my entire life," Zac said. "We spoke of the importance of loyalty, and I will always be loyal to you."
Tayshia responds, saying, "I know that I told you that I love you, but …" and her long pause caused fans to be concerned she wouldn't accept a proposal.
"It's more than that," Tayshia continued. "It's this wild, wild love that I've tried to come up with so many reasons not to believe, and you have truly made me believe that there doesn't have to be flaws, and I deserve love with a man who won't run away."
As Zac got down on one knee and asked her to marry him, she said yes and Zac accepted her final rose. To close out the show, the happy couple took off in the fake taxi from Zac's hometown date with the words "just engaged" written on the back.
Many fans were disappointed at the lack of an "After the Final Rose" segment with the newly engaged couple, but Tayshia and Zac appear to be happier than ever according to Tayshia's Instagram post.
As Tayshia's season of "The Bachelorette" comes to a satisfying close — with a refreshing return to normalcy after the unconventional endings of past seasons — fans can look forward to watching Matt James' drama-filled season of "The Bachelor" premiering Jan. 4.
Contact Amy Needham at needhaal@dukes.jmu.edu. For more on the culture, arts and lifestyle of the JMU and Harrisonburg communities, follow the culture desk on Twitter and Instagram @Breeze_Culture.