There's not always a skill requirement necessary to raise money for a cause. Elise Candelario isn't an artist, but that didn't stop her from drawing low-quality self-portraits to raise money for the Black Lives Matter movement. 
As the news  of George Floyd, Breonna Taylor and Ahmed Arbery circulated through the nation, some began searching for ways to get involved and support the movement. Candelario, a junior communication sciences and disorders major, knew she wanted to contribute in a significant way. She said she was signing petitions and educating herself but wanted to do more.
"I kept saying to my friends, I wish I was, like, good at art or good at something so I can sell something and make more profits; because this issue really touched me," Candelario said. "Then I was like, 'Well, maybe I don't have to be good at something to sell it.' That's when I came up with the idea."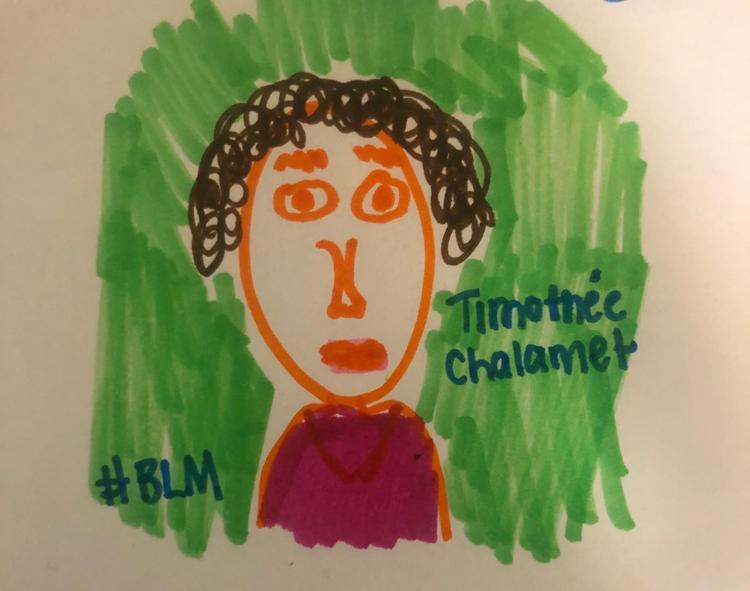 For just 50 cents, anyone was able to buy one of Candelario's "Shitty Self Portraits," artwork she made for customers that purposely didn't look good. She said she'd take a picture she thought was funny or cute off her customer's Instagram and recreate it. 
The pieces she made are coated in bright bursts of color. From her subject's outfits to the landscape around them, each portrait has a saturated pigment. The faces and body types are different for every person. Each body part was made from different shapes and curved lines to match each individual's original image. 
"I think everyone wants to help but like, we were just like all out of work for months," Candelario said. "I don't have a lot of extra money, but 50 cents is like 50 cents. When a lot of people give 50 cents, it becomes something greater."
After texting friends to see if it was a good idea, she decided to create a graphic and post it on her "finsta", short for a "fake" Instagram account often only followed by close friends. One of them was Robin Drees, a junior communication sciences and disorders major who met Candelario their freshman year. 
Drees said she supported her idea from the beginning. 
"She texted me and basically asked, 'Do you think anyone will do this?' And I was like 'Yes, 100%. Post it,'" Drees said. "Even if you only have a couple of people donate, it's better than doing nothing."
Once it gained attention on her finsta, she posted on her main Instagram account. Her friends helped her spread the word, and many who reached out to her for a portrait would promote it on their social media. Over the course of three days, Candelario said she worked diligently with her packet of markers until they all completely dried out, selling over 200 portraits. 
"I draw stick figures mostly, so I just went for it and I tried not to overthink it," Candelario said. "They turned out pretty cool looking."
After 210 portraits and extra donations, Candelario raised $531 total. She split the money up three ways, donating $177 to NAACP Legal Defense, Black Lives Matter and the Richmond Bailout Fund. 
Ever since the video of Ahmed Arbery was released, Candelario said it left a hole in her heart.
"There's still so much more that needs to be done, and this project, it helps, but it's not everything," Candelario said. "I just think it's important for people to remember to still keep working and keep fighting and keep listening."
Nolan Harrington, a junior integrated sciences and disorders major and another close friend of Candelario's, said he wasn't sure how successful her project would be.
"When I first saw the idea, I didn't know how successful it would be," Harrington said. "Even as it started to take off and started to make more and more money, I never thought it would reach the point that it did."
Harrington said Candelario stood up for a movement she wasn't afraid to take criticism for, increasing visibility for the black community and inspiring others to help. 
"Elsie isn't an art major or a great artist, but she was able to take something kind of quirky and create a benefit using that," Harrington said. "Even through smaller ways we don't think about, we can make these really great changes."
Candelario said she encourages anyone looking for ways to become more involved to go for it. 
"I think if anyone was feeling like me, and feeling like they wish there was more they could be doing, there is," Candelario said. "You shouldn't be afraid to just try, because what's the worst that could happen?" 
Candelario said she has faith in her generation after seeing the positive reactions from her project.
"Obviously I was just feeling mad and angry at our country and like there's no hope," Candelario said. "Seeing all the people who do care kinda made me feel better, especially about our generation. I think we're the people who can actually try to fix it."
Candelario said she believes that to end systemic racism, everyone needs to continuously work toward it. She said she's been able to learn about how to be anti-racist and what it means to have white privilege. Reflecting, educating herself and having difficult conversations are a few ways she's created change. 
"Time will pass, and by the time we get back to campus, this won't be as much in the news," Candelario said. "I think it's important for everyone at JMU to remember that we have to continue talking about it, because it's nowhere close to being over."
Contact Joanna Sommer at sommerjj@dukes.jmu.edu. For more on the culture, arts and lifestyle of the JMU and Harrisonburg communities, follow the culture desk on Instagram and Twitter @Breeze_Culture.