Lynnsey Kwaak heads straight to Goodwill's denim section. 
Once the junior theater major is surrounded by a gradient of blues, she peruses every rack of jeans and denim jackets, making sure no rack goes unexplored. After her first go-around, she carries 20 pairs of jeans. Then, she narrows it down, trying to find a range of sizes, styles, washes and brands to fit as many of her customers' interests and needs as possible. 
When she returns to her room, she pulls her hair back and gets into comfortable clothes. She opens the blinds for natural light to enter the room, puts on some music and picks up her paintbrush. Scrolling through her Pinterest board, she decides to create art of whatever inspires her that day. 
She doesn't plan — she simply paints.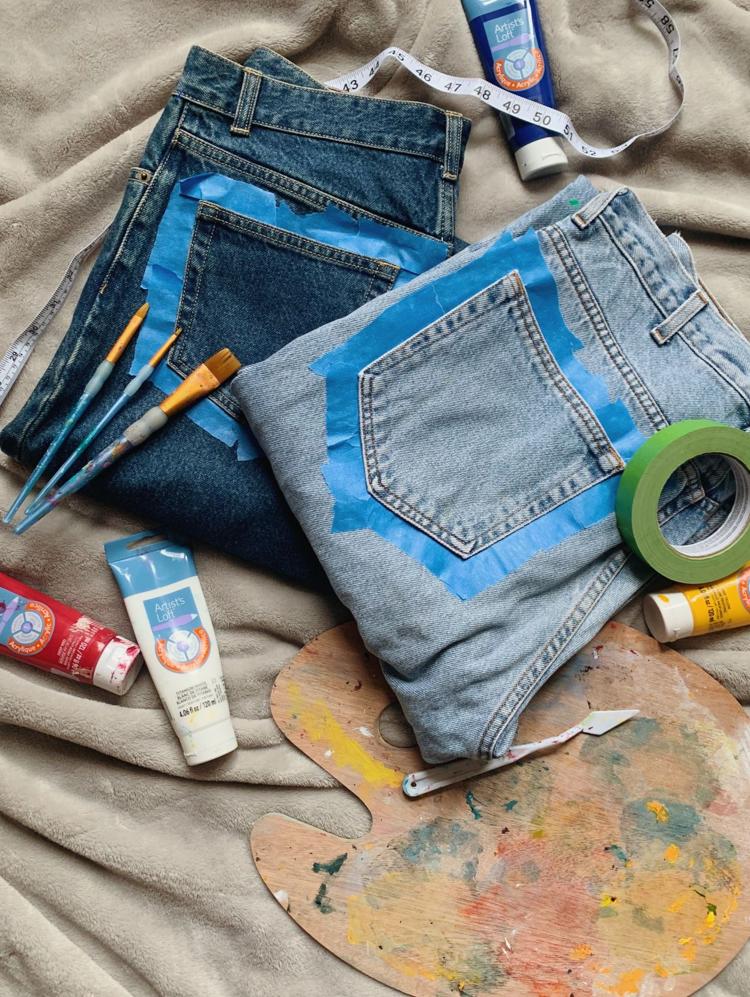 "It just gives me so much joy to just sit down and paint," Kwaak said. "I notice that when there are long periods of time when I'm not painting … I can get really tense, and if I just sit down and paint for a couple hours, then I feel recentered." 
Kwaak is the founder of Another Love Art & Thrift, a sustainable, hand-painted denim business, where she sells thrifted finds with painted jean pockets and the back of denim jackets on Etsy. 
She donates 10% of profits to the CARE organization, a social justice group that's currently helping to prevent the spread of COVID-19 in vulnerable countries by providing hygiene kits, hand washing stations and other forms of aid. Kwaak said she was drawn to its message of empowering women and young girls.
Another Love Art & Thrift started as a hobby, Kwaak said. Last summer, she started painting a pair of shoes and realized there was a community of people who were doing the same. Eventually, she began painting on jeans. Her first pair showcased a celestial-style sun and moon in black and white, and soon, she ended up with a pile of painted jeans she didn't know what to do with.
"I just started making them for friends, and then I realized that there are people who are actually interested in it, so I was like, 'Why not just open it up to everyone?'" Kwaak said.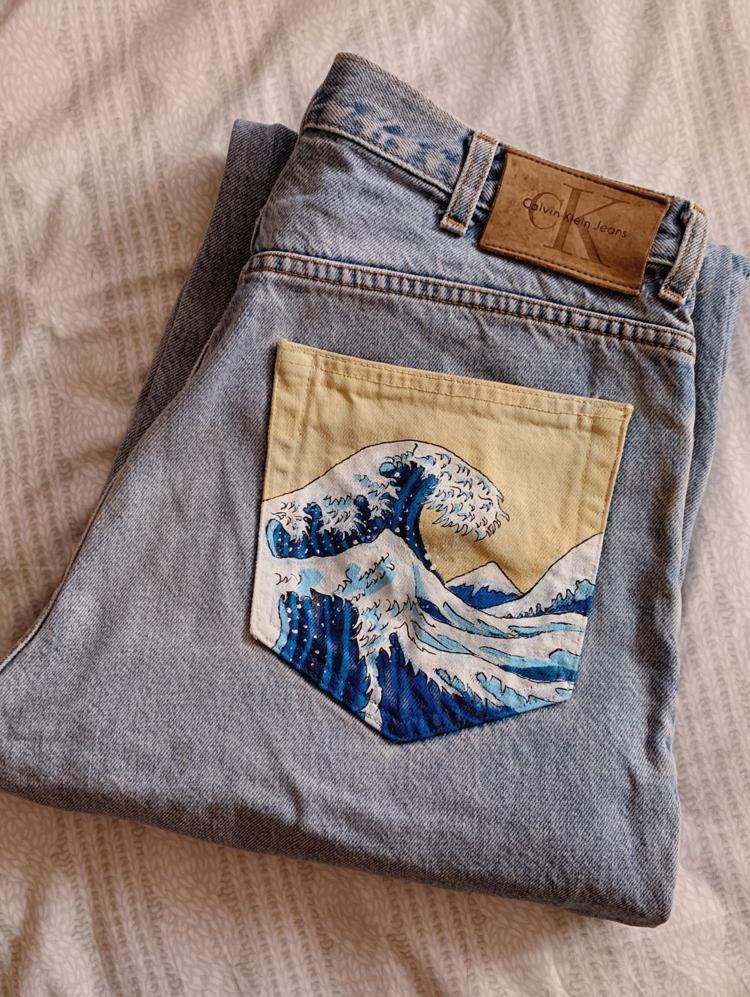 When painting, Kwaak said she's inspired by florals and nature. She also said she enjoys recreating famous paintings like Vincent Van Gogh's "Starry Night" and Hokusai's "The Great Wave off Kanagawa." She's used Instagram to show off her works of art and to build a following.
Andrea Arias, a junior theater major and Kwaak's roommate, said she's helped Kwaak with promoting the business as a customer, striving to attract a larger audience. Each time Kwaak posts a photo on her business Instagram, Arias reposts it to her story. She's even told her neighbors about Another Love Art & Thrift to show support. Arias said she appreciates what Kwaak is doing with her shop. 
"She definitely has a fire in her," Arias said. "She's passionate and bold and stands up for what she believes in. She's an influencer and tries to do so much good for the world."
For Kwaak, art was something she did for fun, but now it plays a more profound role in her life. Bianca VanCleef, Kwaak's friend growing up, said Kwaak has become more in-tune with her art since it piqued her interest in middle school art classes. 
"She's always been very talented, but she has a lot more direction now," VanCleef said. "She really knows what she wants to do with her art and what she wants to create."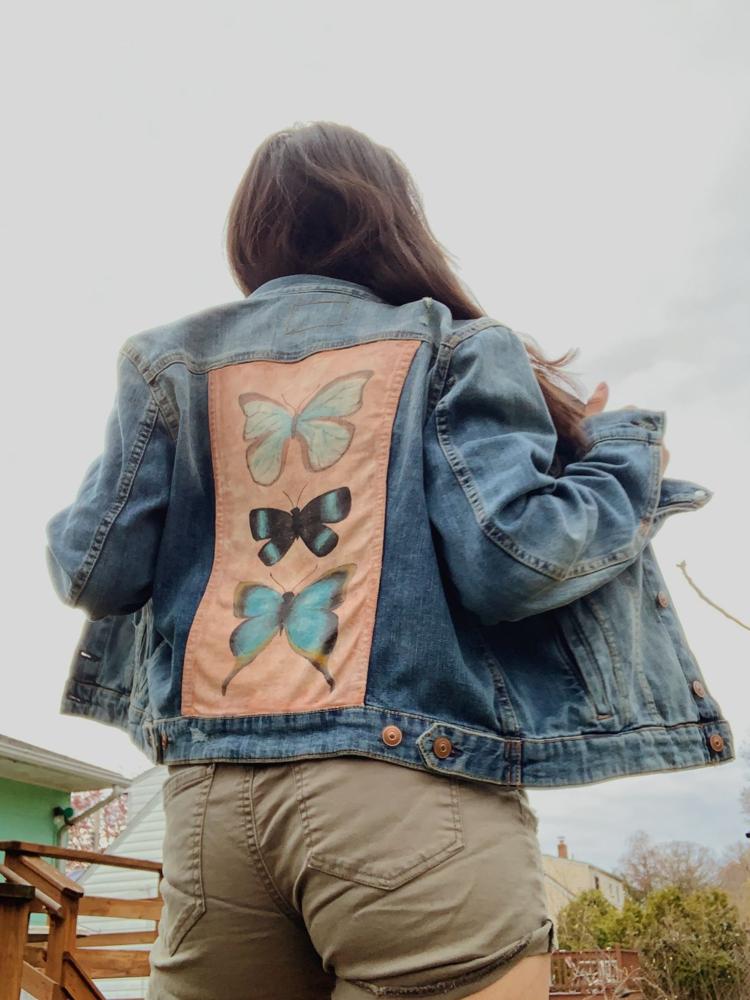 The COVID-19 outbreak has also challenged Kwaak's business. One obstacle has been configuring prices with finances being a possible issue among many college students, her main demographic. She said it's difficult to find the balance between making her products affordable while also ensuring she's compensated for her work. 
Other times, it's a challenge in itself to pick up a paintbrush. Kwaak said being home in New Jersey has made it difficult to find inspiration and start painting. 
"It can be hard to find the motivation to actually do the work and create things, even though it does bring me so much joy," Kwaak said. "During this time, it can actually be hard to really get up and do it."
The pandemic has also disrupted Kwaak's plan to have her friends model her jeans since she usually does it herself. She said she wants her jeans to be seen on different body types to fairly represent all sizes and hopes to make that happen in the fall.
"I really just want to make sure that everyone feels included and that no one feels like they can't wear my stuff because of their body," Kwaak said.
Because of Another Love & Thrift, Kwaak said she became aware of certain privileges that she has. When first starting, she thought she could sell her products for a high price after recognizing the amount of work she puts into them. After realizing the costs she had in mind might not work for her customers, she decided to change that. 
First and foremost, she said she wanted to make sure that as many people as possible could wear her jeans.
"'Cause that's what I wanted to enforce in the first place," Kwaak said. "That everyone can have something that was made just for them."
Contact Kailey Cheng at thebreezeculture@gmail.com. For more on the culture, arts and lifestyle of the JMU and Harrisonburg communities, follow the culture desk on Twitter @Breeze_Culture.