An array of sewing machines, measuring instruments and scissors are typically strewn across sophomore elementary education major Gaby Duncan's dining room table at home. Over the summer, when Duncan's mother, Dora Duncan, and aunt, Mary Cossio, would get home from work, one could usually find the family of three amidst the jumble.
Now, Gaby can be found organizing her hand-crafted lanyards — each with its own pattern — in between classes. They're vibrant, with colors like crimson, neon pink and bright green. For Gaby, these lanyards represent her Peruvian culture, which she wishes to share with others through a common student necessity.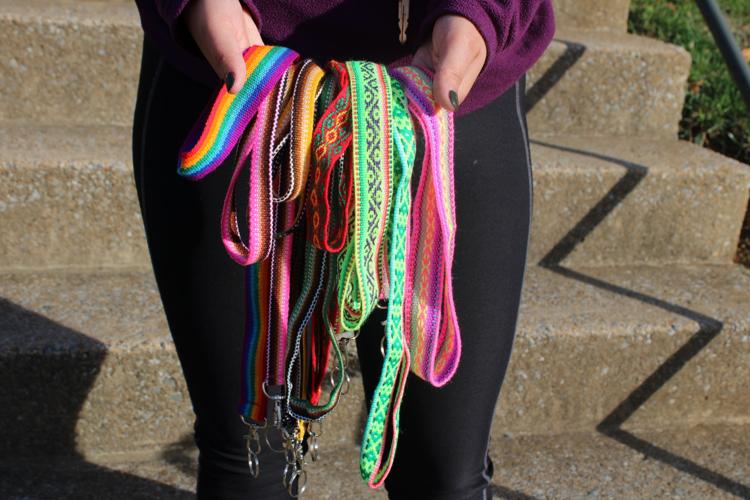 "For my family, it's something way more personal," Gaby said. "Because we're Peruvian, and now I've used these lanyards, and so do my close friends."
Gaby searched for a way to showcase her culture while also making herself feel more at home at JMU. She also noticed that Peruvian culture was missing on campus, so she began looking for a way to change it. As a member of a family that constantly stays in touch with its heritage, she said it's important to bring that identity to her school.
When she went to Cossio and Dora for help, they were immediately on board.
While brainstorming, the ladies thought of items they could sew. In Peru, everyone knows how to sew, Dora said, so it seemed like the obvious option. 
When Cossio went on a trip to Peru, she became inspired to make a craft with fabrics she'd seen, giving Gaby and Dora ideas for something to bring to JMU.
"You can have all the colors. They are original from Peru," Cossio said. "And they have a design from the Andes."
Next, they needed to decide what to create, but making clothes seemed like too much. Gaby noticed that many students own lanyards and use them to hold things like dorm keys and JACards, so she took the idea for personally crafted lanyards and ran with it. Once Gaby and her family spoke over the phone and picked out which patterns and colors of fabrics they'd like to use, they were ready to put their plan into action.
When Gaby and her family sit down to make the lanyards, they follow a specific process. It begins with choosing the patterns, then cutting, measuring and folding the fabric. Next, they sew the pieces together, finally attaching a keychain. The steps are fairly simple but require a few hours to complete. Once they're done, Gaby takes photos and posts them on her Facebook page. She sells them for $10 and accepts orders through private messages.
"It's not like work; it's like something fun," Dora said. "I love it, I enjoy to see the colors, so we have fun." 
Gaby's favorite step in the process is seeing the end result. Holding the completed product is the best part since she tends to get impatient, she said. For Dora, the fabric's colors and patterns are what she enjoys most. 
Gaby said she thinks students have something to gain from these lanyards. As a Hispanic minority, she feels it's important to share her upbringing with other students to introduce more diversity to the university.
"I hope that they just feel like they have a little piece of, like, the world," Gaby said. "The fabric is directly from Peru. Hopefully, they'll search [Peru] up and want to visit — it's very beautiful."
Rebecca Johnson, a sophomore dance education major who bought a lanyard from Gaby, said that she also believes the business "brings a little bit of culture." 
"It's something handmade," Johnson said. "You're supporting someone's family that actually needs the support over in Peru. It's a community you don't hear much about here at JMU."
Gaby's hope is that, through her business, more students catch a glimpse of a culture different than their own and find a shared love for Peru. She said it's a unique and personal way for her to leave her mark on JMU and a way of finding a place for herself on campus. Seeing people walking around campus wearing her lanyards shows her an appreciation of her heritage, she said.
"It just made me feel like I had something to do and something to bring to JMU," Gaby said. "It feels more at home for me."
Contact Paige Pettry at pettrype@dukes.jmu.edu. For more on the culture, arts and lifestyle of the JMU and Harrisonburg communities, follow the culture desk on Twitter @Breeze_Culture.