As families fill parking spots this weekend to watch the Dukes take on the Villanova Wildcats, they may look for the ultimate tailgate location. Unloading chairs, drinks and all kinds of spirited merchandise can be draining after any drive. One of the best parts of the process can be busting out the chips and salsa to munch on before heading into the stadium. These recipes take a bit of extra preparation but can turn any tailgate meal from dull to delicious.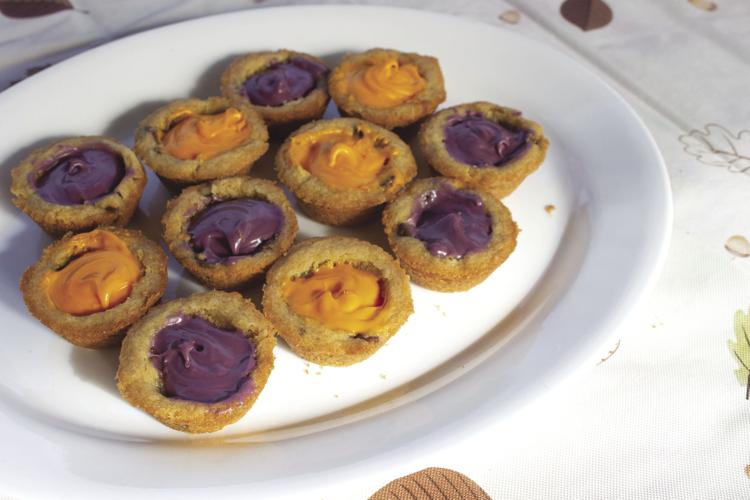 For the JMU fanatic
A popular trend for foodies at JMU events is to bake purple and gold-colored snacks to show their school spirit. Cookie cups are a great bite-sized sweet treat to include in anyone's tailgate menu. Any cookie dough can be used, though this recipe calls for chocolate chip, and they're easy for one to pack in the car for a long drive.
Ingredients:
-One pack of chocolate chip cookie mix and any extra ingredients like butter, eggs, vegetable oil, etc.
-Vanilla icing
-Purple and yellow food coloring
Instructions:
Mix the dough and extra ingredients according to the package in a bowl. After mixing, hand fill each cup of a mini muffin baking sheet. Pinch the mixture to the sides of each spot in the sheet to create a cup with the dough. Make sure to flatten some dough to the bottom of each spot as well so the cookie cup has a base. Cook them according to the package. After letting them cool, the baked treats should hold their shape after being removed from the pan. Next, scoop the vanilla icing into two different bowls. Squeeze three to five drops of purple food coloring into one and yellow into the other. Mix each bowl well until the desired colors are achieved. Use an icing pipe or plastic bag to fill each cookie cup with JMU-themed icing and enjoy.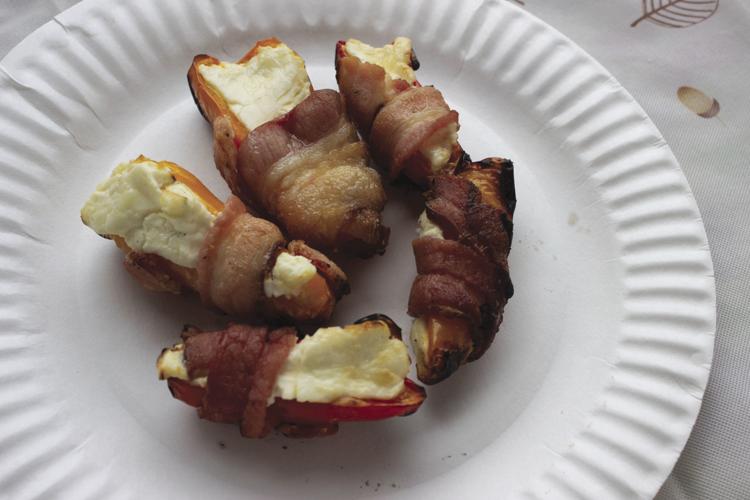 For those looking to spice it up
Before kickoff, get a kick from these grilled bacon jalapeno wraps. They're juicy, flavorful and can be made quickly. These require a grill, but if one isn't accessible at a tailgate, they can easily be made at home and wrapped in tin foil to keep warm.
Ingredients:
-Bacon
-One package of cream cheese
-12 jalapeno peppers
Instructions:
Cut each pepper in half from top to bottom and scoop out all the seeds from the middles. Use a spatula to fill each half with cream cheese and scrape any excess off the top of the peppers. Wrap a raw piece of bacon around the entire pepper half and place each of them on a grill to cook. Make sure the bacon is crispy before plating, letting them cool and serving.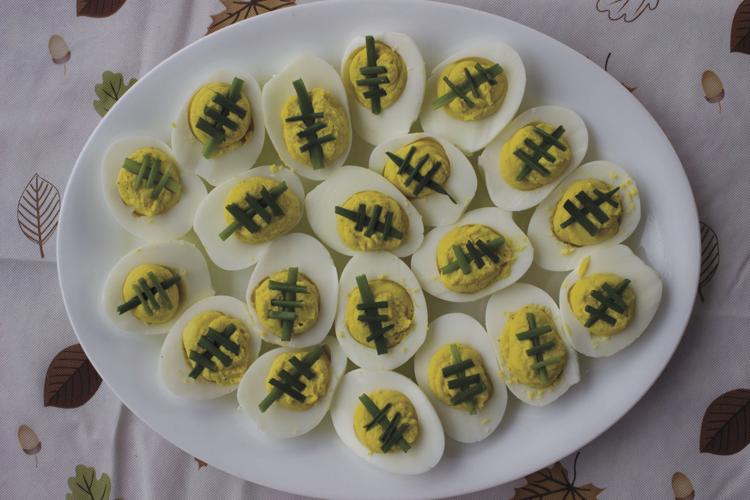 For an easy, fun addition to the table
Deviled eggs can be made for any occasion, but what's the fun without throwing a little sports into the mix? Perfect for a tailgating event, these football-themed eggs aren't just yummy, but they can strike up a conversation about the game.
Ingredients:
-12 eggs
-4 tablespoons of mayonnaise 
-4 tablespoons of mustard
-Salt and pepper
-Paprika
-Chives
Instructions:
Boil the eggs for about 10 minutes. Peel the shells and cut each egg in half from top to bottom. Scoop out the yolk of each half into a bowl and mash. Add the mayonnaise, mustard and salt and pepper and mix well. Use an icing piping bag to refill the halves of the eggs. If an icing pipe isn't on hand, create one by filling a plastic sandwich bag with the mixture and cutting a small hole in a corner of the bag. Next, sprinkle a bit of paprika onto each egg. Place thinly sliced chives in the center of each yolk mixture to represent the laces on a football. Chill them in the refrigerator until one is ready to serve. Easily take them to any tailgate in a cold bag.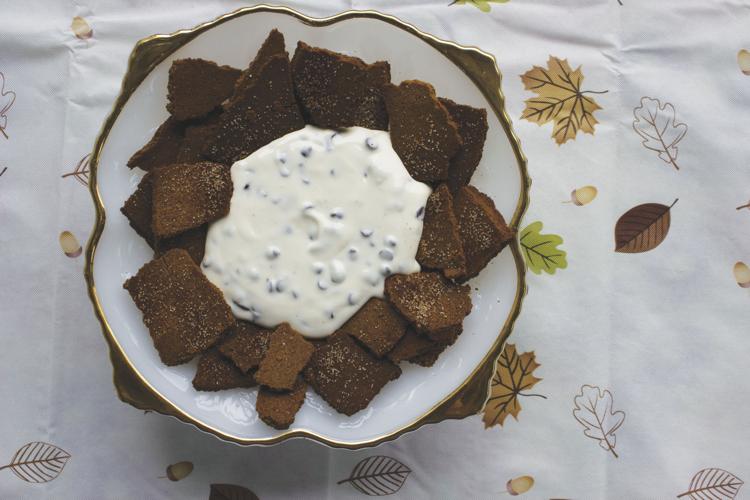 For a half-time sugar rush
A twist on a scrumptious Italian pastry, this cannoli dip and chips can make one feel like they're tailgating in Sicily. The creamy mix and sugary chips will satisfy any sweet tooth and can be the hit of the party as it's not a typical chip and dip choice. A tip: Once the dip is made, try it and add sugar until one has reached the desired sweetness.
Ingredients: 
For the dip:
-1 cup of mascarpone cheese
-2 cups of whole milk ricotta
-1 teaspoon vanilla extract
-1 1/4 cups of powdered sugar
-1 cup of mini chocolate chips
For the "chips:"
-2 store-bought pie crusts
-Cinnamon and sugar
2 store bought pie crusts
Cinnamon and sugar
Instructions:
Add mascarpone cheese and whole milk ricotta to a bowl, and use a hand mixer to beat them until smooth. Then, add the powdered sugar and vanilla and continue to mix. Lastly, pour in the desired amount of chocolate chips to finish mixing. Cover the bowl and chill it in the fridge for about half an hour. Lay the pie crusts on a cutting board and use a knife or pizza cutter to slice triangles out of the crusts. Place them on baking sheets so they're not touching. Bake them at 375 degrees for 12-14 minutes. Lightly dust the tops of the triangles with a cinnamon sugar mix as they're cooling. Arrange them on a plate and serve the dip in a chilled bowl.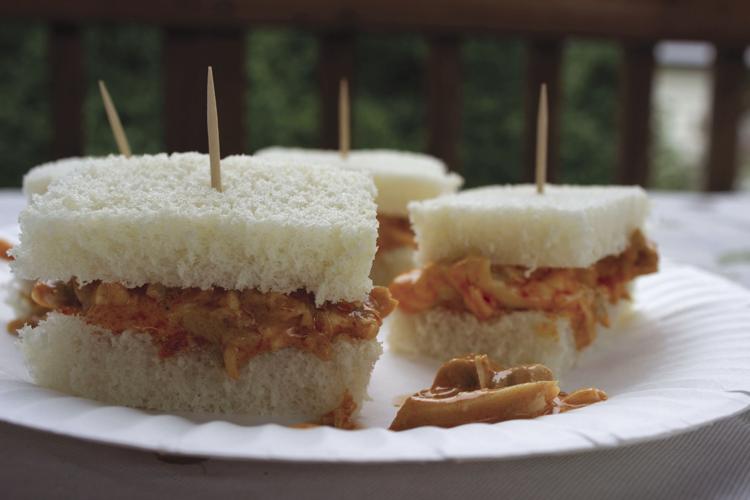 For those who want a filling snack
Anyone looking for more than a snack can turn to these buffalo chicken sliders for a full meal. They're small, yet filling, and add an array of flavor to any tailgate table. Don't want to hassle with buns and bread? This recipe can also act as a dip.
Ingredients:
-24 mini dinner rolls
-3 cups shredded mozzarella cheese
-6 cups rotisserie chicken
-1 1/4 cup hot sauce
-1 cup ranch dressing
Instructions:
Begin by shredding the rotisserie chicken and measuring out three cups. In a bowl, thoroughly mix the shredded mozzarella, hot sauce, ranch and chicken. Pour it into a cake pan and cook it in the oven at 375 degrees for about 20 minutes or until the mixture is heated through to the middle. 
To keep it warm at any tailgate, consider purchasing a portable slow cooker or Crock-Pot. To make a slider, scoop the desired amount onto a bun. For more flavors, one can add toppings that pair nicely with buffalo chicken like coleslaw or use Hawaiian king rolls.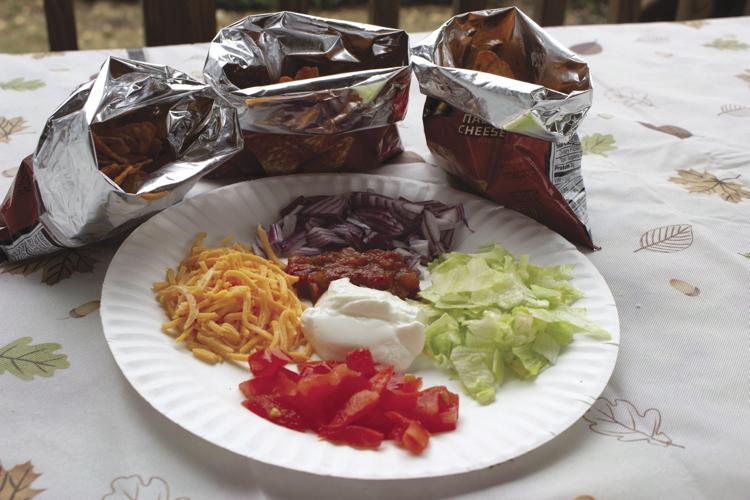 For the talker who hops tailgates
Taco lovers and talkers alike can now have the best of both worlds with the taco in a bag. Typically, people enjoy visiting others during tailgates, even if it means walking halfway across the parking lot. This mini meal allows one to enjoy a full taco experience without the mess while walking to the next party spot.
Ingredients:
-Individual bags of chips like Fritos or Doritos
-Cooked and seasoned beef, chicken or pork
-Shredded cheese and lettuce
-Diced tomatoes and onions
-Sour cream
-Salsa
Instructions:
Open a bag of desired chips to be the "shell" of the taco in a bag. Add as many scoops as one wants of their desired toppings. Use a fork and mix it up or eat it from the top down. For more variety of flavors and textures, one can also include olives, pico de gallo, ranch dressing, cilantro lime dressing, salt and pepper.
These quick and easy recipes are sure to be a hit at the tailgate with every family member. So, be sure to whip up your favorites of these recipes and get ready to start wearing purple and gold this weekend. 
ContactTraci Rasdorf at thebreezeculture@gmail.com.