A smell that takes one straight to backcountry roads and grandma's savory southern meals streams out  the window of Simmer Down, a new food truck in downtown Harrisonburg. The bold red truck is hard to miss as cars and potential customers pass East Market Street. Get close enough and one can hear the sizzling grill and pop of the tomatoes being deep-fried calling out of the truck.
Fresh out of JMU with his bachelor's degree in restaurant and hotel management, Mason Muschalek 18' opened Simmer Down on June 1. Taking control of the business side of the truck, Muschalek hired William Randall after putting out a Craigslist ad and interviewing him to take on the culinary side of the business. 
Because Mason still works a full time job aside from being the owner of Simmer Down, he went for a food truck rather than a brick and mortar establishment. During his time at JMU Muschalek interned at the Breakfast Bus when it was starting from the ground up. Working there sparked the idea of opening his own food truck.
"The best part of owning my own food truck is having the liberty to do what I think is best,"  Muschalek said. "I've loved the creative side like — menu design, the marketing aspect and connecting with customers."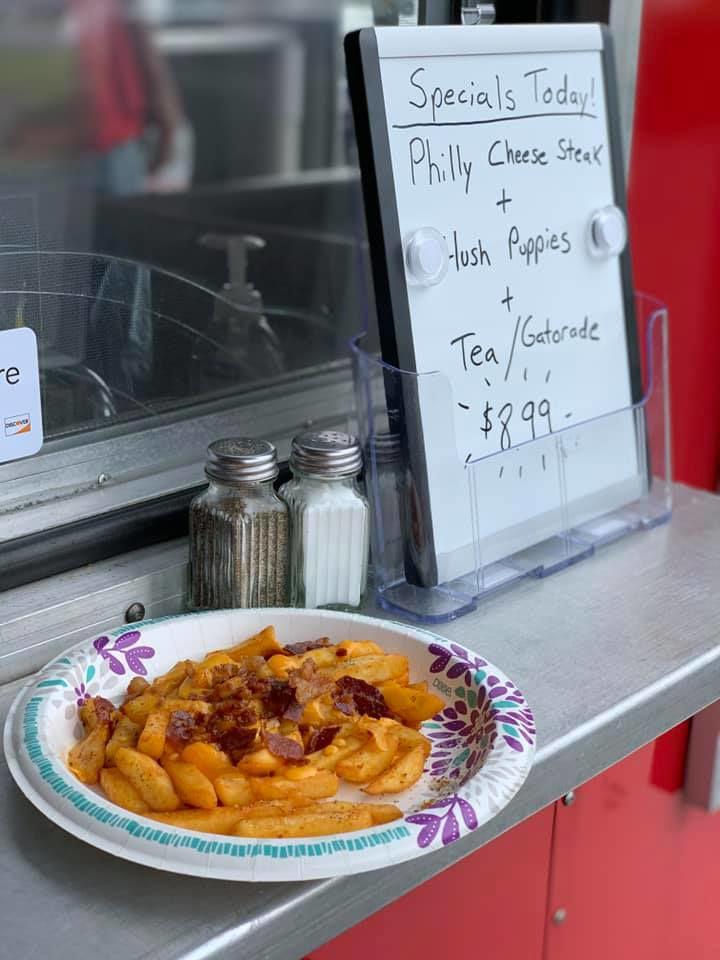 Both raised with southern roots and home cooking — Muschalek is originally from Texas and Randall from Charlottesville — the two wanted to put their own twist on southern comfort food with Simmer Down. Menu items range from southwestern chicken and philly cheesesteaks to fried green tomatoes and spud muffins. 
"The fried green tomatoes come from my grandma's recipe but with his own personal twist, and the southwestern chicken has a nice subtle kick," Randall said.
He also said the food truck has been a learning curve due to the small space. There's no oven; everything is cooked on the stove top and grill, which is a creative challenge.
Former JMU student Sina Shah ('19) said her experience eating at the food truck was a 10 out of 10. She ordered a chicken grilled cheese sandwich and described the atmosphere as chill. Shah said the menu was the most unique thing about the food truck. 
"The staff was nice and personable. They took care in the food they were making me," Shah said. "They even brought up the 10% off student discount they offer." 
Sweet tea is another one of the truck's specialties. Muschalek has always been more of a tea guy than a coffee guy. Prior to opening the truck, his mother, Robin Muschalek, saw a food truck in Texas that only sold sweet tea, and he loved the idea. He said he wanted a tea truck, but a tea truck that sells food. 
Robin has been a part of Simmer Down since the beginning and has watched the idea grow in Mason's head. She saw how hard he worked to get the truck open, figuring out licensing and getting people to work all while balancing another full-time job. She admires the hard work he has put into opening the truck, from figuring out licensing and hiring employees, all while balancing another full-time job.
"He is putting 100% of his efforts into this and is putting his degree to work," Robin said.
Muschalek says that he has a strong commitment to the community. Since he's a former Duke, he wants to use the truck for proceed nights and sponsor JMU clubs in the near future. Not only does he want to help out students, but he also creates links with the Harrisonburg community by getting all of the produce the truck uses from locally sourced farms. The truck is also moving toward getting its meat from the community. The business owners said they want to put money back into the community. They also use all eco-friendly utensils and try to avoid waste as much as possible.
Starting with a love for sweet tea, a southern comfort lifestyle and a small red truck, Mason has a big vision. Mason hopes to see his business grow and the community thrive all while enjoying some sweet tea and southern comfort.
"Actually seeing the truck come to life and grow has been the most rewarding part of the process," said Mason, "I hope to continue to grow its presence and give back within the JMU and Harrisonburg community."
Contact Jean Luther at lutherjm@dukes.jmu.edu. For more on the culture, arts and lifestyle of the JMU and Harrisonburg communities, follow the culture desk on Twitter @Breeze_Culture.