In no time, students will begin piling onto the Quad and spending more time outdoors as warm weather approaches. Barbecues and picnics will fill backyards, and sometimes, what one serves can make or break a spring time bash. With so many finger foods to choose from, here are seven snacks that are sure to impress party goers without breaking the bank. 
Skewers and kabobs are a party favorite because they can be made using foods any guest will like. These skewers have an antipasto-inspired flavor combining pasta noodles, meat, vegetables and cheese. They're particularly easy to make because they require little prep and no grilling.
Ingredients:
Wooden skewers

Bow tie pasta noodles

Olives

Grape tomatoes

Genoa salami

Baby mozzarella balls

Spinach

Cucumber
Instructions:
Begin by cooking the bow tie pasta as directed on the box. One can also use pre-cooked tortellini which can be found in most grocery stores. Then, cut the cucumber into about one-fourth inch slices. Put one mozzarella ball in the center of each skewer and fill each end of the skewer with the desired amount of pasta, veggies and cheese balls.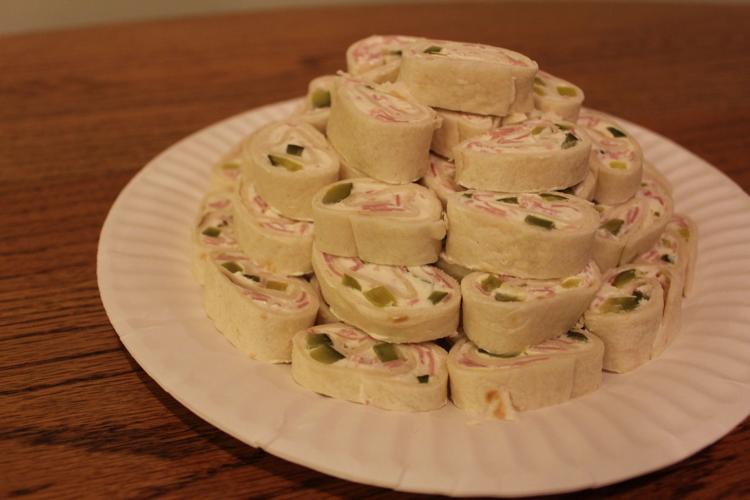 It isn't a picnic without pickles. For any pickle lover, these pinwheels will hit the spot. This recipe calls for cream cheese and ham, but another alternative can be mayonnaise and one's favorite kind of sandwich meat.
Ingredients: 
1½ Cream cheese

Slices of ham

Pickles

Tortillas
Instructions:
Whether sliced or whole, dice one cup of pickles into small chunks. Then, do the same for the ham. Next, mix the pickles, ham and cream cheese thoroughly in a medium-sized bowl. Spread the mixture thinly onto each tortilla, leaving about half an inch around the edges. Tightly roll each tortilla, making sure not to let any filling escape the sides. Chill the rolls for about one hour to allow them to set. Lastly, cut each roll into one-inch pieces to create a bite-size snack.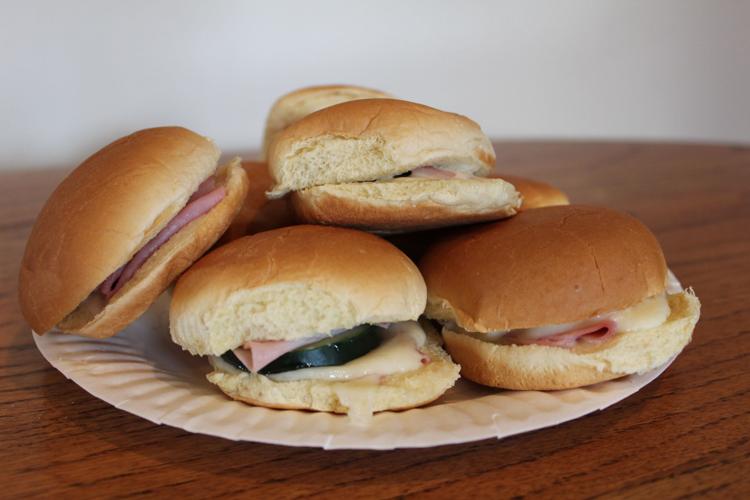 Sliders are a classic alternative to full-sized burgers and sandwiches. They can be made with most any kind of meat, cheese and toppings. These sandwiches were made with honey ham, provolone cheese, mayonnaise, onions and cucumbers.
Ingredients:
Slider rolls

Honey ham

Swiss cheese

Mayonnaise
Instructions:
Preheat the oven to 350 degrees and separate each slider bun onto a baking sheet. Spread mayonnaise on the flat side of each bun. Then stack the meat, cheese and toppings onto the bottom bun. Place the top bun to finish off the sandwich and cover the buns with tin foil. Bake in the oven for about 10 minutes or until the tops of the sandwiches are golden brown.
Every good barbecue or picnic could use a flavorful juice. Cranberry basil spritzer has a sweet, fruity taste, yet a tang of lime. A twist to this drink is that it's made with club soda, so the juice is complimented by a feisty fizz. 
Ingredients:
Basil leaves

1 bottle of cranberry juice

1/4 cup lime juice

1 bottle of club soda

1 lime

Cranberries
Instructions:
Combine the cranberry juice, club soda and lime juice in a pitcher. Stir it thoroughly and slowly pour cranberries in. Slice the lime and add it to the mixture to allow them to soak into the juice. Lastly, add in the basil leaves for that extra, natural kick. Serve the juice over ice and keep it chilled for the best taste.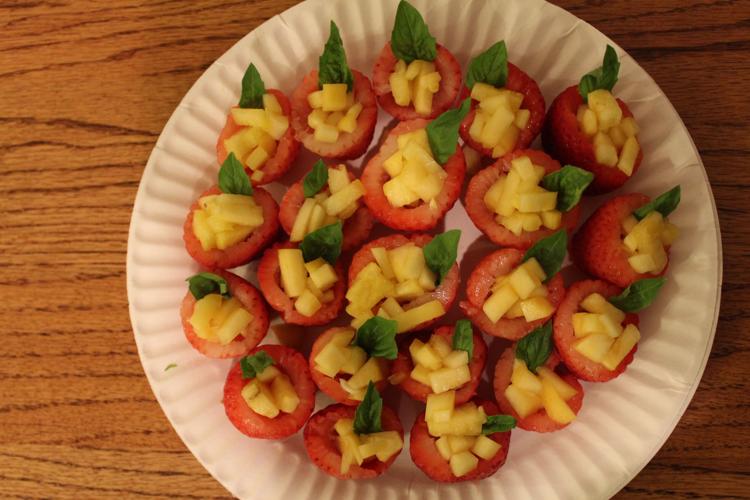 For a healthier snack option, try these fruit-filled strawberry cups. They require a bit of extra prep but bring freshness to the party table. These fruit cups can be made with most fruits as the base and any option as the fruit. To serve at an event, it's convenient to have small, bite-sized fruit as the base.
Ingredients:
Strawberries

Peaches

Pineapple

Basil
Instructions:
Core out each strawberry and slice a small chunk to create a flat bottom so they can stand upright. Make sure to use the bigger strawberries in the batch so it's easier to fill them. Then, chop each filling fruit like peaches and pineapple into tiny pieces small enough to stuff inside the strawberries. Top off the cups with a sprig of basil.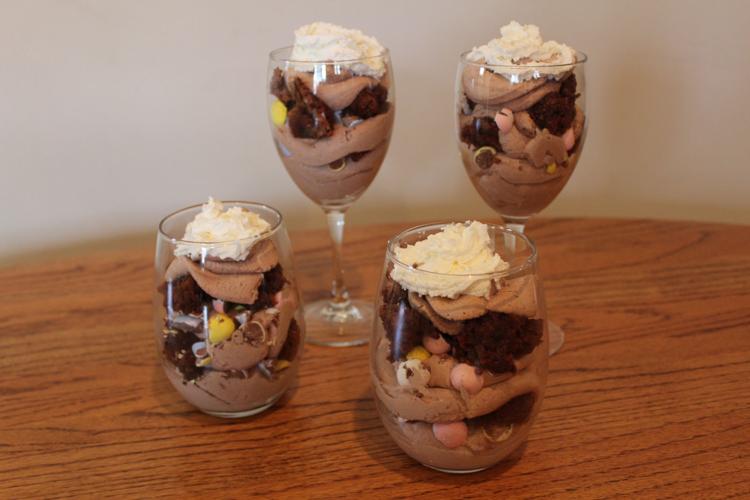 These fancier treats are for those who can't get enough chocolate. Festive egg candies are a fun way to get into the holiday spirit this April. Whipping up chocolate mousse is a bit of a task but is worth the sweet and creamy dessert. 
Ingredients:
Candy-coated chocolate Easter Eggs

2 ½ cups of whipping cream

1/3 cup white sugar

2 tablespoons of cocoa powder

Fudge brownies
Instructions: 
First, bake the brownies according to the instructions on the box. To make the mouse, pour the whipping cream, sugar and cocoa powder into a bowl. It's preferred to use an electric mixer to mix the ingredients on high, but by hand, one can mix for four to five minutes until the cream creates peaks.
For the time being, refrigerate the whipped topping. Fill a sandwich bag with the egg candies and use a rolling pin to crush them into smaller pieces. Now, cut the cooled brownies into bite-sized pieces.
If there's no piping bag on hand, simply fill a sandwich bag with the chilled whipped topping and cut a small hole in one bottom corner of the bag to create a pipe. Use any kind of glass or cup and fill the bottom with topping, then sprinkle some crushed eggs and two or three brownie chunks to make the next layer. Repeat this process until the cup is full and keep the treats refrigerated until the event.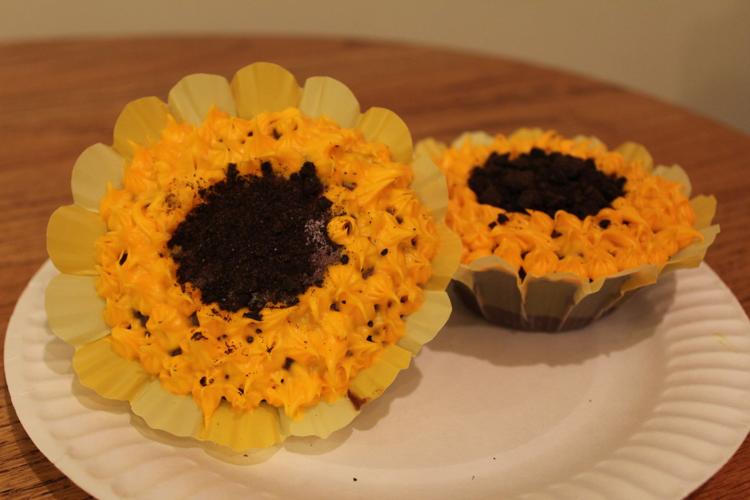 The neat part about cupcakes is that one can decorate them to look like just about anything. Sunflower cupcakes are a charming spin on a favorite party staple. These desserts are made with chocolate cake, but can be made with any flavor cake. 
Ingredients:
Chocolate cake mix

Chocolate icing

Vanilla icing

Piping bag with a star tip

Oreos

Yellow food coloring
Instructions:
First, use baking cups and make the cupcakes according to the instructions on the box. Make sure to get thick icing so it holds its shape once spread on the cupcakes. Cover the top of each one with the chocolate icing.
Then, mix in a few drops of yellow food coloring in the vanilla icing. Fill a piping bag with the vanilla icing and use a star or leaf piping tip to create the leaves. Use quick, dabbing motions to squeeze small petals onto the cupcakes, creating four circular rows. Leave about one inch of a circle of chocolate icing exposed in the middle.
Next, separate the Oreos and remove the cream from each piece. Put the cookie pieces into a sandwich bag and use a rolling pin to crush them until they're finely crumbled. Sprinkle the crumbled pieces onto the center of the cupcake, covering the remaining chocolate frosting layer. 
With any leftover vanilla icing, try mixing in green food coloring and repeating the piping process to create green leaves. This will give the feel of a more realistic sunflower.   
Contact Traci Rasdorf at rasdortl@dukes.jmu.edu. For more on the culture, arts and lifestyle of the JMU and Harrisonburg communities, follow the culture desk on Twitter @Breeze_Culture.