Becca Gaines loads up her car with donation bags full of items like clothing, blankets and toiletries. Then, she drives downtown, meets with the homeless people of Harrisonburg, shares warm meals with them and listens to their stories.
What started off as research for a term project in an environmental history class changed when Gaines, a senior interdisciplinary liberal studies major, learned about hostile architecture, and something stirred inside of her.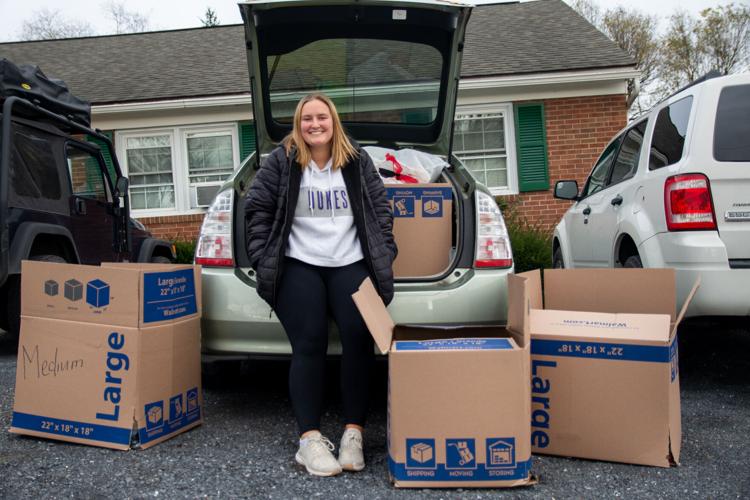 Sitting in her environmental history class, Gaines was introduced to the concept of hostile architecture, and the more she learned, the more she felt like she needed to do something about it. 
"I was appalled, basically, at how unethical it is to design buildings and benches to prevent people from using it," Gaines said. "So then I was really looking into why are people so against people experiencing homelessness in the first place."
Quickly into her research, she found a common denominator: people misunderstand the homeless, and Gaines wanted to figure out how to use her own lack of education on the homeless to teach others about it. 
This led her to think about her own story and how people can connect through one another's experiences. She decided to create a platform called "Hello My Name Is" for homeless people to tell their life stories.
"I was like, OK, well, how can I give a voice to people who so often are neglected?" Gaines said. "So that's how [Hello My Name Is] got started."
The project was scrapped from Gaines' environmental class when she had to choose one specific type of hostile architecture to talk about, but that didn't stop her from continuing to work on this project on her own. She continued working on developing Hello My Name Is by building a website, an Instagram page and collecting donations for homeless people around Harrisonburg.
Abby Trowbridge, a junior IDLS major, was one of the first people Gaines called after having the idea for Hello My Name Is.
"I was really excited for her, and I could feel her excitement when she was explaining everything to me and her vision for it," Trowbridge said. "She had a greater vision for it to become a bigger thing than just a class project, which was really cool."
Gaines and Trowbridge led a Young Life group together. Gaines said Trowbridge had been "essential" behind-the-scenes with the project.
"I think it's really cool to see her interacting with the group of people that not a lot of people want to interact with," Trowbridge said. "She just does it because her heart is pure gold, and it's really cool to see how passionate she is about the whole thing."
After the startup and technical side of her idea came to fruition, Gaines began to meet homeless people in downtown Harrisonburg to hear their stories and try to make them feel known.
"Right now, it's been a lot more of going to speak with people," Gaines said. "I try to go, like, at least twice a week, and then I have a request form they can fill out."
When meeting with the homeless community, Gaines tries to bring warm food to share and is often accompanied by her friend Maxwell Johnson, a junior media arts and design major.
"I ended up having a project for class, and I had to make a PSA video, so I reached out to Becca and asked if she wanted one for her website or Instagram, and she said 'yes,'" Johnson said.
After Gaines agreed, Johnson joined her as she went downtown. On top of making the video, he also got to know some of the homeless community and join her mission.
"I've [gotten] to meet a lot of people that I would have never really even thought about talking to before or having an actual conversation with," Johnson said. 
He said one woman he was talking with said that people look at them like they're a disease and that they don't belong. 
"Another thing she said was just, like, 'If they only knew our stories, if they only knew our circumstances, they'd be a lot more understanding,'" Johnson said. 
Originally, Trowbridge had connected Gaines and Johnson because they were mutual friends. She said it spiraled into a new friendship.
"He came the first day with me," Gaines said. "Originally, we met one guy and walked around the corner and met 20 people." 
Gaines said that the homeless people love Johnson and that in one situation, someone was speaking Spanish, and he was able to communicate with them. 
"They have logistical needs," Johnson said. "A lady today came up and said, 'I really need a pair of boots; these boots are just way too tight,' and Becca went and got Blundstone boots."
Gaines and Johnson said they've gotten to know the homeless people in downtown Harrisonburg and have been providing them with some necessities. Soon, they hope to start interviewing these people and get their stories out so others can have a better understanding of who they are.
"I wasn't planning on doing more than a couple of days of filming," Johnson said. "There were a lot of barriers broken in my own heart, and maybe assumptions, and I think that I'm expecting to just keep going because it is just so cool to experience."
Although Gaines is a senior, she plans to complete a master's program at JMU. She wants to continue working on Hello My Name Is to tell more people's stories, get to know them and work to make it sustainable after she leaves Harrisonburg.
"I'm looking into making it an official club on campus so it can easily get passed down," Gaines said. "One of my long-term goals is that someone anywhere could start a branch of Hello My Name Is and that it would be a model that someone else can easily follow."
Gaines said interviews are expected to happen within the next few weeks. After working with Johnson to edit videos and post to the website, stories will begin to be uploaded for the rest of the community to read.
"The glimpses of their stories are unimaginable," Gaines said. "I just know that if someone could look at someone who is standing on the street, or in any capacity, and knew or even had an idea of what their story could be, we would have such a different heart towards people."
Contact Jean Luther at lutherjm@dukes.jmu.edu. For more on the culture, arts and lifestyle of the JMU and Harrisonburg communities, follow the culture desk on Instagram and Twitter @Breeze_Culture.