In Maury Hall's basement, a hint of light glows from the G1 classroom. Inside, a small group of men mumble the lyrics to Chance the Rapper's "Bad Idea." They decide whether IHOP or Waffle House has better breakfast food and if Omar's is a good place to get a haircut. 
Norman Jones stands at the front of the room. It's his first meeting as president, and he's determined to run it well. 
He has to. The last time this club was active was in 2014.
It was reestablished last September, held its first programs last spring and is fully running this fall. After around five years, Jones and his executive board finally brought it back.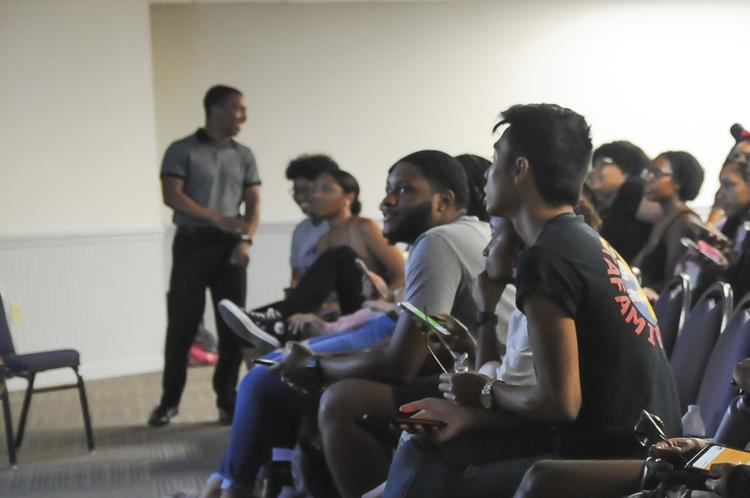 Once 6 p.m. hits, the men begin introductions followed by a discussion. Everyone faces one another as they begin their conversation about the first weeks of school and how they've experienced them as men of color. 
This will be the routine for the Brothers of a New Direction (BOND). The club was established in 1989 to connect male-identifying students of various minorities on campus by creating a tight-knit community. BOND's current adviser, Pernell Whitfield Jr. — adviser for study abroad at The Center for Global Engagement — said there aren't many student organizations that are male-identifying and non-fraternal, which makes BOND stand out. But eventually, with a lack of planning and succession, most of its members graduated, and BOND dissolved. 
Jones, a junior public policy and administration major, said that five years ago, BOND struggled with solidifying its identity and keeping its core values strong and lasting throughout the years.
"We're really trying to orient it now to something long-term, sustaining, bigger than us," Jones said. "We really recognize the importance of having a long-term vision. That's where BOND might've fallen short earlier. It was probably appropriate for the students then and at that point, but I don't know if the leaders looked beyond that time frame."
Jones was approached by the Center for Multicultural Student Services' director, Valerie Ghant, his freshman year. Ghant knew and worked closely with Jones' father — his parents were former Dukes, and his father was the former president of JMU's Black Alumni Chapter — and asked Jones to help restart BOND. At the time, he wasn't a part of other organizations on campus and saw it as an opportunity to make it a first, but restoring the club wasn't easy.
The new BOND started with nothing.
Jones said he and the executive board struggled with understanding club logistics. They had to learn what it meant to be a JMU club and a club under CMSS. Starting as vice president last year, Jones also engaged in a battle of identity within himself. He knew he was a solid leader, but he started to wonder if he was "black enough." He said there's an unspoken benchmark with affirming one's identity, no matter the background.
Senior history major and treasurer Carlos Blackwood became anxious about judgment. He didn't want people to think BOND was the male version of Women of Color, an organization cultivating inclusion for women minorities. 
"We love Women of Color," Blackwood said. "But we don't want to be judged as the counterpart to Women of Color, which everybody pretty much does." 
BOND's bank account had also collected dust — Blackwood said they were completely broke. For its first bake sale, the executive board members had to dig into their pockets to buy ingredients for cookies and cupcakes. 
On top of all that, the organization was also in need of a new adviser. The board chose Whitfield, a double Duke and former member of the old BOND. Whitfield said he can truly understand the executive board since he's a man of color on campus as well as a former student. 
One of Whitfield's goals is to alleviate pressure off the executive board's shoulders. There's only a small percentage of men of color on campus, and Whitfield said these men are rarely in leadership roles. 
"Sometimes, we're seen in the news or television, not in a positive light, so we're trying to shift that narrative," Whitfield said. "These are men of color in leadership positions, and it's like, who do they look to for inspiration or guidance in those roles? I want to be available, whether it's BOND-related or not."
"Positive Mind, Positive Vibes, Positive Life" are the words sprawled across the PowerPoint shown at BOND's first general body meeting. 
Jones said he wants to show underclassmen they have a place. He said new students might come in lacking a connection to the minority community, which can be challenging in the busy first weeks. 
Whitfield compared the new BOND's first meeting to the time when he used to be in the club — the vibe never changed. The room is loud, brimming with both laughter and reflective conversation. People ask about each other's day while music plays softly from the speakers.
"How do we give [underclassmen] an experience I didn't have?" Jones said. "How do we give them an experience that doesn't leave them lost? That's what drives me every single day, inside and outside of organizations. That's at my core."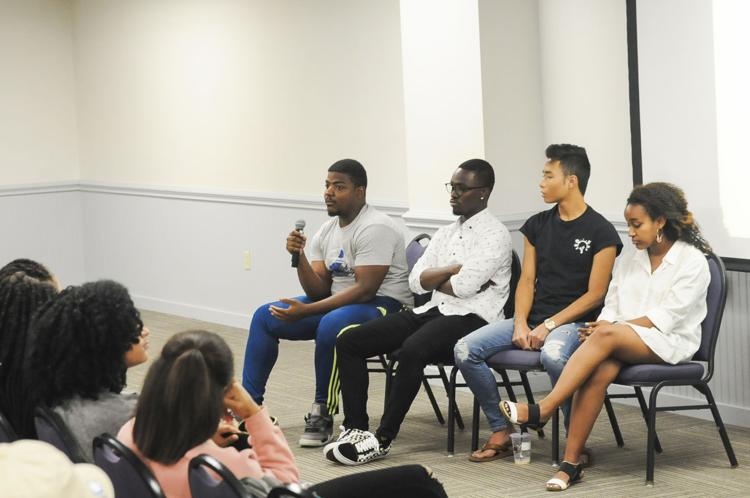 The executive board stands strong with BOND not being an exclusively "black" group. Its mission statement focuses on men of any color and their issues at JMU, but to build that community and start those conversations, it must get its name out.
"Our mission this year is to hit the ground running," Blackwood said. "This semester, we got a lot more planned out, so hopefully, we get a high attendance, great involvement from general body members and, hopefully, we can be the talk of the campus."
BOND plans to bring past members back. It also wants to arrange professional development events like career fairs. Recreation-wise, the executive board is thinking of starting intramural teams, game nights and collaborations with other groups. 
Now, it's about gaining recognition, and it's been a rocky start this year. At the first meeting, one member mentioned they haven't seen too many people of color coming to community events. Someone else said more people came out last year and that there's a sense of disconnect with the new freshman class. At the end of the meeting, Whitfield challenged every member to bring two people to the next one. 
"Ultimately, I want BOND to grow, not just about numbers, but depth as well," Whitfield said. "We can have 100 members, but if those members aren't planning to be actively involved and make sure this is an organization that continues year to year to year, then it's like, what's the purpose?" 
Contact Kailey Cheng at thebreezeculture@gmail.com. For more on the culture, arts and lifestyle of the JMU and Harrisonburg communities, follow the culture desk on Twitter @Breeze_Culture.