As a customer enters Harrisonburg's newest bar, Pour & Connect, they might be confused when they see no actual bar or bartender. Instead, they're met with a self-serve beer station and a food order screen behind large, high-top tables placed around the space. This set up offers an uncommon experience to the community with no wait time, plenty of drink options and a social atmosphere.
It's one of the only bars located on Port Republic Road, right in the middle of multiple student housing areas like 865 Apartments, The Harrison and Southview. Despite being the new kid on the block, it's rapidly gained fans and is proving itself to be a frontrunner in Harrisonburg's bar scene. 
The small, yet crowded bar has become popular because of its variety of options and self-serve concept. Owner Phatik Patel said his current vision for the location is to be a hangout spot.
"People can come and hang out as if they were hanging out at their friends' place," Patel said.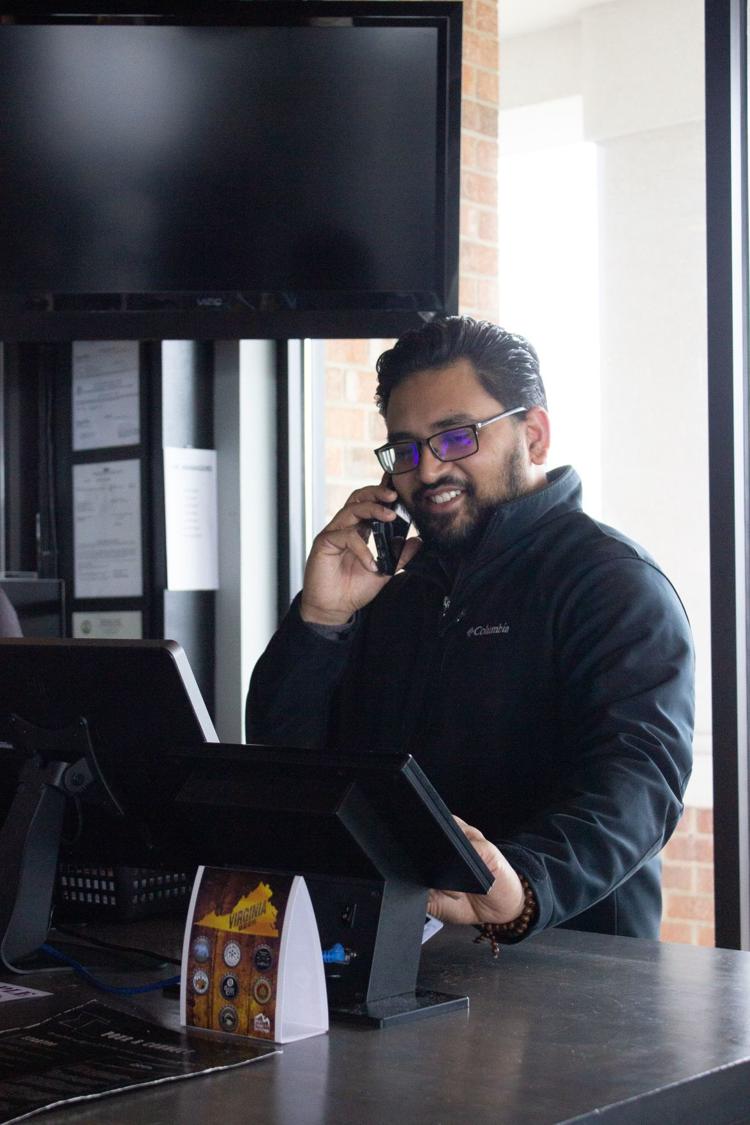 Senior international affairs major Matt Britman said the "communal setting" fosters a friendly environment where customers share tables with strangers and can meet new people. Like most bars, Pour & Connect keeps a cap on the number of individuals let in so it never gets too crowded. 
Customers are given a card attached to their credit card that they can swipe to pour themselves a variety of drinks and order food. There are various drink options from local breweries, like "The Ghost" pale ale from Three Notch'd Brewery, "A Hopwork Orange" IPA from Blue Mountain Brewery and classics, like Bud Light. Its non-beer options include Bold Rock grapefruit hard seltzer and Better Wine Co's rose spritzer nitro. 
"The drinks are great. They have something for everyone," Alex Biegel, a Harrisonburg resident said. "They had a bunch of different options to try some new beers, more options than any other bar here."
Patel said he wants the bar to be a place for people to come together and be themselves. Both students and locals may enjoy Pour & Connect because it's a mix between the casual brewery vibe and the chaotic bar scene. 
"I think for locals, it's a really cool weeknight spot," Rachel Hoffman, Harrisonburg resident and JMU alumna said. "That's the time you can go to see other locals to meet. On weekends, there are more college kids." 
This aspect may make Pour & Connect especially attractive to newly legal students who are interested in trying multiple drinks. Customers pay by the ounce, making it easy to sample. 
"It was good for taste-testing," Hoffman said. "If I wanted to just taste a beer, I could do it right there, super quick."
Customers can also expect typical bar food that comes out fast, like waffle fries, nachos, wings, tater tots and other cheesy options. These kinds of foods may fit the atmosphere Patel is going for. 
"One of our main items is a cheesesteak," Patel said. "I grew up in South Jersey near Philly, and Philly is big on cheesesteaks everywhere and anywhere you go. That is one of the items that came with me. I wanted things with quick preparation. It's a fast, casual concept."
Expensive prices may be a deterrent for some customers, however, the pay-by-the-ounce factor can give Pour & Connect a leg up. Patel hopes to expand in the future to allow more guests to experience his bar.
"I've been in the food business for almost 10 years, and [opening a] restaurant bar was one of my dreams," Patel said. "I came across this concept of self-pouring beer, and I was fascinated because when I went to bars, the wait time would be so long. It was an incentive for me to get this working." 
Contact Sarah Connor at connorse@dukes.jmu.edu. For more on the culture, arts and lifestyle of the JMU and Harrisonburg communities, follow the culture desk on Twitter @Breeze_Culture.