On Tuesdays, the tap room at Pale Fire Brewing is often quiet. Interested customers sit at their table, at the bar or on a couch with a beer in hand while a published author speaks in front of a bookshelf that extends from floor to ceiling, serving as a backdrop. Artwork hangs in the corner, catching the eyes that wander away from the speaker. If it weren't for the large U-shaped bar with accompanying beer taps at the front of the room, it'd be hard to distinguish Books and Brews at Pale Fire from a typical book club.
The following night, the taproom is filled with teams ready to compete in Pale Fire and Geeks Who Drink Trivia Night, where it's much less quiet. Live music replaces the banter of trivia night on weekends. No matter what's going on, Tim Brady, founder and general manager of Pale Fire, has always tried to establish a relaxed and welcoming environment.
"It's really eclectic," Brady said. "I'm really proud of the fact that there's a lot of variety."
That variety comes through in not just the different events, but the way the taproom is set up. The bookshelf in the back of the tap room operates as a free library where customers are encouraged to take books free of charge. The Brewery was named after one of Brady's favorite books, "Pale Fire," by Vladimir Nabokov.
"If you come in and you feel like perusing the bookshelf and you see something you like, you just take it with you," Brady said. "There's no strings attached. If we never see it again, that's awesome. Somebody's enjoying it and we're happy that it's out there in the world getting read."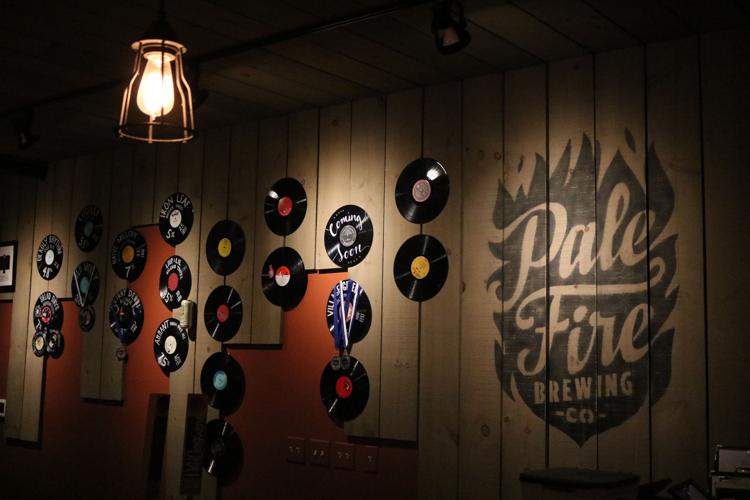 Along with the free library, there are couches and rugs strewn on the floor near the back of the room, creating a homey atmosphere that Brady says is different from most bars in college towns. However, Pale Fire mixes the best of both worlds with its trivia nights on Wednesdays.
Geeks Who Drink, an organization that hosts bar trivia nationwide, organizes the trivia nights at Pale Fire. The eight rounds of eight questions each tend to liven up the relaxed environment.
"That's one thing where I've felt Pale Fire has really been accommodating because they do kind of have a reputation for the more mature, calm atmosphere and things get pretty rowdy on Wednesdays," Kody Sharp, a quizmaster for Geeks Who Drink, said. "People are very competitive."
There are normal question and answer rounds, as well as audio and visual rounds. Pale Fire draws anywhere from 15 to 25 teams of two to six people for Wednesday night trivia, most of whom are regular players who've developed friendships, but also festering rivalries.
"We're a year in so we kind of have some history there, which has been pretty fun," Sharp said. "It's a pretty good atmosphere of competition, but still like a friendly, everybody's comfortable with each other, kind of thing as well."
Whether it's trivia, Books and Brews, live music or just a normal night at the taproom, one thing remains constant: the beer. Pale Fire has 10 beers on draft at a time from light golden ales to hoppy IPAs. Their beers have won medals at the World Beer Cup, which Brady referred to as "the Olympics of craft beer."
"The Arrant IPA," Mike Fornecker, a regular customer at Pale Fire said. "That's why I come here. It's my favorite beer."
While beer is one of the things that fuels the ambiance of the tap room, it's everything else about the brewery that establishes its distinct atmosphere.
"Craft beer is wonderful," Brady said. "But it's even more wonderful with other people and it's even more wonderful with music and literature."
Contact Thomas Robertson at rober3tl@dukes.jmu.edu. For more coverage of JMU and Harrisonburg news, follow the news desk on Twitter @BreezeNewsJMU.