Just over a month ago, Harrisonburg got a new diner downtown, Magpie. This new business had been in progress since before the pandemic hit but decided to open July 28 amid COVID-19.
Jordan Folk, a senior dietetics major, is a server and barista at Magpie and has been working there since it opened.
"The environment [at Magpie] is very upbeat and energetic but in a non-exhausting way, and it's such an encouraging and inviting environment that we all feel so supported and really love being there," Folk said.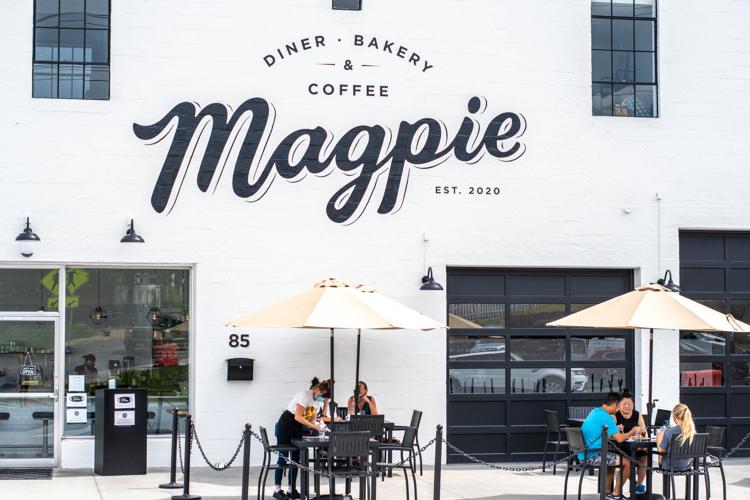 Magpie has had to make tables socially distant and cannot seat as many customers as they normally would because of COVID-19, but that hasn't stopped the community from coming to try this new breakfast diner. 
Throughout COVID-19, the operating partner of Magpie, Kirsten Moore, said she'd hear things like, "restaurants will never be the same" and "people aren't going to go out to eat like they used to," but Moore said they just aren't seeing that.
"We are not even doing take-out yet," Moore said. "The kitchen is so slammed all day."
Some of that could be the design of the building with the open and bright dining area, as well as the patio, quality food and price point, Moore said.
"When [COVID-19] hit, we had a management staff that came and tried to figure out what to do and how we could build our brand and also be helpful to the community," Moore said.
At the beginning of the shut down, the restaurant started a Magpie and Friends Market where there were drive-thrus and pick-ups twice a week. People could order online with different restaurants and farms that were participating and purchase fresh vegetables, milk or food from local restaurants.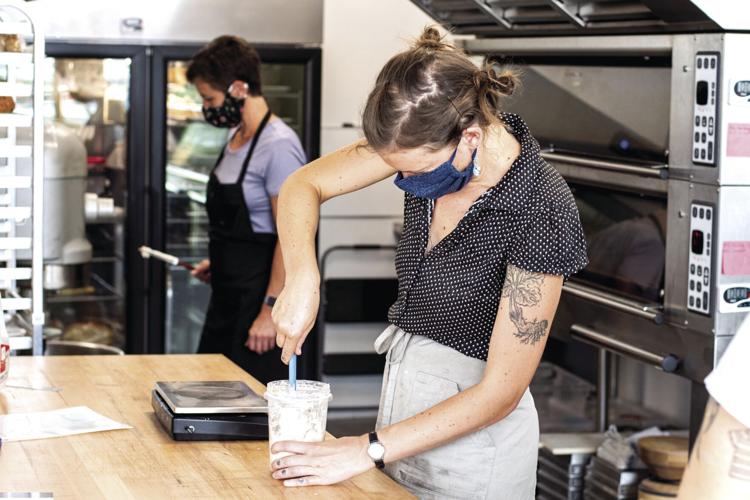 Magpie also got ahead by using Eastern Mennonite High School's kitchen to start baking and selling bread. 
"This was a really nice way for us to help our vendors and our fellow restaurateurs as well as keep our name out there and be relevant," Moore said.
Moore said the amount of space the building gave them was helpful throughout COVID-19. Magpie is a long, skinny building, so seating tables 6 feet apart isn't challenging. It also has a large patio area as well as bar seating. Moore said it's only missing about a quarter of its seats.
"Magpie has been such a success so quickly, and it's so cool to see Kirsten's vision come to life and see her face when we're getting tons of people lining up," Folk said.
Folk said that since COVID-19, employees' temperatures are checked every day, and everyone monitors how they're feeling.
She also said that it's not common for guests to come in without masks, and that, overall, guests have been wearing a mask and will wear it until they sit down and put it back on if they're moving about the restaurant.
"It's a joy to be there, and it's so happy and fulfilling, which is something you don't really get in a workplace ever," Folk said.
The kitchen manager, Rachel FitzGerald, was asked to meet up with Moore to talk about a project she had in the works, and she laid out her vision of a "beautiful multi-use building with sort of an old school corner diner vibe but with modern fresh food" that has a changing seasonal menu. FitzGerald said Moore asked her to head up the kitchen side of things.
"I was really excited about the project and said yes immediately," FitzGerald said.
FitzGerald has been training cooks and working on fresh menu items. She said she's been working with Moore throughout the opening of the restaurant and using the COVID-19 guidelines.
"It's been a unique and challenging time, but we've been amazed at the response," FitzGerald said.
FitzGerald described the menu as having a "fluid vision." The menu changes frequently depending on the produce available.
"It's in a constant state of changing things up and trying to find the best food possible," FitzGerald said. 
FitzGerald said Magpie has partnered with Baker's Farm in Mount Jackson and also works with the produce auction to get local vegetables.
Magpie works with its employees and community to fill a niche that Harrisonburg was missing. While adhering to the Centers for Disease Control and Prevention's guidelines, the Magpie staff is working to make their restaurant a place where people feel comfortable to dine in during these times.
"It's so cool to see how much people love Magpie, and, regardless of people maybe not wanting to come out of their houses or feeling weird about [COVID-19] stuff, that it's a space they feel they can come and they are trusting us to be careful and give them good service while being safe and following guidelines," Folk said.
Contact Jean Luther at lutherjm@dukes.jmu.edu. For more on the culture, arts and lifestyle of the JMU and Harrisonburg communities, follow the culture desk on Instagram and Twitter @Breeze_Culture.