David Glen Swanson has always felt a connection to students with disabilities. While growing up, he noticed that — similarly to him — they were always treated differently compared to their peers.
"It sounds so cliche, but it's true," Swanson said. "And when I say they're treated differently, it's not always treated in a negative manner. Sometimes, people are just so toxicly positive, and they try to praise every little thing."
The freshman music industry major said he wasn't particularly fond of music growing up. It wasn't until his father — who's a musician — bought him a guitar in third grade when his interest was sparked.
"I was so proud that I could play [guitar]," Swanson said. "And then in fourth grade, I started playing the viola, which is now my primary instrument."
Throughout middle and high school, Swanson became increasingly involved in music. He was a drum major in the marching band and a section leader for both choir and orchestra. During his senior year of high school, he became close friends with an individual who has Down Syndrome.
"She was very involved in music and was the one who inspired me to get involved in special music education because it was the one thing that she just loved to do," Swanson said.
For Swanson's senior project, he chose to record a pop/contemporary Christian album titled "Blueprints." Since he was 17 at the time, his record company, "CD Baby," advised him to choose a stage name to protect his privacy; that name was Dave Simon.
"[Blueprints] is about my journey through high school and kind of how that affected me and the lessons I learned there," Swanson said. "What I love about the album is that it's imperfect. Now that I'm a music student I'm like, 'I could have done that differently. That could have been more in tune,' but I think that's kind of part of it, because if you don't cringe, then you haven't grown."
After graduating high school, Swanson toured JMU and was drawn to the special music education program, but especially to the professors within the program. He said some of the professors he met, like Jesse Rathgeber, were the exact people he wanted to end up being like. Swanson enrolled in Rathgeber's music technology class for spring semester 2019 and has dedicated his past five weeks toward working on a class project that tackles issues associated with special music education.
"One of the biggest problems in music education right now is we don't have special music education," Swanson said. "What happens to the kids who don't have hands to play or the cognitive ability to really play music?"
Rathgeber, who's the associate director of the recently developed Center for Inclusive Music Engagement — or CIME — challenged his students to develop an adaptive instrument for students with special needs. To do this, students must use a digital interface called a Makey-Makey to transform touch into sound.
"The end of the semester leadership project involves creating music using digital work stations such as STEM to create remixes," Rathgeber said. "It also involves using music notation software."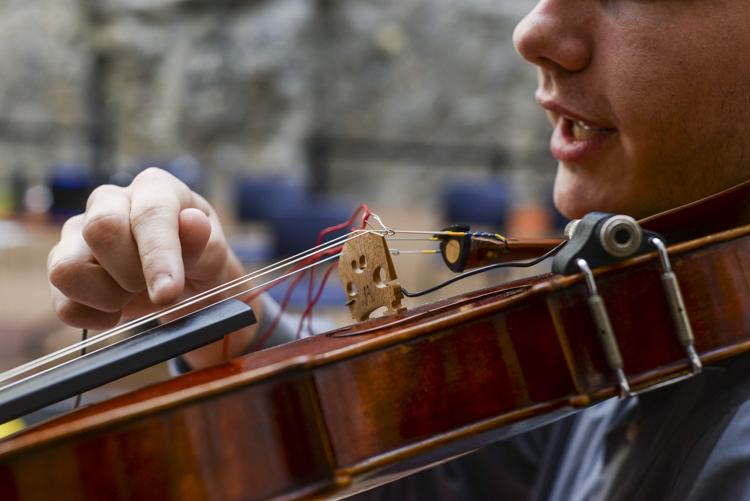 Rathgeber believes that students with disabilities are a prominent marginalized population in schools whose needs aren't always met in classroom music spaces due to music teachers feeling less than equipped to help.
"Most of the people in my class are in theater or band or singers," Swanson said. "So me being one of the only string players, I challenged myself to make not just viola accessible, but any string instrument."
The Makey-Makey essentially functions as a mouse or keyboard. Swanson is using the Makey-Makey to connect the strings of his viola to a coding platform. When a user taps the strings, they're able to make the sound of those strings without having to put pressure on the hand that would normally be required to play.
"I went into a coding platform and told the computer, 'OK, when you see left click, that's gonna be the A string,'" Swanson said. "So all the user has to do to get the bow sound is just lightly touch the string. You'd be surprised at how many songs you can play with just four notes."
The Makey-Makey costs roughly $50 on Amazon, but Swanson and Rathgeber are looking to replace it with a smaller device called a "Teensy." A "Teensy" doesn't require a computer connection and costs about half the price.
Swanson hopes to receive grant money from the University for Virginia American String Teachers Association and the National American String Teachers Association. He's also planning on going back to his hometown of Louisburg, Pennsylvania to see if any local high schools will support his project and is considering starting a GoFundMe page.
"I'm going all kinds of ways trying to find some cash for this because I really think it'll work and my professors are all for it," Swanson said.
Swanson expects the upcoming summer and fall semesters to hold the biggest developments of the project to date. If all goes to plan, he'll be presenting his project to various research associations in the fall, such as the American String Teachers Association Conference and the International Viola Conference in Poland.
With the project still in its experimental stages, Swanson has been going to Facebook to ask students to donate their unwanted string instruments or sell them for a reasonable price.
In addition to his music technology advancements this summer, Swanson will be working on his second studio album, titled "Chapter One of the Rest of My Life." This album will be about Swanson's transition into college and what his first year was like. A few JMU students — like freshman music major Catie Moore — are also featured on the album. Swanson hopes to release it by August.
"David Swanson is great to work with because he shows kindness and joy to everyone he meets," Moore said. "He's the best kind of professional. He combines talent, kindness and a genuine love and joy of his art to create beautiful things that could change the world."
The next step for Swanson is to visit the Center for Entrepreneurship where he'll pitch his idea and prototype. With the soon-to-be "Teensy" device, Swanson will empower individuals with physical and intellectual disabilities to engage in music the same way their peers do.
"Differentiation is a doable thing, and technology is often one of the ways in which we can adapt to the needs and desires of students," Rathgeber said. "That might mean finding the right app, or it might mean changing the settings on a keyboard so it only plays certain notes, but it also might mean developing a new instrument for that specific child to play."
Contact Jamie Graeff at graeffje@dukes.jmu.edu. For more on the culture, arts and lifestyle of the JMU and Harrisonburg communities, follow the culture desk on Twitter @Breeze_Culture.