Whether people prefer to buy games physically or digitally, there's no denying the increasing popularity of digital video games. 
Digital shops like the PlayStation Store, the Epic Games store or even something along the lines of Microsoft's Game Pass have made it a breeze to buy a game without ever having to leave the couch. For most, that might not mean much, or perhaps it's a positive. 
But for the employees of Monster Games, it means another hurdle the store may have to overcome.
Monster Games, a local video game shop located off John Wayland Highway, opened in September 2011. It contains all new releases of video games and consoles as well as any retro game or device one could think of. The shelves are filled with classic games like "Metroid Prime," "Ocarina of Time," "Left 4 Dead" and even some oddballs like "Ape Escape." New and retro consoles are held in glass cases, and the walls are lined with a substantial amount of R.O.B.s, a character made famous by Nintendo.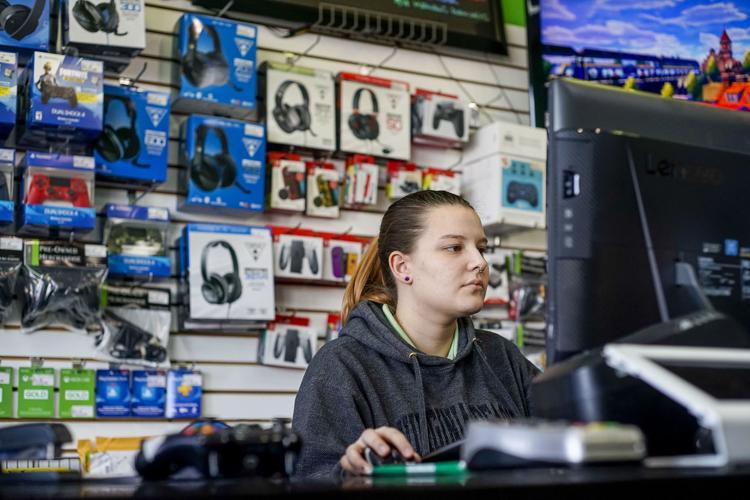 "The word that always comes to my mind when I think about Monster Games is 'nostalgic,'" employee Danielle Coakley said. "The retro side of our store is typically the first thing our customers notice."
Monster Games provides an atmosphere for the gamer niche to thrive in while searching through its collection of merchandise. But, with the digital frontier looming over businesses like these, it can be hard for independently owned stores like Monster Games to stay afloat.
Store manager Shane Click said the digital direction of video games makes him uncomfortable. He said the store isn't worried about competing with GameStop or other physical stores, but rather, its only competition is digital sales. 
According to Business Insider, The digital era is severely hurting larger companies such as GameStop — which failed to find a new buyer in 2019 — but despite this pressure, Monster Games still manages to find success. 
"In our community of gamers in the area, I can tell you about 65% don't have access to the internet," Coakley said. "They look to us for their video games because they can't download them." 
Click said another reason for the store's success is the number of products they have in one central location. Not many digital sites can offer a customer a Nintendo 64 with "Pokemon Snap" and a PlayStation 4 controller on the side.
Monster Games acquired all of its merchandise through local trade-ins to the store. 
Click had multiple reasons as to why Monster Games is a better choice compared to the other video game marketplaces, digital or physical. 
"We always offer more trade-in value than GameStop," Click said. "With digital games, you can't share them with friends or trade them back in." 
As a gamer, the sense of community can be essential and is part of the reason customers keep returning to Monster Games. The employees are always willing to chat and spend that extra minute to create a bond with a customer. 
"Because I'm treated as more than a number at Monster Games, I'll make the drive even though there is a GameStop and Walmart within walking distance," Jason Buby, a customer of six years, said.  
Click has been working at the store since it opened in 2011 and celebrated its recent success by signing a new two-year lease for the building. 
"I have been working here for so long — it's a part of my life," Click said. "Being the manager, it's become my baby." 
While digital stores can make the process of buying games more convenient and accessible, it may take away from growing local gaming communities. Monster Games is an example of how physical stores can coexist with digital markets in today's ever-evolving video game industry. 
"The digital market is definitely creeping up, and it can be scary to think about what it means for the future of the store," Coakley said. "But with that being said, I don't think digital will 100% take over, either."
Contact Daniel Carter at carte3dt@dukes.jmu.edu. For more on the culture, arts and lifestyle of the JMU and Harrisonburg communities, follow the culture desk on Twitter @Breeze_Culture.