Community and connection are just a few of the ideals Merge Coffee Company was founded on by four people who pursued their passion for coffee. 
Before the business came to be what it is now, the co-owners simply shared their love of coffee with one another. They came together Sunday nights to sample coffee from around the country, and in 2017, they decided to take their passion to the next level.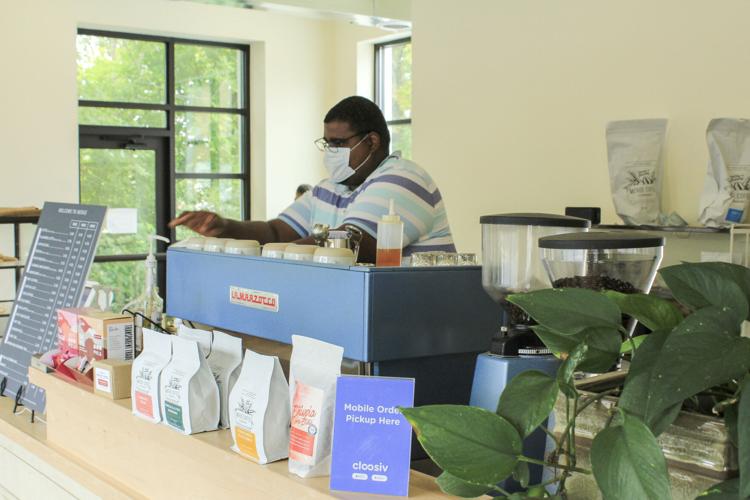 Merge is owned by two families: Darryl and Charles Matthews, who are cousins, and Emily and Larisa Martin, who are sisters. 
"The four of us, we make a complete team," Charles said. "We couldn't do anything that we do without the other." 
Charles and Darryl aren't siblings, but Charles said they function like brothers. Charles, the older one, said that Darryl has worked with him throughout his working life.  
"[Darryl has] been around my whole life since he was one year old," Charles said. "Most of his work career we've worked together — we've got a real natural synergy where we understand each other well." 
The friends, and now co-owners of Merge, started roasting their own coffee, and since then have become committed to roasting coffee "meticulously and sustainably." 
"We decided to pile money together and buy a tiny one-pound roaster — that was the birthing of Merge," Darryl said. 
Merge began as an online shop selling roasted coffee and eventually grew to where it is now: having two brick-and-mortar establishments.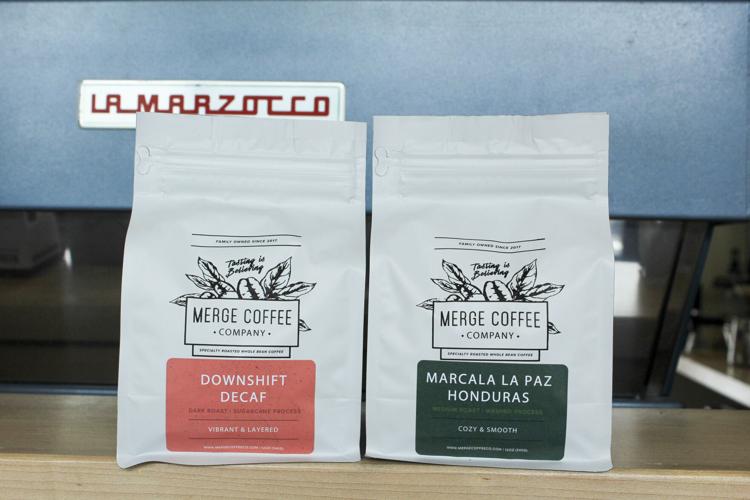 In April, Merge opened its second location on the outskirts of downtown Harrisonburg. Merge took over the location that used to house Chanello's Pizza. 
"Funny enough we took pictures in front of a different building that we thought we were going to be in," Darryl said. "But this is a much better option."
The new location has a clean look — the building is almost entirely white, with its logo and signage done in black for contrast. Upon entering, customers see meticulously placed plants that stand out from the crisp look of the inside of the building as well as brightly accented bags of coffee beans lining the counter.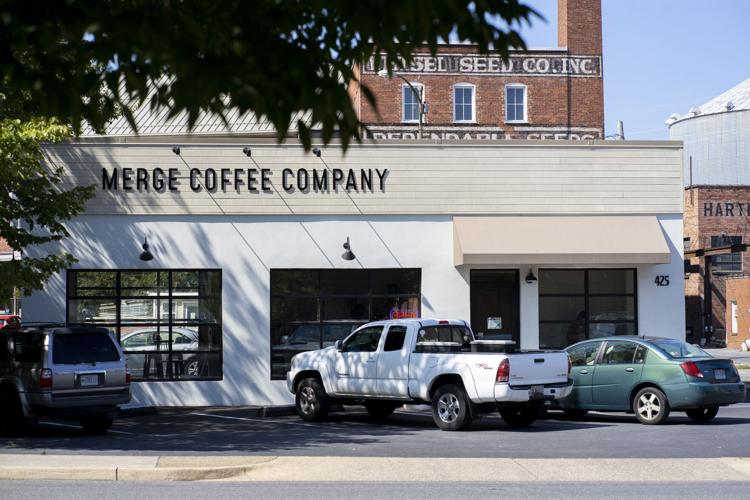 "I really like the natural light that comes in," Erin Laymon, senior communication studies major and customer, said. "I think it's restful and chill but also bright at the same time."
Merge has always been looking toward expansion even before the pandemic, Charles said, and it succeeded to do so in the midst of it. 
"One of our big visions for our community is just accessibility," Charles said. "We want all of our patrons and people who are in our customer base to be able to get Merge coffee where they want it." 
The idea was, if there was a location downtown, customers who typically drive north to visit the company's first location would still be able to enjoy Merge and could walk to get it.
"We want to be a third place provider for all people but especially students," Charles said. "A place where they can feel safe, happy, comfortable — a space, in a sense, that they can own as well, like, 'This is my coffee shop.'"   
Charles said that Merge Coffee Company welcomes students to come study, relax and enjoy the goods it sells. 
"I think that some of the other coffee shops just tend to be busier … Sometimes, I get distracted when I'm hearing other peoples' conversations and stuff, so it's quieter in here," Laymon said.
The two families who created Merge came together from different cultures and backgrounds and were able to establish a business that's become oriented around community. 
"I love that coffee shops represent a canvas, in a sense, of people to build relationships, to grow, to challenge each other — ultimately to be better," Darryl said. "I love that coffee shops present that space to pursue those things."
Contact Audrey Nakagawa at nakagaas@dukes.jmu.edu. For more on the culture, arts and lifestyle of the JMU and Harrisonburg communities, follow the culture desk on Twitter and Instagram @Breeze_Culture.