Mikey Reisenberg had an identity crisis in high school. 
The JMU alumnus ('09) was adopted from Seoul, South Korea, and grew up in the Shenandoah Valley, but he always felt like there was something missing. Raised in a less racially diverse area, he wanted to learn more about his Korean culture. 
Reisenberg discovered learning the culture was difficult without knowing the language, so he said food was the next available path for him to learn from. He started cooking and working in restaurants like the one in the Joshua Wilton House on South Main Street. 
"It must be in my blood," Reisenberg said. "Because all my Asian food turned out much better than the other food I was trying to cook."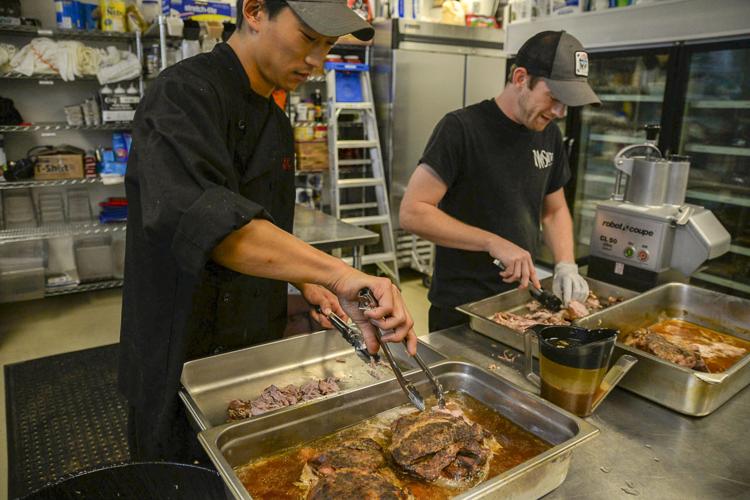 Now, he's the owner and executive chef of Mashita, a recently opened, Korean-inspired restaurant downtown. But, he couldn't have done it without starting in the food truck business. 
In 2013, at the end of Reisenberg's career at the Joshua Wilton House, he decided to find a full-time job, but working for a company wasn't for him. He said his true love was "taking care of people, providing good customer service and being proud of the products that [he] can produce [himself]." The young chef dropped all his applications and invited his sous-chef, Kevin Chapman, to quit his job at the same restaurant, live with him and build a food truck from scratch. Chapman jumped right in. 
The duo got started when Reisenberg purchased an old step van and named his business "Mashita," which is an informal way of saying "the food is delicious" in Korean. He said it was a play on who he is.
"Mostly because of me being adopted, 100% Korean born, but also knowing I'm as American as anyone else in the Shenandoah Valley, I thought it was a neat way to, kind of, create our image," Reisenberg said.
The business was built on buns — specifically, made-from-scratch steamed buns topped with a protein of the customer's choice. Chapman said the recipe was adapted from big-time chef David Chang. 
"As soon as we ate them, we were like, 'Man, we've gotta do something with these,'" Chapman said.
They did, and in the past six years, Mashita has become a hit. 
Reisenberg said that before he started, there was hardly any kind of Korean cuisine in Harrisonburg. He adopted an identity for Mashita by mashing Korean flavors found in authentic cuisine with popular food items in the Valley like fried green tomatoes. It's been  voted Best Food Truck in the Daily News-Record's Best of the Valley almost every year since it opened. Customer Sean Mullen said what makes Mashita distinct is "the food, definitely the food." 
"I've been here 14 years, and the stuff that I see on his menu, I knew I haven't seen anywhere else," Mullen said. "And that's what drew me to his food. His flavor profile is just off the chain."
What also makes Mashita stand out is its ability to bring an urban mindset and culture to a historically rural area. Still, it's been influenced by the Valley in positive ways. For example, Mashita purchases ingredients locally, and the staff cooks each meal from scratch. 
"Now, after six years of growing, we have one of the best culinary identities in downtown Harrisonburg," Reisenberg said.
Mashita's popularity created a foundation for a client base and catering department that eventually led to Reisenberg opening a storefront downtown. 
Korean food truck opens store front downtown
Korean food truck, Mashita, opened a store front in downtown Harrisonburg. Here are photos of the new store. 
On Oct. 1, Reisenberg and his staff formally opened the Mashita brick-and-mortar, a quaint space on North Liberty Street. Customers are greeted by a colorful mural, Korean artifacts lining the walls, silver chopsticks atop polished wood tables and the mouth-watering smell of beef bulgogi. Here, lovers of the food truck can enjoy their handmade steamed buns and ssam — lettuce wraps — in a comfy sit-down restaurant.
Opening weekend was nonstop for the staff. It had two weddings to cater to in addition to restaurant work. Mashita is currently open from 11 a.m. to 7 p.m. Tuesday through Saturday. The greatest challenge is balancing the hectic food truck catering and event schedule with restaurant operations. 
But Chapman said one challenge has been taken away by "just having space." The larger kitchen allows staff members to prep without moving things out of the way and hitting elbows with one another. Despite this, he finds it difficult to hear customer feedback with the kitchen being a separate room. 
"I'm thankful some of our other staff would come back and tell us people really enjoy things," Chapman said. "That's something that makes it easier to cook, though, is hearing people appreciate the stuff you're doing."
Reisenberg and Chapman have big plans. They want to gain name recognition as one of the best restaurants in Harrisonburg, even if Mashita is considered "fast-casual." They also hope to undertake a third expansion that'll allow them to increase seating area and incorporate a full-service cocktail bar. Reisenberg said it might happen sooner than planned, considering the current business they're making.
"It's been a really fun experience to see the business grow, to see me and my staff grow and to establish an identity that is uniquely ours here in this area where we all grew up," Reisenberg said. 
Contact Kailey Cheng at thebreezeculture@gmail.com. For more on the culture, arts and lifestyle of the JMU and Harrisonburg communities, follow the culture desk on Twitter @Breeze_Culture.