Scarlet Nishimoto ('18) used to work as a Peer Access Advocate (PAA) for the Office of Disability Services (ODS). Something she noticed while working there was that ODS only provided students academic services with no social aspects. 
She realized the majority of students struggled socially, saying people seemed to be uncomfortable around them or uncomfortable when they talked about their disabilities. These students with disabilities also struggled with going to parties at complexes that weren't accessible.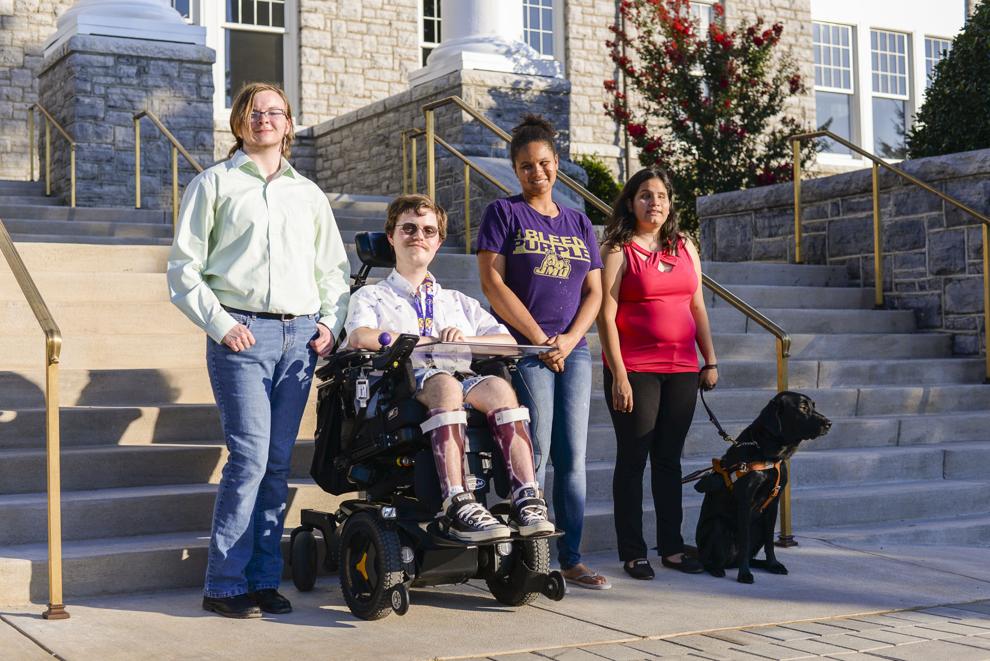 "When I saw this, I knew that something needed to change," Nishimoto said. "People with disabilities deserve to have a social life. We deserve to go to parties. We deserve to have a life just like everybody else. We're college students too. We wanna have fun too and not just go to class."
After buying her own set of large-print Cards Against Humanity cards and brailing them herself, Nishimoto began hosting game nights for students from all walks of life. She wanted a space where she and her new friends with other disabilities could come and hang out and socialize together. She took the time to pick a meeting place that was easily accessible to all of the peers that reached out to her. 
Once these game nights started happening, an idea sparked for a student-led organization that allowed students from all backgrounds to enjoy college together. This organization is now one of JMU's newest additions, called Madison Disability Inclusion Group, or Madison DIG.
During one game night, Madison DIG president Raja Abdul-Badee and vice president Jackie Larrauri were introduced to each other and became good friends. Their friendship grew stronger because they shared a common mission.
After Nishimoto graduated, Abdul-Badee and Larrauri went on to apply for the group to become an organization in fall 2018. This semester is when the organization will start to take shape at JMU.
"After seeing the need for people to be aware of disabilities — visible and invisible — and hearing again and again that people with disabilities don't feel included, we wanted to be a part of something to change that," Larrauri said.
The two both had experienced these feelings, and although Abdul-Badee's disability can't be seen, she said that once people found out about it, they'd shy away, especially when it came to socialization. 
"In Madison DIG, we want to strive to make a bridge between those social aspects of people who are non-disabled and people who do have disabilities," Abdul-Badee said.
"Yeah, and so we can both learn new things and people without disabilities aren't so uncomfortable around people with disabilities," Larrauri added.
Madison DIG started this year by making a booth at Student Organization Night and handing out flyers. Because this is the first year it's on campus, it still expects to grow. Since both Abdul-Badee and Larrauri are seniors, their hope is that the group continues long after they graduate. Some events they're planning for the upcoming year include a potluck, a game night and a bake sale. 
Abdul-Badee noticed that JMU is becoming more inclusive for all backgrounds, and she feels that students with disabilities should fall into that category. They hope to become a bigger part of that discussion and begin to talk about how JMU buildings aren't easily accessible.
"Beyond JMU, when people see issues in the disability community outside of our little bubble here, if they go to just one meeting or hopefully join the club, then they can know what to do and be aware of the inaccessibility and the hard social aspects and stigmas, then they can help give this community a voice," Larrauri said.
The executive team intends for the club's first meeting to be a social event for potential members to meet, ask questions and learn more about the club's mission, values and activities. They also want to talk about their own disabilities and how they navigate through JMU. 
"For me, I have been given the opportunity to have a leadership position and raise awareness for people with disabilities and show people that it's not scary to talk with somebody that has a disability," Larrauri said. "I mean, we haven't bitten you yet."
Contact Jean Luther at lutherjm@dukes.jmu.edu. For more on the culture, arts and lifestyle of the JMU and Harrisonburg communities, follow the culture desk on Twitter @Breeze_Culture.