Drums, electric guitars and recording equipment fill the spare room of the Haun Magruder Insurance office in Woodstock, Virginia. 
Senior English major Brent Funkhouser says "it's nice," but he knows it's a mess.
"What workspace shouldn't be cluttered?" Brent Funkhouser, a senior English major, said. "If people saw my desk, they'd think I was a madman."
For the past two years, Funkhouser, a local Americana artist, has been working on his new EP, "Goodnight Dear Catherine." He's been writing, recording, mixing and mastering his music, and has invited guest artists to be featured on the album.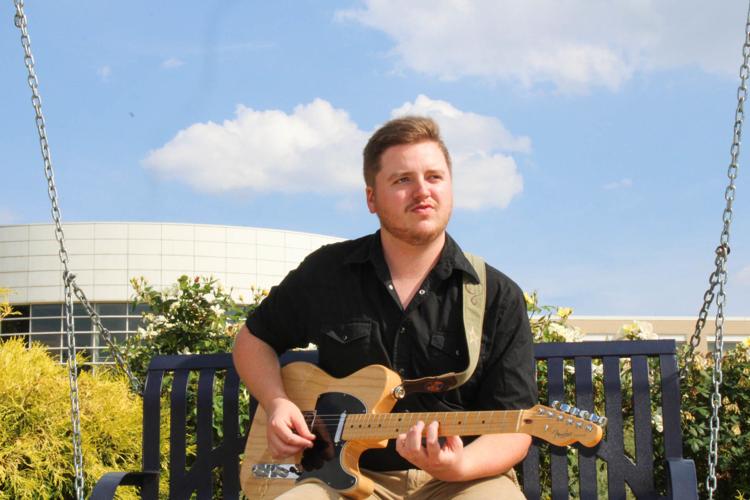 As the Oct. 18 release date approaches, he said it's been a long, but worthwhile, process. 
"I think this is the strongest collection of music I've ever put out in a lot of different ways," Funkhouser said. "At the core of it all, an underlying theme would be keeping on fighting, just moving forward."
While each song holds personal value to Funkhouser, the EP's title track is one of the most impactful. He said he reconciles with different emotions and people throughout "Goodnight Dear Catherine." The song he said he's most proud of, which he recently released as a single, is "The Man I Want to Be." In this piece, he sings about wanting to be a better person, finding himself and living up to a standard he's comfortable with.
For Funkhouser, lyrics are the heart of a song. During his songwriting process, he sometimes pulls out his phone and scrolls through more than 200 notes of bits and pieces of lyrical inspiration he wrote down over the summer. He adds to these lists whenever a thought pops into his head.
"I think that a lot of people think there's this magical quality about songwriting or something, and I think anyone who does it will tell you that's not the case," Funkhouser said. "It is about sitting down and working through it."
He said it can be chaotic. Some songs just come to him, but others take structure to reach a point he's comfortable with.
"If I can hear someone telling their honest story in a song, it doesn't matter to me if it's Hank Williams or Kendrick Lamar," Funkhouser said. "If someone's telling their true story, then I'm like, 'That's awesome.' I love hearing that."
Jesse Dean, a musical collaborator and Funkhouser's long-time friend, has watched Funkhouser go from performing solely in cafes to opening for major award-winning artists such as Judy Collins and Phil Vasser at last summer's Shenandoah Valley Music Festival. When the two work together, Dean usually plays the electric slide guitar, — a way of playing he took up because of Funkhouser and their shared love for the Allman Brothers, a band who often uses the technique.
"I think one of his strengths is that he'll really embrace adding different musical genre influences in his songs," Dean said. "He's not afraid to experiment with one song kind of having a rock vibe to it or one having a jazzier vibe or maybe even a punk vibe."
Funkhouser isn't just a musician — he's also a full-time student and part-time Target employee. While there are more opportunities available for him in the musical world, managing these different roles in his life has been challenging. He said that during his breaks at Target, he sits down on his laptop to send booking emails to venues. 
Senior Spanish and Communication studies major Ashlyn Johns has been supporting Funkhouser since she first befriended him at an open mic night her freshman year. She said she hopes to be a support system, fan and friend for him in his future as well. Whenever he's playing a local gig, she tries to move her schedule so she can attend.
"Although it's gonna be hard, at least there's someone who's appreciating the effort he's putting in," Johns said. "Being able to be the familiar face in the audience has been such a great opportunity for me."
Funkhouser said after he graduates, he wants to continue to pursue music. While he isn't sure where he'll end up, he knows he may not stay in the Valley. During his time spent touring in the past, he's visited cities in North Carolina, New York and Pennsylvania. He plans to return to the New England area this fall after the EP's release to play more shows and promote it.
"I'm at a point right now where things have been picking up, and I've always felt that if I didn't take a shot at it, then I would regret it someday, and I don't want to regret it," Funkhouser said.
Contact Kailey Cheng and Traci Rasdorf at thebreezeculture@gmail.com. For more on the culture, arts and lifestyle of the JMU and Harrisonburg communities, follow the culture desk on Twitter @Breeze_Culture.