A quaint shopping center sits just off Route 33 in Penn Laird, Virginia, a short 10-minute drive from campus. The surrounding land is rather underdeveloped, aside from a sizeable neighborhood across the highway and a new playground just behind the building. Here, one can find TOTS Ice Cream — a family-owned business with a mission to keep the memory of the co-owners' late father alive through homemade ice cream. 
Elizabeth Taylor is the co-owner of TOTS, along with her husband Bryant Taylor and siblings-in-law Dillon and Amy Taylor. Her mother-in-law built the shopping center with visions of future family businesses, but plans halted when her father-in-law passed away during the building process in late 2017. 
"He really loved ice cream, and that was the starting foundation of TOTS Ice Cream," Elizabeth said. "We make homemade ice cream here, and we do that in remembrance of him. The name TOTS is actually named after him — [he] was Terry O'Dell Taylor, Sr."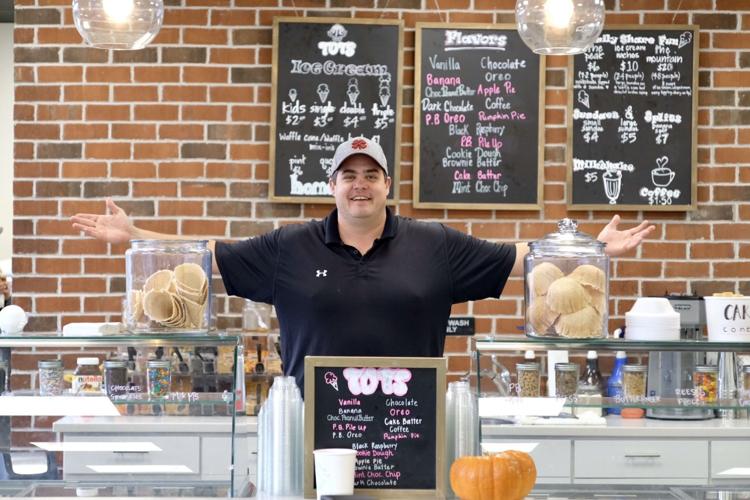 With no prior experience making ice cream, the family learned to master the process through trial and error. The business now offers fresh waffle cones and 16 flavors that vary each month, such as apple pie, peanut butter Oreo and black raspberry, all made in-house. Co-owner Dillon said it was important that the family perfected the recipe before serving the product to its customers.
"We did a lot of research on it and wanted to provide a high-quality ice cream for the Penn Laird and Harrisonburg area," Dillon said. "Through a lot of research and experimenting with different flavors, we came up with [a recipe]."
Bryant, the head ice cream maker, said that with a favorable recipe, the production process is fairly simple. He starts by adding flavoring ingredients such as fresh apples or cake batter into a large ice cream machine, followed by a pre-made mixture of cream, milk and other basic ingredients. After 15 minutes of mixing and freezing in the machine, the ice cream is ready. 
Bryant prides himself on using fresh ingredients. He emphasizes that while some competitors may use artificial flavoring and coloring to lower costs, he believes using more natural ingredients produces a superior product for his customers that also tastes better.
"The issue that I think a lot of people do is they count every penny and every dime, and I don't," Bryant said. "I just want to make as good of ice cream as I can, and then, I believe you'll come back."
As a former JMU student, Elizabeth said the university helped her realize her dream of owning her own business. Through her psychology major, she discovered business psychology and soon realized her passion.
"When I entered JMU, I had no clue what I wanted to do with my life," Elizabeth said. "But, over time, I realized that I really loved the business world, [and] I loved interacting with people."
Since the shop is located close to campus, the Taylors often host JMU organizations and hire students to work for them. Junior media arts and design major Allie Barefoot works for TOTS and said her favorite part is how close the staff is.
"I think the family atmosphere makes this place special," Barefoot said. "It kind of feels like it's my second family at this point."
In addition to TOTS, Elizabeth and her family also own Valley Jump Trampoline Park, located next door. Dillon said his father was also the mastermind behind that venture. 
"He wanted to build a trampoline park that was all on one level … also accessible to handicap and also elderly folks," Dillon said. "So, it was a service, pretty much, that my father wanted to bring to the community of all ages … We even have some senior citizens jump."
At its core, TOTS is a family business dedicated to the love the Taylors share for their father. As the area surrounding their modest shopping center begins to develop and more businesses settle in, they'll continue to honor TOTS' namesake by serving their beloved community as a family.
"Our family, in the end, is what means the most," Elizabeth said. "Just having that hometown feel — that family feel — to both places and the love that goes into that, I think makes it worth it." 
Contact Amy Needham at needhaal@dukes.jmu.edu. For more on the culture, arts and lifestyle of the JMU and Harrisonburg communities, follow the culture desk on Twitter @Breeze_Culture.