"What am I gonna do?" 
Those were the words stuck in Andrea Estep's head. She'd reluctantly closed the doors of her boutique, Charlee Rose, because of the COVID-19 pandemic. Walking away from the Agora Downtown Market, she said the feelings that flooded through her felt close to the emotions she felt during postpartum depression. She said it took away her joy.
"This was my outlet, and it helped me," Estep said. "I was just so frustrated and angry and upset and confused, and what am I gonna do? Is my business gonna survive?"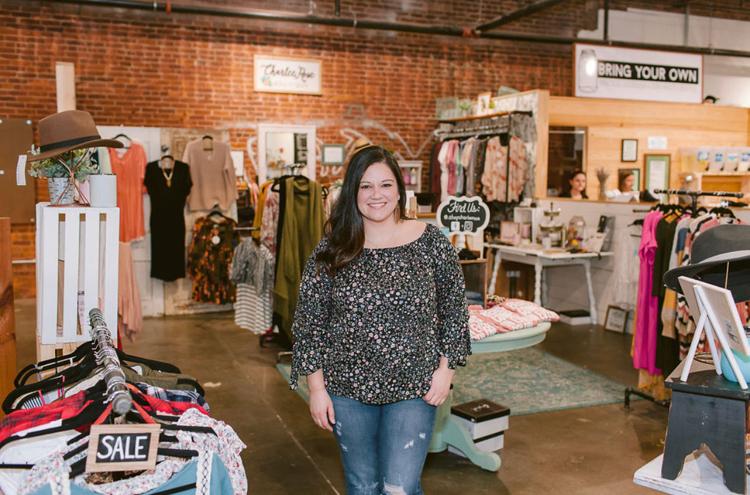 Two weeks after closing up shop, Estep said she realized this way of life wasn't going away anytime soon. 
"I was like … 'You've got to figure out what it is you can do to save your livelihood; this is how you feed your family, and you've got to do something,'" Estep said.
She said the answer wasn't clear at first, but it lay in her roots: starting as a home business in her garage. 
The beginnings
After giving birth to a second girl, Estep's body had changed. When shopping for clothes, she said she couldn't find anything that made her look or feel good. She said most clothing boutiques carry small to large sizes, and when she'd try to squeeze into a large, she felt defeated.
"Nobody should feel this way, especially after you just had a baby," Estep said. "I wanted to be able to offer clothes to fit everybody's style and every woman that is out there, no matter what season of life they were in."
In March 2018, Estep and her husband, Travis, worked to make Andrea's dream become a reality. She named the boutique "Charlee Rose" after her daughters, and Travis renovated their garage and turned it into a shop, starting with what Andrea called a "very plain" rack and a dozen styles. Once she sold those styles, she was able to buy more and continued to put money into her inventory. 
Kristi West, who lives across the street from Andrea and has supported the boutique since it opened, said she shops there frequently for clothes and accessories, her favorite product being the handmade leather earrings.
"It's cute and trendy and in my size," West said. "It makes me feel beautiful."
Soon, Andrea's garage became a full shop, with clothing racks on both sides and a dressing room. And, although most of her products were sold online, people still came to her house in Weyers Cave to try pieces on.
Eventually, a friend notified her of a space opening in the Agora Downtown Market, a community of small businesses in downtown Harrisonburg. For Andrea, the rent was "phenomenal," and she ended up expanding her shop twice in that location. She said moving Charlee Rose into a bigger space changed her business, as more customers were able to browse and see all her products. 
Andrea said moving her shop to Harrisonburg felt like "therapy" after she experienced postpartum depression. She said she loves how supportive the community is of small businesses. 
The obstacle 
When the pandemic hit, the future suddenly became uncertain for a number of those businesses.    
"I'm fearful for what downtown will look like, but I'm hopeful we're all gonna pull through it and we'll be stronger than ever," Andrea said. 
When Andrea was stuck in that negative mindset two weeks after closing, she realized she needed something to occupy her time. Despite never sewing before in her life, she began making masks for people in the community and healthcare workers. 
"Nothing's gonna get in her way," Travis said. "Doing what she loves, it's not just passion, it's not just business, it's just about being there for people."
Andrea said she's donated a couple hundred masks to Sentara RMH Medical Center, which has brought her joy in the midst of uncertainty.
"Once I was doing that, I felt this is how I could exert my energy for good," Andrea said. "I felt like our community needed more of that."
The present
After Andrea began sewing masks, she said she was struck with a moment of clarity — she realized what needed to happen with Charlee Rose. She went back to her shop, brought some of the products home and created a temporary shop in the place it all started. Travis and Andrea cleaned out the garage, put items on a rack and a shelf, and set up a desk. 
It became her little space once more.
"And so I said, 'OK. This is my new normal,'" Andrea said. "And even though I don't want this to be my normal forever, this is what I've got to work with."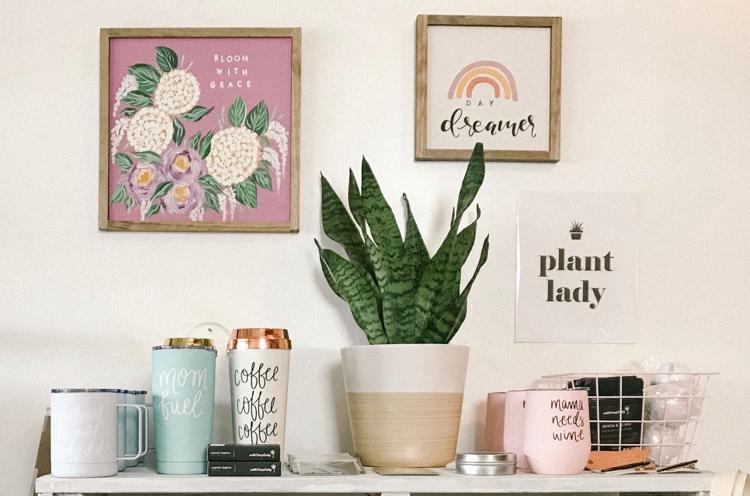 Andrea said she had to switch her mindset and go back to the basics. Now, she's shipping out of her house, offering local pick-ups off her porch and selling a new product: gift bundles. She said the bundles — which include products like mugs, candles, prints and more — can be sent to healthcare workers or loved ones, along with a handwritten note penned by her.
"I'm extremely proud of her and her ambition," West said. "She started it from a really small business and was able to grow to what it is today. And, she's still — even though it's closed — able to reach her customers."
As Andrea sits at her desk and brainstorms new ideas for bundles, she doesn't think too far into the future. It's been seven weeks since the brick and mortar location of Charlee Rose has been closed, and she said there are still plenty of uncertainties for her business. 
For now, she's taking it one day at a time.
"I focus on the things I can control today," Andrea said. "Those things are keeping my business afloat and doing what I enjoy best, and that's serving the community with the service that I offer and the products that I offer."
Contact Kailey Cheng at thebreezeculture@gmail.com. For more on the culture, arts and lifestyle of the JMU and Harrisonburg communities, follow the culture desk on Twitter @Breeze_Culture.