Harrisonburg native Elliott Downs wears many hats, from owner of Wonder Records in downtown Harrisonburg to self-taught artist. On March 2, Downs is putting on his creative hat and bringing his gallery "Night Moves" to Larkin Arts as a part of the Arts Council of the Valley's First Fridays.
For the 31-year-old, art is something he grew up with. Downs' father, Stuart, was a JMU art history professor and curator of JMU's Sawhill Gallery.
"My whole childhood was pretty much … helping set up shows in the gallery and it kind of always kept me fairly interested in art," Downs said. "As I got older, I just kind of kept sticking with it."
Downs started doing shows at Larkin Arts several years ago. He's known owners Scott Whitten and Valerie Smith for over a decade and has done shows there ever since they opened. Smith said in an email that Downs has a "unique voice," and when a former gallery director first reached out to him to do a show there, they were all ecstatic.
Since Downs does shows at Larkin every year, he has a year to prepare. He spends most of the year sketching ideas, and in the last few months before the show, he starts putting pieces together. The last week before the show is his crunch time, when he does extensive preparation.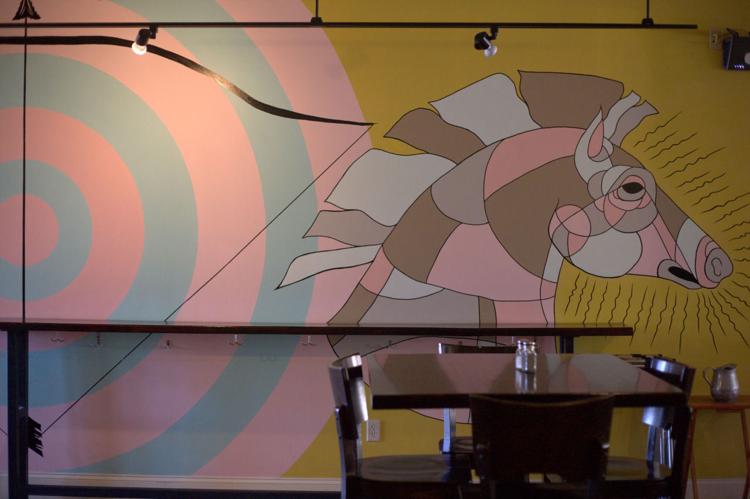 Paul Somers, one of Downs' longtime friends and a JMU double Duke alumnus ('04 and '08), met Downs when he curated his shows at The Artful Dodger. Since then, they've collaborated on several projects together. Downs has even done murals for The Golden Pony, which Somers owns. He says one thing that makes Downs stick out as an artist is that he's "prolific."
"I think that's one of the more significant things about any artist is, to be good at art — just like anything else — you have to do it a lot," Somers said. "[Elliot will] do art for 18 hours a day for a week straight and, you know, it's like it's nothing to him."
Downs' artwork is inspired by music and vintage signs and is typically done on salvaged and recycled wood or wood panels with bright colors. The artwork for his most recent show, "Night Moves," doesn't venture past his usual theme, but Downs says he's sticking to a color scheme of "vintage warm and cool colors." He hopes to have two 3-D and functional pieces completed for the exhibit.
Somers says Downs' work connects to folk and fine art and believes that's why it's so popular among viewers. Somers also sees Downs' father's influence in his work.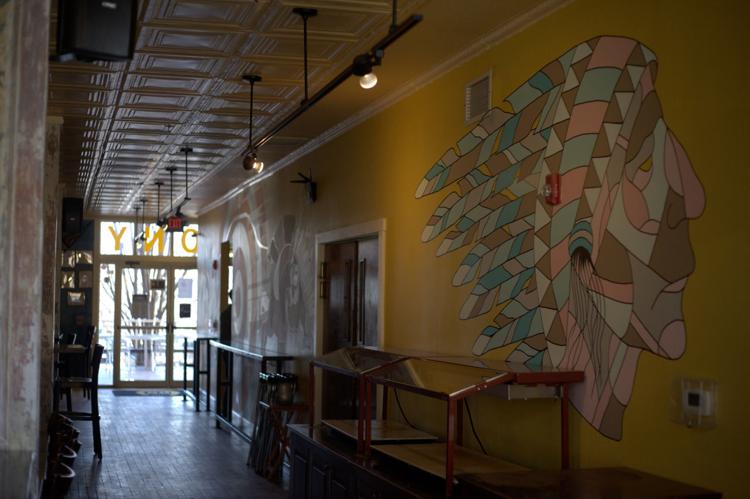 "His father was involved with lots of pretty significant artists through the 20th century, and was just somebody who had a really interesting mind for the meaning and importance of art and what art is," Somers said. "And so Elliott grew up around that and I think you can see that in the work but there's … a large part of Elliott's work that really departs from any kind of tradition and just kind of speaks a certain visceral immediacy that I see a lot of people responding to."
Smith describes Downs as a "likeable, flexible, easy-going person" and thoroughly enjoys working with him. She encourages people to come out and see the show.
"Elliott's art is unique and raw and you will see nothing like it anywhere else," Smith said in an email. "He has forged his own artistic path and it is a beautiful thing. The energy in his work is also heightened by our community's consistently positive response to it. He has sold out almost every show he's had at Larkin."
Downs' favorite thing about doing art is how it allows him to escape and focus on one thing at a time. He hopes people who come see his work will have fun viewing it.
"Pretty much all my shows are just trying to have like, things that are fun," Downs said. "I don't try to make anything super serious. It's kind of just a distraction from the serious day-to-day."
Contact Abby Church at churchae@dukes.jmu.edu. For more on the culture, arts and lifestyle of the JMU and Harrisonburg communities, follow the culture desk on Twitter @Breeze_Culture.