The Little Grill opened its doors to the Harrisonburg community in the 1940s, but 2003 saw the birth of the cozy, worker-owned Little Grill Collective as it stands today. The restaurant focuses on cooking healthy, delicious meals with local ingredients. With inspiration drawn from American, Mexican and Mediterranean cuisine and an emphasis on vegetarian and vegan options, there's something on the menu for everyone. It's no wonder it has become a favorite brunch spot in Harrisonburg. With its unique and customizable dishes, the collective has garnered fans from all around Harrisonburg. Those who try these meals will likely become Little Grill fans themselves. 
Here's a list of the five best brunch dishes one can get at the Little Grill Collective.
Lambert's Platter
This dish has all the comfort and taste of a traditional breakfast while being totally vegan. The Platter comes with a scramble of perfectly seasoned tofu, peppers and onions accompanied by home fries with vegan "Groovy Gravy" made from local mushrooms and vegan soy-based sausage. The Platter also comes with one side, so vegans can load up on seasonal roasted veggies, while vegetarians can add any style of eggs, if they wish. Meat lovers can add a side of bacon, ham or sausage, making this yet another fully customizable dish served by the Little Grill.
Huevos Rancheros
This hearty brunch item is a must-have. It features two eggs covered in a delicious and light vegetable chili and cheese. The cheese is a locally sourced organic colby that tastes like it was made just for this dish. Chipotle black beans, cilantro lime rice and tortillas accompany the plate for a well-rounded and filling meal. It comes in a large portion, enough to split with a friend or to take home leftovers.
The Kicker
Step aside egg sandwiches; there's a new breakfast sandwich in town. The Kicker features bacon, cream cheese and sun-dried tomato pesto on a bagel as a tasty alternative to traditional bacon, egg and cheese. It's almost like a breakfast BLT. The customer can choose a plain wheat bagel or an egg everything bagel to spice it up. While the Little Grill still offers a familiar bacon, egg and cheese breakfast sandwich, the Kicker packs a unique punch and is an excellent dish to branch out from ordinary brunch.
Traditional Breakfast
For those who like to stick to the basics at brunch, the Little Grill has that covered, as well. One can order a plate of two local eggs, toast and their choice of bacon, sausage, ham or vegan soy sausage. The eggs can also be served in omelets with a variety of cheese, veggies and real or vegan meat options. Home-fried potatoes, oatmeal and yogurt are all offered as side dishes, perfectly complementing any customized breakfast combination.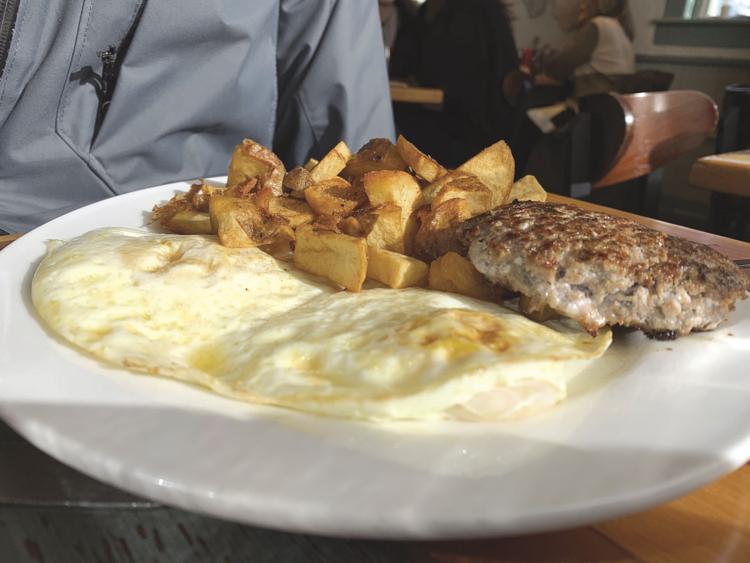 Carrot Cake Pancakes
This is the perfect brunch dish for those who like to eat dessert first. The Carrot Cake Pancakes are stuffed with carrots, apples, raisins and walnuts, and they're served with a delicious cream cheese glaze that has just a hint of lemon. The pancakes are served with local butter, and for a truly decadent dish, one can add authentic maple syrup for a small upcharge. For those who prefer to eat gluten-free, there are gluten-free Buckwheat Pancakes that the Little Grill can top with chocolate chips, blueberries or bananas upon request.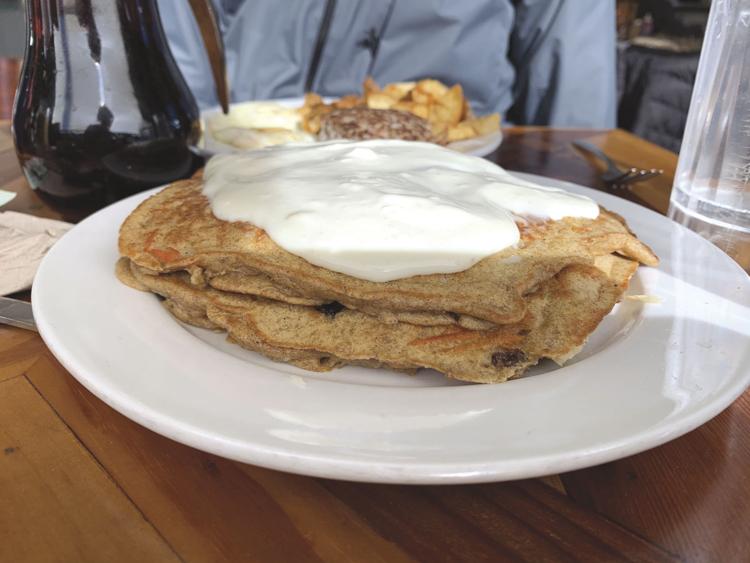 Contact Taylor Sarlo at breezeartdirector@gmail.com.